4BC doing very well in 2003. Nine would be happy to see that share return in the modern era.
S6/1998 was the survey in which Mix 106.5 got double-figures for the first time since converting to FM, and also the first time the station reached double-figures since S3/1990, when it was still on AM as 2UW. This was also the first time that Mix 106.5 outrated 2WS since FM conversion & also since S3/1990.
The overall ratings from S6/1998 for Sydney were as follows:
#1: 2UE: 13.2
#2: 2Day: 12.3
#3: Mix 106.5: 10.7
#4: 2MMM: 9.8
#5: 2WS: 9.0
#6: 2CH: 6.5
#7: 2BL: 6.2
#8: 2JJJ: 5.0
#9: 2GB: 3.8
#10: ABC FM: 3.1
#11: 2KY: 2.8
#12: 2SM: 2.2
#13: 2RN: 1.8
#14: ABC NewsRadio: 1.1
For some historical context, this is how the Sydney breakfast radio ratings ladder looked during Survey #2, 2002:
#1: 104.1 2DayFM, The Morning Crew with Wendy Harmer, Pete Moon & Paul Holmes (14.1%)
#2: 2UE 954, Steve Price…I think (11.5%)
#3: 702 ABC Sydney, Angela Catterns (10.3%)
#4: 2GB 873, Ray Hadley/Alan Jones…the latter of whom would be #1 overall in Survey #3. (10.1%)
#5: Triple M 104.9, Amanda Keller & Mikey Robins (8.1%)
#6: 101.7 WSFM, The Classic Breakfast with Hans & Kayley (6.9%)
#7: Nova 96.9, Merrick & Rosso (6.7%)
#8: Mix 106.5, The Breakfast Mix with Jason Bouman & Mardi Cole/Sammy Power…yes, it was a transitionary period for them too! (4.4%)
#9: 2CH 1170, John Burgess (4.3%)
Equal #10: Triple J 105.7 + ABC NewsRadio 630…with whoever the breakfast presenters on their respective stations were at the time (3.4%)
#12: Radio National 576…with whoever their brekky presenter(s) were at the time (2.6%)
#13: ABC Classic FM 92.9…with whoever their brekky presenter(s) were at the time (2.1%)
#14: 2KY 1017, The Big Sports Breakfast with Richard Freedman & Terry Kennedy (1.9%)
#15: 2SM 1269, Breakfast with Grant Goldman (1%)
Overall (Monday-Sunday, All People 10+) Sydney Survey #2, 2002 ratings:
#1: 104.1 2DayFM, 13.2%
#2: 2UE 954, 10.7%
#3: Triple M 104.9, 8.8%
#4: 702 ABC Sydney, 8.7%
#5: Nova 96.9, 8.3%
#6: 2GB 873, 7.1%
Equal #7: Mix 106.5 & 101.7 WSFM, 6.4%
#9: 2CH 1170, 5.4%
#10: Triple J 105.7, 4.6%
#11: ABC NewsRadio 630, 2.4%
#12: ABC Classic FM 92.9, 2.2%
#13: Radio National 576, 2%
#14: 2KY 1017, 2%
#15: 2SM 1269, 1.1%
Other Stations: 10.8%
Source: ACNielsen.
A very different radio landscape back then, 95.3 still a few years away from launching and 2SM still participating in surveys. I'm sure SCA would love to have their Survey #2, 2002 ratings for 2DayFM and Triple M again, with 2MMM's S2/2002 audience share being higher than the combined figure for both 2Day & MMM in Survey 4, 2021!
By contrast, it's highly likely that ARN and the ABC would prefer to be in their current radio ratings position as most of their analogue stations received higher ratings during the latest survey ​(with both the ABC & ARN having the added bonus of some particularly strong digital offerings in the Sydney market) than they did in Survey #2, 2002.
Triple J Breakfast would have been Adam Spencer (who later went onto 702 Breakfast) and up and coming comedian Wil Anderson.
2CC remained at #1 until the 2nd survey of 1989, when FM104.7 finally topped the ratings. Even so, with the exception of 2 surveys in 1991-92, 2CC remained ahead of then-sister station KIX 106 until the 1st survey of 1994, which by then KIX had rebranded to Canberra FM & took on an AC format. Later that year, ARN sold 2CC to what is now the Capital Radio Network.
Off topic a bit but when did 2CA and FM104.7 split ownership? Was it around the same time as ARN sold 2CC?
2CA & FM104.7 went their separate ways in 1997 after the Austereo/ARN Joint-Venture was formed between FM104.7 & Mix 106.3.
Do you have any of the following for Canberra? I"ve not been able to find these surveys in my research:
S1/1994, S1/1996, S2/1996, S1/1997, S1/2000, S2/2001
I have S1/1994 & S2/2001, but not the rest, sorry.
Canberra - S1/1994
FM104.7: 28.0
2CN: 17.8
Canberra FM: 13.1
2CC: 11.4
2CA: 10.3
2JJJ: 7.5
Canberra - S2/2001
FM104.7: 21.8
666 ABC: 18.3
Mix 106.3: 15.5
2JJJ: 12.7
ABC FM: 8.2
2CC: 5.9
2RN: 5.7
2CA: 5.2
Many thanks!

Today's radio ratings show sister stations 97.3FM and 4KQ as equal number one.
Has this ever been achieved before with equal No.1 stations for the same network in the same market?
Not a metro market, but in Canberra, both FM104.7 & Mix 106.3 shared the #1 position in S2/2006, in which they got 22.2% each.
In Newcastle in S1/2004, both KOFM & NXFM shared the #1 spot with 20.7% each.
In the Gold Coast in S1/2009, both Sea FM & Gold FM shared the #1 spot with 14.9% each.
Do you have the last survey which included Kix106?
Yes I do.
Canberra - S2/1993
FM104.7: 26.3
2CN: 19.9
2CC: 12.4
2CA: 10.3
KIX106: 9.5
ABC-FM: 7.0
2RN: 6.6
2JJJ: 5.7
It's little wonder why KIX was blown up & then reborn as Canberra FM (along with a callsign change from 2KIX to 1CBR) after getting beaten by the two commercial AM music stations.
Here's the Canberra Times article about the above ratings result.
Thanks for that, I was really surprised how poorly it rated considering it was the only other commercial fm station in Canberra and getting soundly beaten by 2CA / 2CC.
Fm104.7 was so strong then and this was even before Martin Molloy started in 1995.
Kix 106 was my preferred station when passing through Canberra. Fm 104.7 was really then a cross between 2day and Triple M with lots of classic rock.
I wonder why Canberra did not take to top 40 new music back then?
Interestingly comparing Kix last survey 9.5 and Canberra fm's first survey 13.1 they did not take listeners off fm104.7 which would have been their goal, they came off their sister
2CC instead.
Other then when it first started what was the highest it rated against
In S1/1990, KIX rated 19.1% against FM104.7's 24.6%, a gap of 5.5%. In the following survey (S2/1990), KIX rated 17.7% against FM104.7's 20.8%, a gap of 3.1%, which is the closest gap between the two stations pre-1997.
The latter survey was when JJJ launched its Canberra service in August that year, in which it debuted with 4.3%. This would have resulted in both FM104.7 & KIX losing audience share from S1/1990 to S2/1990, especially for the former station.
With 4KQ being equal No 1 in the latest Brisbane survey it made me wonder when was the last time an AM music station topped a survey. I think it would also have been 4KQ. If I recall correctly 4KQ won a survey in about 1993 or 1994 beating B105 and 4MMM. I think it was only one survey and it coincided with 4BH's failed flip to talk with New 882. Before that in Brisbane at least you'd have to be looking at the early 80s (either 4BH or 4BK) for the last time an AM music station was No 1. I think FM104 got to No 1 by about 1983 or 1984 and stayed there until B105 came along. I'm sure someone on here will have details of the other capitals - it would be interesting. Maybe 2SM or 2UW would have been the last No 1 AM music station in Sydney? And 3MP for Melbourne? Guessing 5AD (when it was AM) for Adelaide and 6PM for Perth?
The last AM music station to take out #1 overall in Sydney was 2CH in S3/1984 (2WS was equal #1 with 2UE earlier that year).

2CC in Canberra was last #1 overall in S1/1989, when it scored 23.8%, just ahead of FM104.7's 23.1%.

On the Central Coast of NSW, 2GO outrated Coast Rock FM in 1991, scoring 27% to Coast Rock's 26.2%. This was back when it was still on AM before it converted to FM the following year.

Even more incredibly, in Melbourne, 3MP managed to take out #1 overall throughout much of 1992!
It seems that your recollection is correct: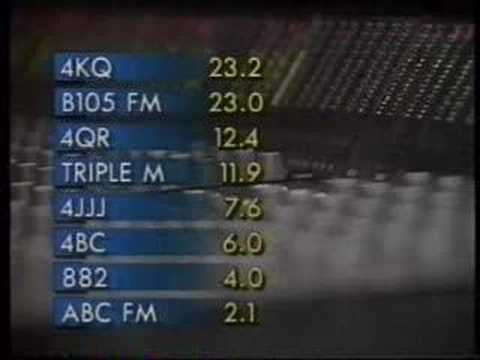 Following that survey (which I think would've been the first of 1994), B105 probably would've been the most dominant force in Brisbane radio during the 1990s and Early 2000s?

If I'm being honest I would've expected it to be 2SM, 2UW or maybe 2WS given the amount of support that station had in the Western suburbs even during the days it was still on AM.
…and when it was a proud local institution, rather than the sad regional Triple M station it is now.