BRAND NEW SERIES GOTHAM KNIGHTS
SUPERMAN & LOIS SEASON 3
PREMIERES 15 MARCH ON BINGE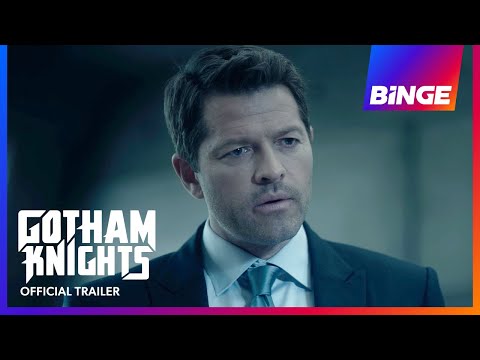 BINGE continues to bring viewers the world's greatest superheroes this March; new heroes will rise in Gotham Knights while Superman & Lois Season 3 takes flight, both premiering 15 March with new episodes weekly.

In Gotham Knights, Batman is dead, and a powder keg has ignited Gotham City without the Dark Knight to protect it. In the wake of Bruce Wayne's murder, his adopted son Turner Hayes (Oscar Morgan) is framed for killing the Caped Crusader, along with the children of some of Batman's enemies: Duela (Olivia Rose Keegan), an unpredictable fighter and skilled thief who was born in Arkham Asylum and abandoned by her father, Harper Row (Fallon Smythe), a streetwise and acerbic engineer who can fix anything, and her brother Cullen Row (Tyler DiChiara), a clever transgender teen who is tired of being polite and agreeable. This team of mismatched fugitives must band together to become its next generation of saviors known as the Gotham Knights.

The new series will also star Misha Collins (as Harvey Dent), Navia Robinson (as Carrie Kelley), Anna Lore (as Stephanie Brown) and Rahart Adams (as Brody).

Starring Tyler Hoechlin (Teen Wolf) as the world's most famous superhero, The Man of Steel aka Clark Kent and Elizabeth Tulloch (Grimm) as comic books' most famous journalist, Lois Lane, the Kent family return for their third season on Superman & Lois. The new season opens weeks after Superman's blowout defeat of Ally Allston. Clark (Hoechlin) and Lois (Tulloch) are now working at the Smallville Gazette together and enjoying small town life. But the Kents' romantic bliss only shines a light on how isolating "the secret" can be. Meanwhile, the Kent boys find themselves being pulled in opposite directions as Jordan (Alex Garfin) discovers what a superhero-identity really means and Jonathan (Michael Bishop) searches for purpose beyond the football field.

The season three ensemble cast also includes Erik Valdez (as Kyle Cushing), Inde Navarrette (as Sarah Cushing), Emmanuelle Chriqui (Lana Lang) and Dylan Walsh (General Sam Lane).

From Berlanti Productions in association with Warner Bros. Television, Gotham Knights is written by Chad Fiveash, James Stoteraux and Natalie Abrams. Fiveash and Stoteraux serve as showrunners and executive produce the series alongside Greg Berlanti, Sarah Schechter and Leigh London Redman. Abrams also serves as co-executive producer. Danny Cannon directed and served as an executive producer on the pilot, along with David Madden. Gotham Knights is based on characters created for DC by Bob Kane with Bill Finger.

Based on the characters from DC created by Jerry Siegel and Joe Shuster, Superman & Lois is from Berlanti Productions in association with Warner Bros. Television, with executive producers Greg Berlanti, Todd Helbing, Sarah Schechter, Brent Fletcher, and Geoff Johns.
Scientists talk about The Last of Us fungus.
So unlike Netflix where you can choose an ad tier or not … the lowest tier will have ads with Binge?
FIRST LOOK AT NEW SEASON OF TRUE DETECTIVE: NIGHT COUNTRY
STARRING JODIE FOSTER AND KALI REIS
COMING TO BINGE
First look at the fourth season of the Emmy® winning crime drama anthology*,* s tarring two-time Academy Award winner Jodie Foster (The Silence of the Lambs) and actor-boxer Kali Reis (Catch the Fair One), have today been released with the highly anticipated series coming to BINGE.

When the long winter night falls in Ennis, Alaska, the eight men who operate the Tsalal Arctic Research Station vanish without a trace. To solve the case, detectives Liz Danvers (Foster) and Evangeline Navarro (Reis) must confront their pasts and the dark truths lying underneath the Arctic ice.

The cast also includes John Hawkes, Christopher Eccleston, Fiona Shaw, Finn Bennett, Anna Lambe, Aka Niviâna, Isabella Star Lablanc and Joel D. Montgrand.

Ahead of the Season 4 premiere, viewers can catch up on Seasons 1-3 of True Detective available to stream now on BINGE.

True Detective: Night Country created by Nic Pizzolatto was written, directed and showrun by Issa López who exec produced alongside Foster, Barry Jenkins, Adele Romanski and Mark Ceryak for Pastel, as well as Mari Jo Winkler, Chris Mundy, Alan Page Arriaga, Steve Golin, Richard Brown, Matthew McConaughey, Woody Harrelson, Cary Joji Fukunaga and Pizzolatto. Producers include Princess Daazhraii Johnson, Cathy Tagnak Rexford, Sam Breckman.
Yes. As predicted (by me at least
), this is not a new tier. Ads will be added to the Basic tier - somewhat offset (for some?) by adding HD. If you want to avoid ads you will have to jump to the next tier up - currently another $6 a month.
I wonder if Stan will follow.
Quite likely that most of the mainstream/bigger streaming services will end up with an ad-supported tier…
and I wouldn't be surprised if Foxtel services (Kayo/Binge/Flash) will be the next to follow Netflix's lead and ban password sharing.
PREMIERE DATE AND OFFICIAL TEASER FOR LOVE & DEATH
STARRING ELIZABETH OLSEN AND JESSE PLEMONS
PREMIERES 27 APRIL ON BINGE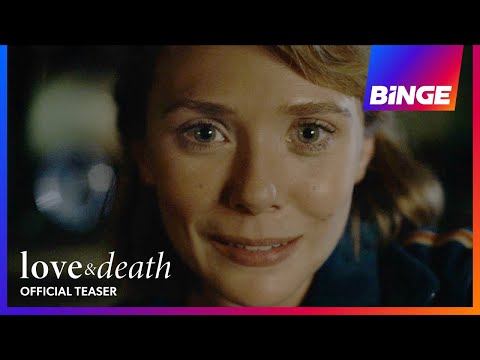 The premiere date of 27 April along with the official teaser for the upcoming limited series Love & Death, starring Elizabeth Olsen and Jesse Plemons, has been released today ahead of its triple-episode premiere on BINGE; new episodes drop every Thursday.

The seven-episode drama, written by David E. Kelley and directed by Lesli Linka Glatter, tells the true story of Candy and Pat Montgomery and Betty and Allan Gore – two churchgoing couples enjoying their smalltown Texas life… until an extramarital affair leads somebody to pick up an ax. The show is an official selection of the 2023 SXSW Film & TV Festival.

In addition to Olsen and Plemons, the cast includes Lily Rabe, Patrick Fugit, Keir Gilchrist, Elizabeth Marvel, Tom Pelphrey and Krysten Ritter.

Co-produced by Lionsgate. Executive producers: David E. Kelley (who is writing the series) through David E. Kelley Productions; Nicole Kidman and Per Saari through Blossom Films; Lesli Linka Glatter (who directs the first four and final episodes); Scott Brown and Megan Creydt through Texas Monthly; Matthew Tinker; Michael Klick and Helen Verno. The limited series is inspired by the book "Evidence of Love: A True Story of Passion and Death in the Suburbs" and a collection of articles from Texas Monthly ("Love & Death in Silicon Prairie," Part I & II).
OFFICIAL TRAILER AND KEY ART RELEASED FOR NEW COMEDY SERIES RAIN DOGS
PREMIERES 7 MARCH ON BINGE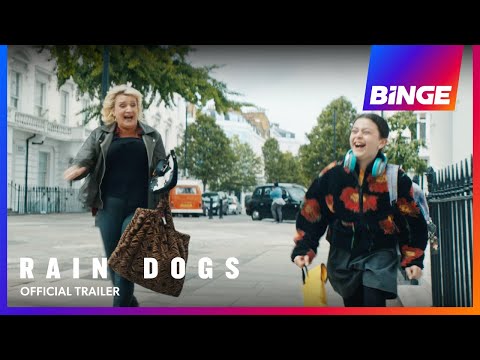 The official trailer and key art for new eight-episode comedy series Rain Dogs, from the brilliant new voice of Cash Carraway, has been released today ahead of its 7 March debut on BINGE, with new episodes dropping every Tuesday.

Rain Dogs is an unconventional love story between a working class single mum, her 10-year-old daughter, and a privileged gay man.

The comedy stars Daisy May Cooper, Jack Farthing, Ronke Adekoluejo, Adrian Edmondson and Fleur Tashjian in her debut role, as a dysfunctional family on the fringes of society attempting to go straight in a crooked world.

Rain Dogs is written and created by Cash Carraway who also serves as executive producer; executive producers, Sally Woodward Gentle and Lee Morris, Jo McClellan for BBC One; co-producer, Henrietta Colvin for Sid Gentle Films Ltd; producer, Ciara McIlvenny; directors, Richard Laxton and Jennifer Perrott.
OFFICIAL TRAILER AND KEY ART FOR NEW SERIES BETTER
PR EMIERES 14 MARCH ON BINGE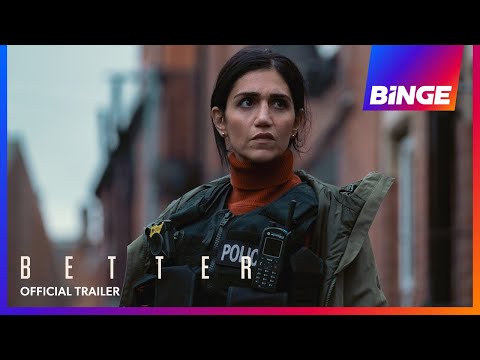 The new five-part drama series, Better, from the producers of Chernobyl and This Is Going To Hurt, premieres 14 March on BINGE, with all five-episodes dropping at once.

The fast-paced thriller*,* starring BAFTA-nominated Leila Farzad (I Hate Suzie) as DI Lou Slack and Andrew Buchan (Broadchurch) as Col McHugh, explores the complex and powerful bonds of loyalty and family, set in a world where everyone has their own version of "right" and "wrong".

Examining the power of human conscience, we follow DI Lou Slack's (Farzad) epic battle towards redemption, by bringing down Col McHugh (Buchan); the man she has come to love like a brother and the man she has helped place at the head of Leeds criminal underworld. But while Col is a dangerous enemy to make, Lou's biggest battle may yet be with herself.

Better is executive produced by Mona Qureshi and Nawfal Faizullah for the BBC and Jane Featherstone (This is Going to Hurt, Chernobyl, The Split), Chris Fry (Landscapers, Giri/Haji, Humans), Lucy Dyke (The Split, Black Mirror, Eric), Jonathan Brackley and Sam Vincent for SISTER in association with Northern Sister. Jonathan Brough (The End, Rosehaven) serves as lead director. The international distribution of the series will be handled by All3Media International.
FIRST LOOK AT NEW DRAMA SERIES MRS. DAVIS
PREMIERES 21 APRIL ON BINGE
First look images of the new highly anticipated drama series Mrs. Davis, starring three-time Emmy Award-nominee Betty Gilpin (GLOW, The Hunt), has been released ahead of its four episode premiere 21 April on BINGE; new episodes drop every Friday.

Executive produced by Tara Hernandez (Young Sheldon, The Big Bang Theory) and Damon Lindelof (Watchmen, The Leftovers, Lost), the series is an exploration of faith versus technology and an epic battle of biblical and binary proportions. It has a dark satirical edge and focuses on a world where almost all decisions are made via algorithm.

Gilpin plays Simone, a nun who goes to battle against an all-powerful Artificial Intelligence known as "Mrs. Davis." She will star alongside Jake McDorman (Dopesick, The Right Stuff), who plays Gilpin's rebellious ex, who also has a personal vendetta against the Algorithm.

The cast also includes David Arquette, Elizabeth Marvel, Andy McQueen, Ben Chaplin, Margo Martindale, Katja Herbers, Chris Diamantopoulo, Ashley Romans, Tom Wlaschiha and Mathilde Ollivier.

In addition to co-writing and executive producing Mrs. Davis with Lindelof, Hernandez serves as showrunner. Eugene Kelly also executive produces.
There is a thread for Succession for further discussion.
I subscribed to Binge for the WWE content (got my fix and re-watched a lot of the same content when I originally subscribed to the WWE Network a few years ago, a few Rumbles, Summer Slams and of course WrestleMania's). I'll probably de-activate the subscription after this years WrestleMania.
I've watched a few of the movies available… streaming doesn't really compare to watching the physical version of the same film (the difference throws me off massively lol).
PREMIERE DATE AND FIRST-LOOK IMAGES RELEASED FOR ANTICIPATED SECOND SEASON OF LOVE ME
PREMIERES APRIL 6 ON BINGE
BINGE today announced that season 2 of award-winning Australian original drama series, LOVE ME, will premiere April 6 with all six-episodes dropping at once.

Season 2 picks up the story of The Mathieson family nine months after we left off and sees the family navigate the complexities of relationships when new love becomes a long-term proposition, with Hugo Weaving returning as Glen, the father experiencing new love in his 60s; Bojana Novakovic, the highly successful, yet complicated Clara; and William Lodder, as Aaron, facing the complexities of love, and new responsibility.

They are joined again by Silver Logie award-winning Heather Mitchell as Anita; Bob Morley as Peter; Celia Pacquola as Sacha; Shalom Brune-Franklin as Ella; and Mitzi Ruhlmann as Jesse.

Season 2 of LOVE ME welcomes new director Bonnie Moir, one of Australia's most exciting emerging creative talents.

Alison Hurbert-Burns, BINGE Executive Director, said: "Our beautiful Melbourne love story is back as we pick up with The Mathiesons as they traverse the highs and lows of love and life. We're dropping all six episodes on April 6, just in time for an Easter long weekend treat."

Commissioned by the FOXTEL Group, in association with VicScreen, LOVE ME is produced by Warner Bros. International Television Production Australia. The series is produced by Nicole O'Donohue, with lead writers, Leon Ford and Tamara Asmar, with Adele Vuko and Celia Pacquola each penning an episode. The series is Executive Produced by Hamish Lewis and Michael Brooks at Warner Bros. Australia. Executive Producers for the FOXTEL Group are Brian Walsh, Alison Hurbert-Burns and Lana Greenhalgh. LOVE ME is distributed internationally by DCD Rights.

I wonder if Netflix had not brought ads in , would Binge not have .
Oh come on. That's just nuts.
Binge has been bollocked.
Episode 1 of Colin from Accounts was reviewed on Gogglebox tonight - rather belatedly and just as the BBC has acquired the series for BBC 2. (They also watched 1923 another streaming show that has been available for a while).