I'm not 100% sure, but it's my understanding that 9HD is not available in the Port Pirie/Broken Hill region currently.
Also, I think Regional WA does not receive 9HD and 9Life. @WAtvVideos?
9HD and 9Life are not available in WA or SA. The table also fails to mention Mildura, Vic and Griffith, NSW which are in the same boat as WA and SA.
Another attempt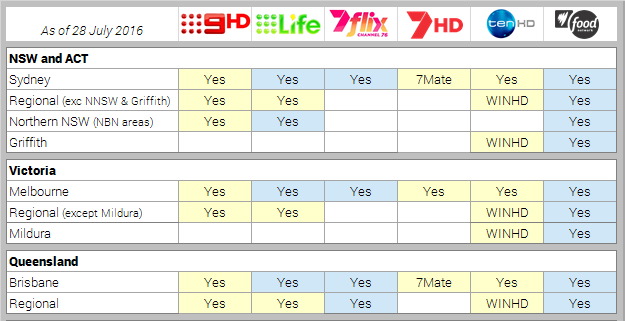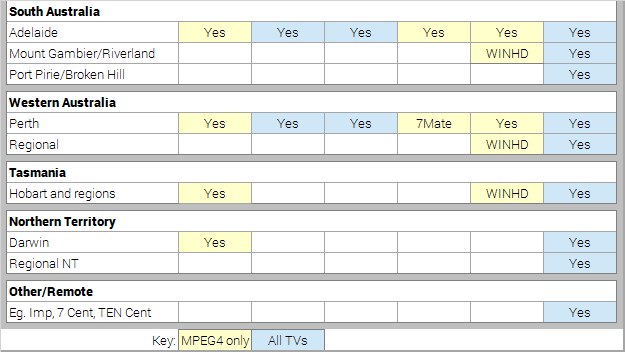 I'm surprised Darwin doesn't have 9Life… it's a Nine owned and operated station isn't it?
Correct. It's never been clarified just why 9Life wasn't launched there though I guess it was just deemed not sustainable. Darwin is a stand alone market with only 120,000 people.
I have made a start at updating the article. Still needs some work though.
Knowing that ABC HD will have it's December (re)launch in MPEG4, perhaps it might be soon time for an update in this thread?
New channel grid posted in article that incorporates ABC HD and Ten HD in NNSW. Not sure if it has caught up with the latest changes in regional areas though. Also some info on ABC HD.
Article and channel grid updated to reflect current 7HD situation.
Also, the FAQ says 9HD is absent in Tasmania.
Is that the WIN FAQ?
Can someone advise the Tasmanian LCNs for the MPEG 4 channels thanks.
Southern Cross - Seven
6/61 - SCTV
60 - SCHD [MPEG-4 HD]
62 - 7Two
63 - 7mate
68 - Racing.com [MPEG-4 SD]
TDT - Nine
5/51 - Nine
50 - 9HD [MPEG-4 HD]
52 - 9Gem
53 - 9Go!
WIN TV - Ten
8/88 - WIN
80 - WIN HD [MPEG-4 HD]
81/86 - ONE
82 - ELEVEN
83 - Placeholder
84 - TVSN
85 - WIN GOLD [MPEG-4 SD]
The Southern Cross section, not the FAQ sorry.
Very strange, have had 9HD here since launch.
Just letting you know 9Life is available in Darwin on Channel 94, at least in my hotel room.
Also of interest is SCTV Channel 74, currently listed as TBA. Any speculation as to what that may be?
I believe that used to be YESSHOP before it folded last year