BBL panels when he was playing for thr athunder
No doubt Tubby will be on Nine if they get back cricket. Also the familiar theme will make a comeback.
As for 7, they need a different direction like what 10 did with I'm a Celeb over summer with no domestic sport.
Doesn't count though imo.
Mark Nicholas would also make a comeback. He is on Supersport for South African home test matches
Not sure if he would. I would like him to of course.
Mark would be there, Mel if she's able. Tony Jones, Roz Kelly (and maybe by extension her husband Morne Morkel). You'd think maybe Steve O'Keefe (at least in the studio).
I think it will be a similar style to the World Cup/last English Ashes series. Studio with two at the ground. I think the difference will be if they win the home rights before then. If they do, then I can see them doing more from the grounds, but if they don't/it's not completed then or in time then they will do 2019 style.
ICC T20 World Cup semi finals fixture
Wednesday November 9 - New Zealand v Pakistan (SCG, 7pm AEDT) - live on 9Gem in all states
Thursday November 10 - England v India (Adelaide Oval, 7pm AEDT) - live on 9Gem in entirely in WA, live on 9Gem then main channel at 7.30pm local time for other states
Coverage begins at 6.30pm AEDT on 9Gem in all states
Updated 8/11
The Sunday night T20 Final appears to be on 9 AND 9Gem in all markets except Perth (9Gem only), though BNE and ADL will only get it on both from the conclusion of the 6pm news on 9 (due to timezone differences).
It's unusual for Nine to screen on both these days.
That's different from the new schedule TVCynic posted this morning.
Broadcast of the T20 match ended at 10:23PM (AEDT). In WA, 9GEM went straight into continuing coverage of the Billie Jean King Cup between Australia and Belgium.
Oh, looks like neither YoorTV or eBroadcast have updated then, I checked both.
Its a bit presumptuous of Nine to have scheduled it way then given their very average performances in the T20 World Cup!
They might have looked at the weather, expecting a bucket load of around 20 - 30mm on Sunday.
So instead of the cricket they have switched back to normal programming, instead of wasting a night.
There is also talk that ICC might be moving the final game start time or finish time due to the weather.
It might start at 3pm, to get it over before it comes or even finish later than programmed.
I highly doubt Nine want to play roulette with their own programming and instead have a stable line up on nine and let GEM be the throw around station.
9Gem's telecast of T20 World Cup final started at 6.30pm AEDT tonight, and finished at 11.19pm.
I guess this is a good spot to put this:
Richie talking about his broadcasting history at Nine and elsewhere, among a few other things.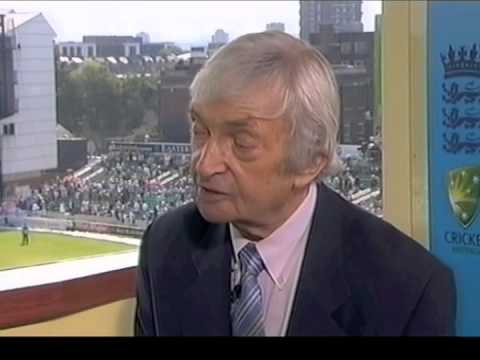 Feel free to move if you'd like mods
Mark Nicholas is commentating on a Test match in Australia after more than four years since Channel 9 lost the rights. He's leading the Supersport team covering the series for the South African audience.
He has done a lot of commentary for Super Sport and some for Sky sport since then.
Are they in Australia or have they gone the cheap and nasty route and calling from a South African studio?
Back when studio calling was unheard of for cricket, I remember on a previous tour, Supersport tried to go cheap and nasty and take Nine's commentary team if they could get Shaun Pollock to join them, but Nine said no.
As you can hear in this video (at least from 4:40)
Based on that video, Supersport has Mark Nicholas, Pommie Mbangwa, Dale Steyn, Shaun Pollock and Mark Waugh. We know Pollock and Waugh are at the ground so at least they have some commentators there.
Although at the start they used the first stint from Fox, so whether that is something ongoing or just an error in the highlights upload I'm not sure.