###Programs, scheduling information and discussion for NITV, National Indigenous Television.
Previous forum thread: National Indigenous TV
Relaunch and new NITV logo coming soon.
Is that meant to coincide with the launch of both League Nation Live and their new current affairs program The Point? The latter is meant to be hosted by Stan Grant but that seems less likely each day now due to the talk of him becoming a politician
and doesn't he host 4 days a week on Sky News too?
Found this from a quick Google search: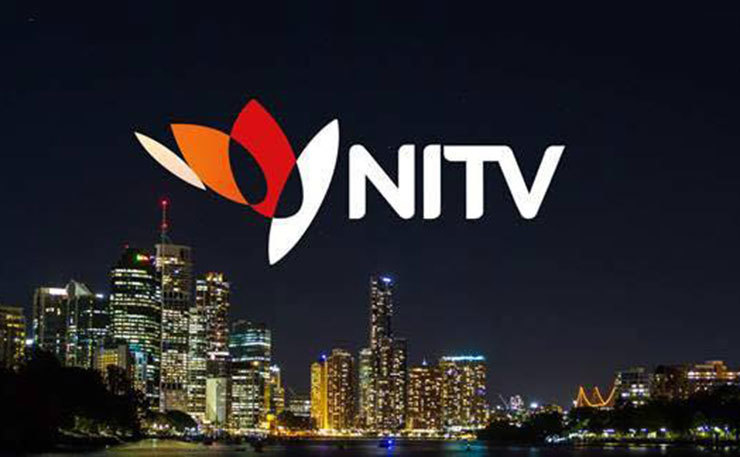 Source: https://newmatilda.com/2016/02/04/nitv-logo-brought-to-you-by-woodside-petroleum/
yuck, they ditch a very decent and authentic logo for that trash made in 2 mins by some graphic designer.
On an equal measure of random is the choice of background for that pic.
Because nothing screams indigenous like Brisbane's CBD.
With the launch of 7flix and the new HD channels this week, it seems the on air introduction of the new NITV branding has gone by unnoticed.
Am I correct in saying the rebrand happened last night? Hadn't noticed a change on the NITV social media accounts until then.
So what's the logo supposed to represent? A flower, a dancer, the Sydney Opera House? A mixed-up SBS?
I think it's meant to represent a fire. Previous packages have been based around fires. It has special meaning to Aboriginals and a lot of their art shows this.
Edit: The start of the logo animation in the ident pretty much confirms this.
The Ten HD thread gets some ridiculous amount of replies within hours yet this relaunch seems to have fallen flat on its face here. Not many people interested in NITV?
I'd be asking PR at NITV what's up there.
I quite like that new logo. Will have to check out how the rest of the on air look is.
Marngrook Footy Show returns to NITV
Celebrating their 10th season, the team from Australia's most unique football program return to NITV next Thursday, March 24. And they're ready to discuss all those burning AFL questions, like only they can.
The country's favourite all-Indigenous TV show celebrating everything AFL, Marngrook Footy Show is back for a 10th successful season. Combining all-star interviews and in-depth analysis , your hosts Grant Hansen, Gilbert McAdam, Leila Gurruwiwi, Chris Johnson and Shelley Ware are gearing up to return to the Marngrook desk to bring you the latest in footy news.
Opening the series, Western Bulldogs player Lauren Arnell talks about the exciting growth of the women's competition and her work helping to set up a women's team at Carlton Football Club for the 2017 season. In the second episode, Essendon's David Zaharakis, Hawthorn's Sam Mitchell and Western Bulldogs' Marcus Bontempelli are in the studio to chat about all the action from the first week's clashes.
As always, the panel will be joined by some rad live music acts, showcasing Australia's best emerging talent, alongside music legends.
NITV's proud of Marngrook Footy Show's commitment to recognising the huge contribution made by Aboriginal and Torres Strait Islanders throughout the history of AFL and the significant representation of Indigenous players in the present day. If you haven't been acquainted with the top-rating sports show that embraces Australia's diverse multicultural society – what are you waiting for?
I like the new logo.
An NITV relaunch in HD would get a lot more interest.

NITV celebrates National Youth Week with a spotlight on Indigenous achievement

Tanya Denning-Orman, NITV Channel Manager, says: "NITV recognises the importance of engaging our youth and their ability to adapt and make successful change. Our National Youth Week content gives our younger generation a voice, celebrates their achievements and acknowledges the uniqueness of their contribution to our communities."
Bush to Belly - Wednesday 13 April, 7.30pm
Narrated by Deborah Mailman, Bush to Belly is the life-affirming adventure of the 'Bush to Belly Cafe' in the Australian outback: serving the best coffee for hundreds of kilometres for adventurous, caffeine-loving cyclists on one of the gnarliest mountain bike rides on the planet - the 700 km Gibb Challenge. It follows the journey of a group of Indigenous kids from Yiyili, who take their Italian espresso machine on the Gibb River Rd, making coffees for 600 bike riders. Witnessing the highs and lows of mobile café life - bull dust, bikes and rich cultural exchange, it's a story of engagement through laughter and lattes, that's empowering one of the most remote communities on earth.
Cunnamulla Dreaming - Saturday 16 April, 7.30pm
Cunnamulla Dreaming follows a group of students in the South West Queensland town, who unite to create a large-scale theatrical production for their small community. Using performing arts to celebrate their unique way of life, they also address the issues facing the community and share their dreams for the future. This heartfelt and optimistic documentary sees the youth of this remote Australian township bring the community together. The stage play is a celebration of five years of the theatrical workshops running in Cunnamulla by Project Manager and Creative Director of the program, Peter Cook, in partnership with local youth group, Eagle Edge Solutions and the Cunnamulla P-12 State School.
One Mob to CGEN - Sunday 17 April, 7.30pm
Following on from last year's Our Spirit to CGEN, One Mob to CGEN, follows a new crop of students from South East Queensland coming together to represent their culture, identity and stories through song and dance. Mentored by some of Australia's finest dancers from the Bangarra Dance Theatre, the students create a dance based on a story from their Elders, representing rekindling and reconnection with their culture, their community and their people. Their symbolic journey culminates with a performance for thousands live on stage and for a national television audience as part of the Creative Generation – State Schools Onstage spectacular (CGEN), presented by the Queensland Government.
NITV Online
NITV's Online platforms will also celebrate the week with a host of content. NITV's Website will feature dedicated stories from and about Indigenous youth and there will be a social takeover on Twitter, Facebook and Instagram by some inspiring faces, giving us a glimpse into their daily lives. Audiences can get involved using #NITV on social platforms across the week.
All programing will be available immediately after the broadcast via SBS On Demand.