Should get a better picture while they're at it too.
Shoulda got a whole new set…
From the State of Origin release. Possibly just sport but seems to indicate more.
So Melbourne, Adelaide and NBN will be done as normal from studio?
I would like to think at least the sports segment, but it could also be likely that Peter Overton will present from Perth on Sunday night (perhaps that could possibly explain his absence from the news desk last night?).
I also remember in 2010, Peter Overton once presented Nine News live from Suncorp Stadium, with Ken Sutcliffe doing sport in Johannesburg (where the 2010 FIFA World Cup was being held).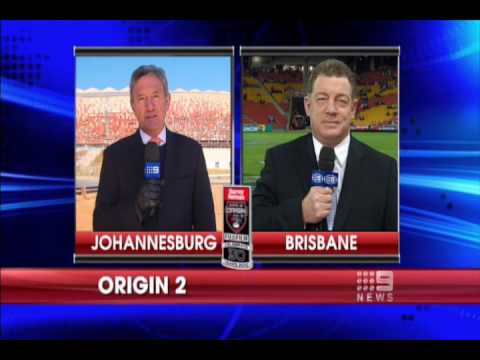 Either directly after a return from most breaks and after sponsor boards.
I saw that around a week ago maybe - I think it was a wipe between VO stories.
Certainly looks better than the standard national one that everyone uses.
They should have a Maroon version for Origin on Sunday I reckon.
Since the crash zoom has been ditched for the title card with Nine News Melbourne, I am not liking the tight zoomed in shots on the presenter on the first story and for the preview and handover to sport. The previous shots were much better and it feels uncomfortable to have those shots zoomed in tightly. So the modifications were half good and half bad in my opinion.
I also don't like how the sport preview is done from the lined screen on weekends. Do it from the desk like on weekdays.
New use of OTS graphics on the Sydney bulletin tonight with the reporter on location appearing over Overton's left shoulder.
Not sure I like that. Bit strange.