Yep - it's part of the new deal Foxtel and the WWE announced in September:
THE WHITE LOTUS
RENEWED FOR THIRD SEASON ON BINGE
The smash-hit series, The White Lotus, from Mike White , has been renewed for a third season following a new group of guests at another White Lotus property.

Season 1, set in Hawaii, received 20 Emmy® nominations across 13 categories and 10 wins, the most wins of any program this year, including Outstanding Limited or Anthology Series. The second season of the social satire is set at an exclusive Sicilian resort, in Italy, and follows the exploits of various guests and employees over the span of a week.

Ahead of the Season 2 finale on 12 December, viewers can catch up on both the first and second season of The White Lotus available to stream now on BINGE.

Created, written and directed by Mike White; executive produced by White, David Bernad and Mark Kamine.
STARS HELP LAUNCH NEW BINGE AUSTRALIAN ORIGINAL
COLIN FROM ACCOUNTS
AT THE WORLD PREMIERE TONIGHT
PATRICK BRAMMALL AND HARRIET DYER LEAD STAR-STUDDED RED CARPET
WHAT: To celebrate the launch of new BINGE Australian original, Colin From Accounts, Patrick Brammall and Harriet Dyer, was joined by a mix of celebrities and personalities, along with members of industry at the World Premiere tonight (Tuesday 22 November).

Centred on Ashley (Dyer) and Gordon (Brammall), two single(ish), complex humans who are brought together by a car accident and an injured dog, Colin from Accounts is about flawed, funny people choosing each other and being brave enough to show their true self, scars and all, as they navigate life together.
Colin From Accounts premieres 1 December on BINGE, with all eight-episodes dropping at once.
WHO:

Colin From Accounts cast: Patrick Brammall (No Activity and A Moody Christmas), Harriet Dyer (Wakefield and The Invisible Man), Helen Thomson (Rake, Elvis), Genevieve Hegney (Young Rock, Doctor Doctor), Tai Hara (Hyde and Seek, Home and Away), Darren Gilshenan (Dark City, A Moody Christmas), Yvonne Rae (Lambs of God, Total Control), Alex Malone (Wanted, The Heights), Laura Lakshmi (Home and Away), Zachary Raabe (Fractal), Matthew T. Walsh, Noah Fowler (Two Grown, Shang-Chi and the Legend of the Ten Rings), Sophie Bloom (Home and Away, Underbelly: Vanishing Act), Matthew Moore (The Great, Bump) and Madeleine Dyer (Sexy Herpes, Neighbourhood Wars).
Actors and personalities: Arielle Carver O'Neill (Ticket to Paradise), Lily Sullivan (Picnic at Hanging Rock), Claire Lovering (San Andreas), Bridie Connell (Gut Feeling) and Frances Berry (Palm Beach).
Along with members of Industry and Corporate Australia.
Is anyone else having issues with the Binge app on smart TVs?
Seems the pause and rewind/fast forward won't work. Can only pause using the select button and that's it. It's incriedbly frustrating!
OFFICIAL TRAILER RELEASED FOR FOURTH SEASON OF DC FAVOURITE
DOOM PATROL
PREMIERES 8 DECEMBER ON BINGE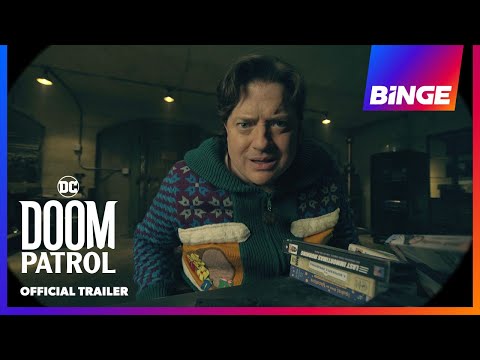 The official trailer for the return of the fourth season of popular DC series Doom Patrol, has been released ahead of its double-episode premiere 8 December on BINGE. The season continues with new episodes dropping weekly through 5 January.

Doom Patrol reimagines one of DC's most beloved groups of superheroes: "Robotman" aka Cliff Steele (Brendan Fraser), "Negative Man" aka Larry Trainor (Matt Bomer), "Elasti-Woman" aka Rita Farr (April Bowlby), "Crazy Jane" (Diane Guerrero), "Cyborg" aka Victor Stone (Joivan Wade), joined by former super villain "Madame Rouge" aka Laura de Mille (Michelle Gomez).

Each member of the Doom Patrol suffered a horrible accident that gave them superhuman abilities, but also left them scarred and disfigured. Part support group, part Super Hero team, the Doom Patrol is a band of superpowered freaks who fight for a world that wants nothing to do with them.

Season Four opens with the team unexpectedly travelling to the future to find an unwelcome surprise. Faced with their imminent demise, the Doom Patrol must decide once and for all which is more important: their own happiness or the fate of the world?

Ahead of the Season 4 premiere, viewers can catch up on Seasons 1-3 of Doom Patrol available to stream now on BINGE.

Doom Patrol is produced by Berlanti Productions in association with Warner Bros. Television with showrunner Jeremy Carver, Geoff Johns, Greg Berlanti, Sarah Schechter, Chris Dingess and Tamara Becher-Wilkinson serving as executive producers. The series is based on characters created for DC by Arnold Drake, Bob Haney and Bruno Premiani.
FOUR-PART DOCUMENTARY SERIES
BRANSON
PREMIERES 2 DECEMBER ON BINGE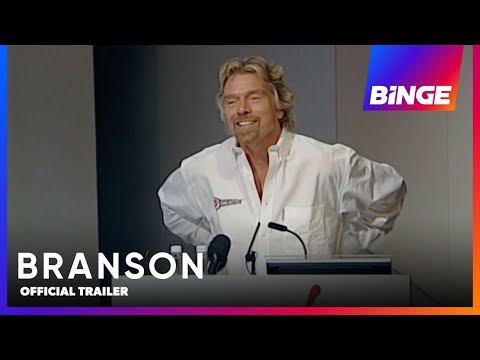 The four-part documentary series Branson premieres 2 December on BINGE with new episodes dropping every Friday. Directed by Chris Smith (100 Foot Wave), the series chronicles the many adventures of billionaire entrepreneur Richard Branson.

Sixteen days before Richard Branson is scheduled to make a potentially historic flight as the first passenger to reach space in his own spacecraft in July 2021, the businessman sits down for a conversation with acclaimed filmmaker Chris Smith, in light of the risk that lies ahead. Smith ultimately takes us on an expansive and intimate 70-year journey, from Branson's upbringing as the son of a spirited, tough-love mother in Britain, to his pursuits of extreme, personal daredevilry that serve both to grow his businesses' brands and feed his insatiable, lifelong thirst for high-stakes adventure. With added insight from family members, business associates, and journalists, and illustrated by decades of archival and home video footage, BRANSON reveals the ups and downs of a man driven by risk taking in both his business and personal life, reflecting on the costs and rewards of his lifelong, relentless optimism and boundary-pushing.

After dropping out of school where he struggled with dyslexia, Branson began his entrepreneurial career as a 15-year-old publisher of a student magazine and went on to become a millionaire by the age of 22 with the booming success of Virgin Records. His launch of the airline Virgin Atlantic soon followed, along with a myriad of other Virgin branded businesses with varying levels of success, culminating in the launch of Virgin Galactic, his commercial spaceflight company in 2004. His record-breaking, transoceanic boat and balloon challenges, and now his crusade to bring customers to space, have all been positioned by Branson with the Virgin brand front and center. Branson remains a complex figure, committed to both philanthropic initiatives and his own bottom line.

Alongside exclusive interviews with Branson himself, the series features his colleagues and employees, as well as insights from both business journalists and industry experts. Also included are intimate interviews with his family, including revealing excerpts from conversations with Joan, his wife of 33 years, his sisters, his daughter Holly and son Sam, and an extensive personal archive of his late mother Eve, whose lively presence in Branson's life continues to loom large.

Directed by Chris Smith; executive produced by Kate Noble. Executive producers Nancy Abraham and Lisa Heller, senior producer Tina Nguyen.
---
PREMIERE DATE AND OFFICIAL KEY ART FOR NEW CONCERT SPECIAL
LIZZO: LIVE IN CONCERT
PREMIERES 1 JANUARY ON BINGE
The premiere date of 1 January along with the official key art for the new concert special Lizzo: Live in Concert , filmed during singer, songwriter, rapper, flutist and actress Lizzo's 'The Special Tour' earlier this month at the iconic Kia Forum in Inglewood, California, has been released today ahead of its debut on BINGE.

Celebrate the new year with Emmy® and three-time GRAMMY-winning superstar Lizzo, her band The Lizzbians and The Little Bigs, The Big Grrrls with special guests Cardi B, SZA and Missy Elliott for a spectacular show filled with lots of love, positivity and incredible music.

Lizzo: Live in Concert is the culmination of her deeply personal documentary Love, Lizzo, which is available to stream now on BINGE.

Directed by Sam Wrench and produced by Kevin Beisler. Lizzo is executive producing with her production company Lizzobangers. Executive producing for Done+Dusted is Ian Stewart, Leah Lane and Hamish Hamilton.
FOUR-PART SPORTS DOCUMENTARY
SHAQ
PREMIERES 8 DECEMBER ON BINGE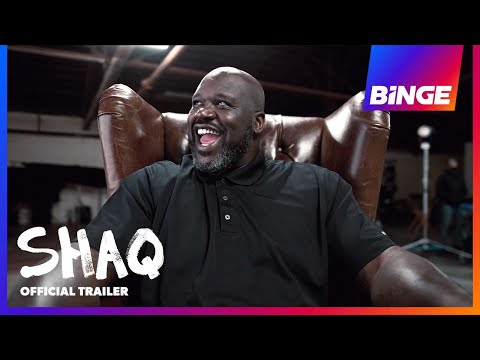 The four-part sports documentary series Shaq, from director Robert Alexander and Peter Berg's Film 45, details the life and career of NBA Hall of Famer and multi-hyphenate Shaquille O'Neal, premieres 8 December on BINGE, with new episodes dropping every Thursday.

Featuring a series of revealing interviews with O'Neal, Shaq tells the story of a basketball legend unlike any other, whose larger-than-life personality transcended the sport and transformed him into a cultural icon. The documentary series chronicles Shaq's ascent to superstardom, as a dominant force who won four NBA championships, league MVP honors, and changed the game. It also encompasses his life off the court, from his upbringing in a military family to his deepest personal relationships and prosperous broadcasting and business careers.

O'Neal said: "We kept this documentary real from the start, and I do feel like it is the most honest look into my life and career up until this point. This process allowed me to reflect publicly in a way I haven't before, and I'm so proud of the work everyone has done to put it all together."

The series features new interviews with some of the most revered names in basketball including O'Neal's teammates Penny Hardaway, Dwyane Wade, Dennis Scott, Brian Shaw, Derek Fisher and Rick Fox; his head coaches Phil Jackson and Pat Riley; and former Los Angeles Lakers General Manager Jerry West. In addition, the series includes interviews with several members of O'Neal's family, including his mother, Dr. Lucille O'Neal, siblings Jamal and Lateefah Harrison, and three of his children – Taahirah, Shareef, and Myles.

Shaq is a Film 45 Production in association with Jersey Legends and Hardware Studios. The film is directed by Robert Alexander, executive produced by Peter Berg, Matthew Goldberg, Brandon Carroll, Mike Parris, Perry Rogers, Colin Smeeton, and Robert Alexander; co-executive producer, Katy Murakami. Executive producers Nancy Abraham, Lisa Heller, and Bentley Weiner; coordinating producer, Abtin Motia.
SHAQ - EPISODE SYNOPSIS:
Episode One: "From Shaquille to Shaq"
Debut date: Thursday, December 8
The origin of Shaquille O'Neal's legend- from a military household to NBA stardom.
Episode Two: "The Rise"
Debut date: Thursday, December 15
The forming of a new dynasty in Los Angeles as Shaq reaches the apex of his career.
Episode Three: "The Fall"
Debut date: Thursday, December 22
Shaq and the Lakers' continued dominance leads to a "three-peat" but soon after comes to a crashing halt.
Episode Four: "From Shaq to Shaquille"
Debut date: Thursday, December 29