This ID was used by TNQ's UHF station channel 41 in Darling Downs/Toowoomba.
Ten Queensland ident from 2000, Mackay Harbour version:

Were Ten Capital a day (or more) behind the network with Neighbours, Simpsons etc or did they get the programs pre-fed to them to stay in sync?
I recall reading that WIN were wanting to buy NRTV in the late 1980s/early 1990s. Now that would have been interesting had that happened. NBN as a Ten affiliate?
I remember that too, it would have been interesting to see how NBN fared as a Ten affiliate… not too well, I would think.
Here's an interesting article on The Canberra Times from June 1994 in relation to the above.
Canberra's favourite TV programs, Roseanne, Baywatch, Seinfeld and Melrose Place, have become bargaining chips in an action by the Ten Network to suspend their supply to Capital Television.

The Ten Group Ltd's board is understood to have resolved yesterday to seek court approval for the suspension of its programming agreement in retaliation against a court action mounted by Capital's owner, Charles Curran.

Ten's fury has been sparked by Mr Curran's allegation that the sale of another Ten affiliate, Northern Rivers Television, breached the Broadcasting Services Act.
This is almost reminiscent of what Nine threatened to do to WIN back in 2007 during their affiliation dispute at that time.
They sort of did. They affiliated their SA stations with Seven.
I'd usually go back to the likes of AustLII for this but it appears NSW supreme court decisions only go back to late 1995, although some of the action dragged into that period… the BSA breach claim seems to relate to how it was an open question as to whether Canwest's large, mostly non-voting economic stake put them in control of Ten (which obviously as a Canadian company, they could not have).
Sounded like a bit of tit-for-tat between the two, including Ten Group objecting of the sale of Capital to Southern Cross at the end of 1994 (https://espace.library.uq.edu.au/view/UQ:11191/UQ11191_OA.pdf, p.234).
Stood for "Northern Rivers TV", which is what the area from the QLD border down to about Grafton or so is known as, so made up maybe three-quarters of 11-8's pre-aggregation coverage area (the colloquial "Port [Macquarie] to Southport" they mentioned in the news, apparently).
But in the 1990s after aggregation and having its viewing area extended to Gosford, I guess "NRTV" probably just stood for itself, much like so many empty acronyms these days. Little wonder why Ten/Telecasters decided to get rid of the name, and it probably helped that Southern Cross were of the same mind.
I was going to suggest the same thing until I realised the original question was 3 years old

but yeah, given the news only ran in Canberra and not in the other markets, it would've just been the normal episode at the normal time elsewhere, and just the same episode time-shifted for the Canberra market.
I think Canberra may have been behind at one stage if they had issues or a sport event overtook the timeslot but they would catch up pretty quickly. I used to watch Ten Capital News and neighbours and I don't remember the episodes being out of sync when I travelled to Brisbane for example. Given The Simpson's was on at 5 which were repeats having a double episode of neighbours would not have made much of a impact to the viewer if they missed a Simpson's episode.
Actually, when Canberra had Neighbours at 5.30 rather than 6.30 it was indeed a day behind. I was a teenager at the time and my cousins in Sydney would often be on the phone and tell us what was going to happen.
When they axed Ten Capital News - they had to show a special 'hour long Neighbours' to catch the Canberra audience up.
This changed happened in 1992 when TEN moved its flagship hour bulletin to 5pm. Capital gave it a go with the Canberra bulletin, but there was huge viewer backlash. Especially about the trashy American dating show Studs, which had taken the news slot. CTC moved the Canberra news back to 6pm after just a few weeks and Studs was taken off air completely. They backfilled this with the Muppet Show - see below.
The schedule ended up being (in Autumn 1992)
TEN
4.00 Candid Camera
4.30 The Wonder Years
5.00 News
6.00 Studs
6.30 Neighbours
7.00 Hinch
CTC Canberra
4.00 The Muppet Show
4.30 The Wonder Years
5.00 Candid Camera
5.30 Neighbours
6.00 News
7.00 Hinch
at the same time Southern Cross Network in Victoria created SCN Eyewitness News at 6.30pm in response to Ten moving its news to 5pm. SCN had alternative programming between 5pm and 6pm, SCN Local News aired in its heritage markets of Central Victoria and Gippsland at 6pm while Ballarat and Albury/Shepparton had Studs.
What exactly was the format structure like for SCN Eyewitness News? I assume that it would've followed the same bulletin format as Ten Eyewitness News had at that time but with a more localized focus.
I'm fairly certain that local bulletins aired in areas at 6pm, followed by a statewide bulletin with greater focus on national/international stories. Way ahead of it's time
Kinda guessing the format was pretty close to what Prime/7 Regional has been serving up in their 6.30pm slot in NSW currently - pretty much Southern Cross' own bundling together of the stories out of 10 Melbourne with a local reader.
Example captured via YT (not mine), in January 1992 after aggregation started, featuring the late Rob Gaylard: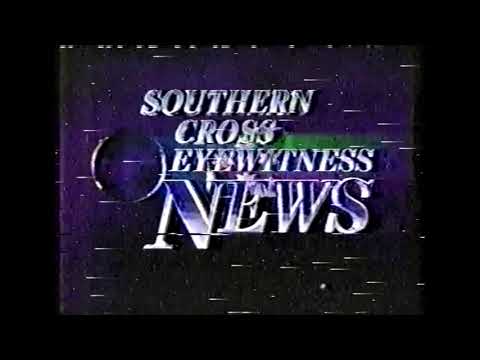 A very poor attempt at a professional logo cover up I don't know why they had it transition from the right instead of fade into view after the Eyewitness News text appears it would have looked better. Who is the voice over person sounds like the same one the Capital city bulletins were using at the same time?
And what's with the long pause after the station ID is done?