There's a Taskmaster "rule" that they don't repeat tasks across editions
Oh so this is the top secret stuff Jimmy Rees had been doing in NZ.
I guess we are lucky Luke doesn't have Tom's role.
Interesting wasn't aware of that, there was a great on stage challenge in the first ep of Taskmaster Norway, was wondering why the UK hadn't tried it
Tickets to the filming of the show in early December are now available from That's the Ticket website.
Your First Look At Taskmaster.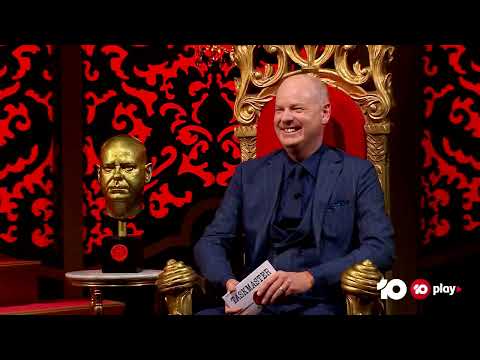 Premieres Thursday, 2 February At 7.30pm On 10 And 10 Play.
Good news for those who like watching comedians put through their paces: the BAFTA-winning show, Taskmaster, is getting an Aussie twist as local comics go head-to-head in a series of hilarious hijinks.

Each week, tough-love Taskmaster, Tom Gleeson, and his trusty sidekick Tom Cashman, set Julia Morris, Luke McGregor, Jimmy Rees, Nina Oyama and Danielle Walker a series of challenges, each more mind-bending and head-scratching than the last. Who will master the tasks?

In a first look at the highly anticipated series, viewers can glimpse the nation's top comics battling it out for points as they complete menial tasks with as much pizzazz and speed as they can muster.

Adapted from the hit UK format of the same name, Taskmaster rewards innovation, berates incompetence and doles out a laugh a minute.
Very interesting use of the 10 logo without the background, both on the watermark and the end card

That looks a lot like the Taskmaster NZ house
Yeah it was reported the challenges were filmed in NZ.
Premieres Feb 2 according to a promo.
That's what the media release says as well

Taskmaster and Gogglebox will make a great pairing on Thursday nights.
However, Taskmaster will only have a month to establish itself before Thursday night NRL returns.
New series of Taskmaster promos rolled out featuring different tasks.
I don't mind the circle-less 10.
Of course, finding the right giraffe – or comedian – is critical to Taskmaster's success and the Australian version has the mix just right, both on a performance level and an all-ages demographic level. Gleeson brings his ready-made stern hosting heft from Hard Quiz, while Morris brings an older built-in fanbase, as does McGregor. Rees, meanwhile, scoops up the parents familiar with Giggle and Hoot and his late-blooming comedy/TikTok career, while Oyama, Walker and Cashman have all secured solid profiles with award-winning stand-up shows, acting gigs and, in the case of Cashman, huge TikTok followings of 30 million views and counting.
10 are giving the show an bit of an extra push today with radio ads. Not sure if )Nine-owned) 2GB /3AW /4BC listeners will understand what "on 10 and 10Play" means. Perhaps it should have said "channel 10".

And radio appearances.
Jimmy and Luke McGregor were on Jase and Lauren on KIIS 101.1 this morning, while Tom Gleeson appeared on Jase and Lauren, as well as Ben, Liam and Belle on Nova 100, both on Tuesday.