UNITED THEY RISE, ​​DIVIDED THEY FALL. ​
​​
​STAN AND LIONSGATE RELEASE THE HIGHLY ANTICIPATED TRAILER FOR THE STAN ORIGINAL SERIES PROSPER PREMIERING JANUARY 18, ONLY ON STAN.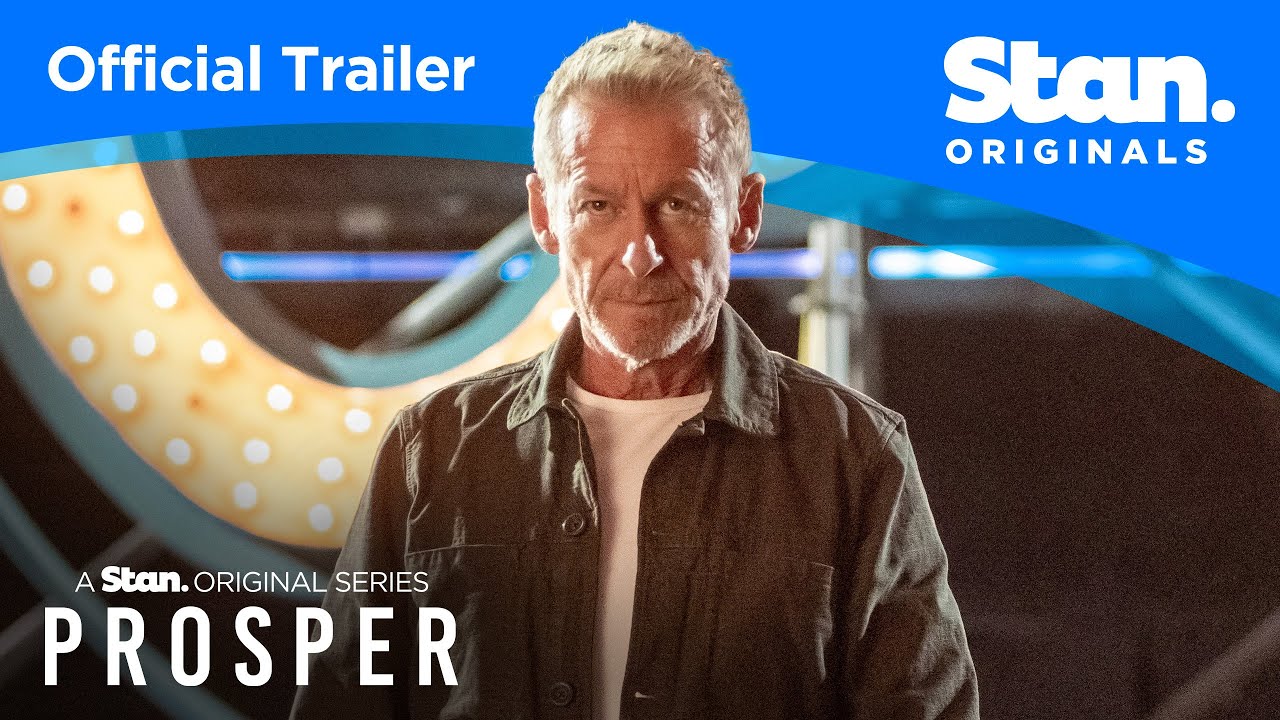 Stan, Australia's unrivalled home of original productions, and global content leader Lionsgate today released the trailer for the Stan Original Series Prosper, following a blue carpet event held in Sydney last night with the cast in attendance.

To watch and share the trailer, click here: https://youtube.com/watch?v=Ia4DPaNKECc

The Stan Original Series Prosper is a razor-sharp drama set in the inner sanctum of the evangelical megachurch, U Star, run by the wealthy and powerful Quinn family. When their charismatic founder and pastor announces an impulsive US expansion, the collision between faith and ambition threatens to tear his family and church apart.

Starring Richard Roxburgh (Rake, Elvis, Stan Original Series Bali 2002) and Rebecca Gibney (Halifax: Retribution, Back to the Rafters, Wanted), the ensemble cast includes Ewen Leslie (Stan Original Series Bali 2002, The Stranger), Ming-Zhu Hii (La Brea, Peter Rabbit), Jacob Collins-Levy (Stan Original Film True History of the Kelly Gang, The Witcher: Blood Origin), Hayley McCarthy (Sylvie's Love, The Originals), Jordi Webber (Nomad, Deadlands, Power Rangers), Jacek Koman (Moulin Rouge!, Children of Men, Rake), Andrea Solonge (Class of '07, Privileged), Brigid Zengeni (Stan Original Series Totally Completely Fine, The Secret She Keeps), Alex Fitzalan (The Wilds, Slender Man) and Alexander D'Souza in his acting debut.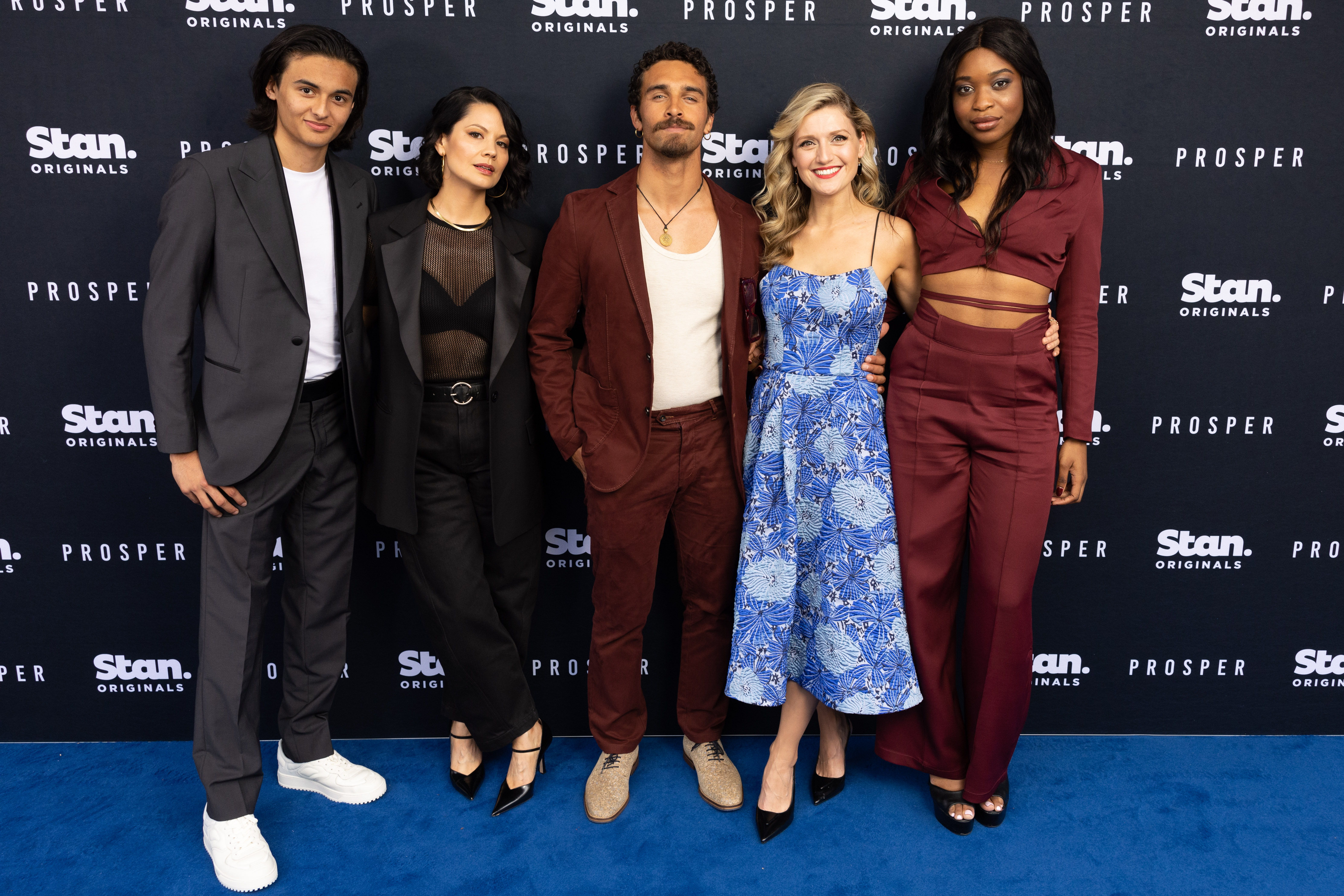 Alexander D'Souza, Ming-Zhu Hii, Jordi Webber, Hayley McCarthy and Andrea Solonge
Last night Ming-Zhu Hii, Hayley McCarthy, Jordi Webber, Andrea Solonge, and Alexander D'Souza attended the Stan Blue Carpet and were joined by Matthew Backer (Five Bedrooms, Playschool), Tommy Ropati (Stan Original Series Wolf Like Me, Last King of the Cross), Holly Leonard, Alexander Cheung, Emma Horn, Nat Buchanan, Tok James, Teneale Clifford, Julian Weeks, Nikki Shiels along with influencers Justin Hill, Sam Fricker and more.
Ewen Leslie, Hayley McCarthy, Jordi Webber, Ming-Zhu Hii, Rebecca Gibney
Created by Matt Cameron (Jack Irish, Secret City) and Jason Stephens (Lambs of God, Upright) and developed with the support of Stan, Lionsgate, Screen Australia and Screen NSW, Prosper is written by Matt Cameron, Liz Doran (Barons, Please Like Me), Louise Fox (Glitch, Broadchurch) and Belinda Chayko (Fires, Stateless). The series is directed by Jennifer Leacey (The Secret She Keeps, Stan Original Series The Commons) and Shaun Wilson (Romantic Getaway, Frayed), and produced by Jason Stephens and Andrew Walker (Deadloch, Rosehaven). Helen Bowden is executive producer for Lingo Pictures and Cailah Scobie and Amanda Duthie are the executive producers for Stan.

The Stan Original Series Prosper is produced by Lingo Pictures, part of ITV Studios, with major production investment from Screen Australia with the assistance of the NSW Government via Screen NSW and the Made in NSW Fund. Lionsgate will handle all sales outside of Australia.