Discussion of Seven Melbourne
The old thread can be found here
The NYE coverage is held at Docklands, same as last year.
Emily Angwin, Ash Pollard, James Tobin and Nathan Templeton right now on stage.
Interstate viewers can watch it streamed on 7live or on Southern Cross TV in Tasmania.
Caps would be much appreciated! Thanks
Wish I can watch the Melbourne NYE show on 7Two.
I find it silly that they don't show them on 7TWO into other states (same with the Good Friday Appeal). Not like there's anything else worth watching on there.
I really enjoyed it

I Hope on the 8th or the 15th, Seven in Victoria and SCTV in Tasmania will air that Missed Goldbergs Episode I Rode a Hoverboard that the Rest of Australia aired Last Night Coz we need to Compensate for Last Night's New Years Eve Fireworks that started at 11. I'm Serious!!!
Download the Plus7 app and watch it at your convenience.
It won its timeslot again in Melbourne this year… they should test broadcast it in Adelaide and Perth next year.
Personally, I'd prefer to see Seven Adelaide/Perth broadcast live and local NYE fireworks coverage over a delayed broadcast from Melbourne.
Agree… but these telecasts don't come cheap. I know the City of Melbourne help fund the local broadcast with Seven Melbourne.
Caps from last night's coverage. They did well again this year, Ash Pollard was actually pretty good in the host's chair.
Thanks for the caps @Brad.
Ash seems the type of lady who puts in 110% effort into whatever she is doing in the media.
And just as much effort into her big hair,but looking at those caps the hair not as big as usual.
Yeah, that would be definitely preferable, of course. But I reckon they should air Melbourne's on 7TWO as a choice for anyone who might want to watch them in other states besides VIC & Tas.
Appreciate the caps Brad!
I'm guessing Peter Mitchell and Jennifer Keyte are again hosting the Moomba Parade on Monday?. It'll be telecast from 11am to 12pm.
With Jane Bunn and Nathan Templeton: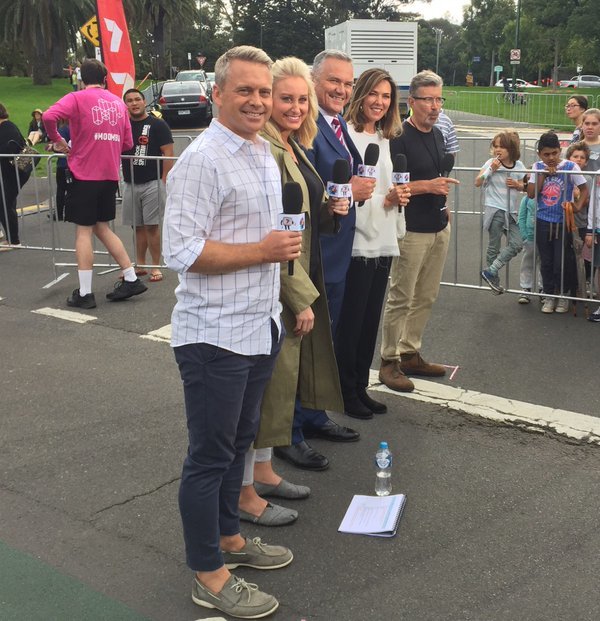 Note the TV man (I think that what it is called) instead of the 7 logo on the microphone.
Seven introduced its 60th anniversary logo during the latest AFL promo shown tonight. HSV7 began transmission on November 4, 1956.