###Destination Flavour Scandinavia
Brand-new 7-part series begins Thursday 31 March at 7.30pm
Step into the edgy world of Nordic food and culture with Adam Liaw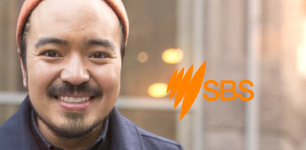 "I've been fascinated by Scandinavia for as long as I can remember. As a kid it was this wintery wonderland of kings and queens on the other side of the world, straight out of a Hans Christian Anderson fairy tale.
But it wasn't until I visited recently that I fell in love with the food. Food in Scandinavia mixes traditional comforts with a contemporary elegance that is as much a social movement as it is a style of cooking. New Nordic cuisine is a barnstorming influence on modern food. " – Adam Liaw, host
The latest stimulating series of Destination Flavour sees Adam Liaw head to the striking Nordic region to reveal that there is so much more to Scandi fare than pickled herring and meatballs. From the region's traditional Viking past to the latest in the new Nordic food revolution, Adam explores all that is wonderful about Scandinavia in Destination Flavour Scandinavia from 31 March on SBS.
Take a journey with Adam as he visits what is possibly the cleanest, healthiest and happiest part of the world and immerses himself in Scandinavian culture, history and, of course, cuisine. He travels to Denmark, Norway and Sweden and explores the new Nordic food revolution that has spread like wildfire across the region and rest of the world. In this evocative and stylish Scandi food adventure, Adam investigates the future of global and local food trends sparked by innovative Nordic influence.
Throughout his travels Adam meets and cooks with top Scandinavian food talent including the godfather of the new Nordic food revolution Claus Meyer and head chef Torsten Vildgard from Studio, renowned chef Claus Henriksen, inspirational chef Christian Puglisi of Relae, daring chef Niklas Ekstedt of Ekstedt, meatball extraordinaire and chef Mathias Pilblad, the first Swedish female chef awarded a Michelin star Titti Qvarnström and Maaemo's head chef Esben Holmboe Bang.
Adam also looks in-depth at why and how this region is so well-known for its glee factor at The Happiness Institute with director Meik Wiking. Join Adam on this joyful journey as he tours Scandinavia creating authentic dishes along the way, such as salmon gravalax, roast boar, real Danish pastries and the national dish of stegt flaesk.
---