I was thinking today to when I first started time shifting TV shows with a VCR and recalled the first TV that I purchased. It was a 16" Phillips portable. The features included IR remote; 12 push buttons channels with an LCD readout of the channel number - no watermarks needed!
I also thought it was modern at the time because there were no dials for volume, contrast or brightness but push buttons instead. The screen size was also a bit unique because most portables were 12 or 14" screens. To tune the stations, there was a pull out tray that had a separate fly wheel and a band selector (Band V low, V high and U) for each of the 12 buttons.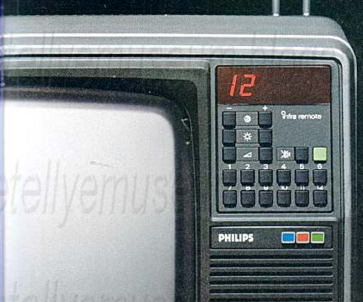 It had an amazing 4 watts of power for the sound! At the time my parents TV was a 27" Kriesler that was fairly common but had a dodgy remote that I think was ultrasonic.
My first VCR was a huge Panasonic VHS machine. I can't remember why I chose VHS at the time rather than Betamax but glad I did.
Interested to hear of other's memories.
Some nostalgia topics from the old forum
What is your earliest TV Memory?