Is this when it all falls apart?
Oh well, nothing lasts 4ever.
The Veronicas did not really split, it was for a campaign called 'The Solo Project' with Vodka Cruiser, which is in celebration of feminine empowerment and self-love.
Aria sales figures
Elton John & Britney Spears- Hold Me Closer #1 (debut) sold 8630 copies made up of 2924 digital & 5706 streaming sales
Nicki Minaj- Super Freaky Girl #2- sold 8486 copies made up of 293 digital & 8193 streaming sales
Harry Styles- As It Was #3- sold 8400 copies made up of 414 digital & 7986 streaming sales
So the top 3 was quite close
Over what time period is that? 1 week?
Yes, that is over a period of 1 week. As you may or may not already know, Aria Charts run from Friday to Thursday. So the figures I provided are from Friday 26th August until Thursday 1st September.
Seems most people agree. It dropped from number 1 to number 4 after one week.
Good to see "I Ain't Worried" by One Republic rise to number 2. A slow climb to the top over 13 weeks. I liked this song the instant I heard it and Shazamed it to see who sung it. It's a good old fashioned style hit song from a movie soundtrack.
Agree - haven't liked a lot of other OneRepublic stuff but I do like that.
Not sure if this is the right thread for it, but last Friday night (September 9) I went to see Mimi Webb perform live in Sydney for the first time. She is an up-and-coming British popstar who has already produced hits like "24/5" and "House on Fire".
I managed to film this performance of her song "Goodbye" - try watching this without tearing up.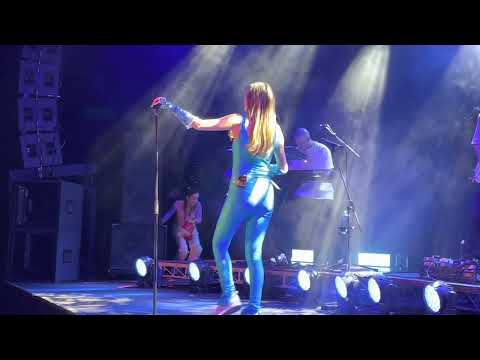 British singer Mimi Webb has delayed the release of her new song, "Ghost of You", due to the recent passing of the Queen. It will now be released on October 7.
Been listening to Sam Fischer's "Hopeless Romantic" since he performed this at his recent Sydney gig (in which he opened for Mimi Webb). It's a bop!
In some huge music news, Ava Max will be dropping her second album, "Diamonds & Dancefloors", on Friday 27 January 2023.
The artwork for Mimi Webb's new song "Ghost of You" was also revealed yesterday. This song drops this Friday morning at 10:00am AEDST (midnight London time); the music video drops at midnight Saturday morning AEDST.
The song has already been released in Australia but Londoners have to wait another hour (it drops at midnight their time).
So you really, really, really like Mimi Webb.
Oh yes I do, she's become my new musical obsession!
ACA's report including details of John Farnham's progress.
"Now he's almost back to his normal self, just dropping jokes all the time. The nurse teams come in and it's new people, a new audience. He's a performer at heart and he's always trying to make people laugh, which is just who he is."
My apologies, I'm just too excited to share this but Mimi Webb will be dropping her debut album, titled "Amelia", on 3 March 2023 - that's five weeks after Ava Max drops her second album "Diamonds & Dancefloors".