Starts Monday 14th March,2016 from 7.30pm on TEN.
[quote="Travis, post:2, topic:917"]
14th March?
[/quote] Yeah mate. Today, I wrote the date as the 30th March. I'm all over the place. But it will be interesting as to who will appear, no doubt Studio 10 presenters or the Living Room. Also a 1hr format, wow, maybe that is too much.
Wouldn't be surprised if the spin-off damages the main show's ratings so-what due to over saturation
How many channels will All Star Family Feud be simulcast on?

6pm Family Feud is now simulcast on 4 channels
Logo for new version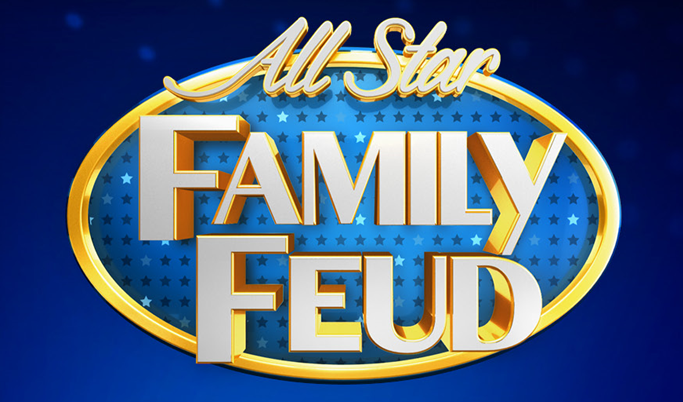 Hopefully all star feud will be in full HD.
What is wrong with this fucking network? It's not native HD.
While I agree, it must be said that Hot Seat on Nine isn't in native HD either!
Funnily enough out of all three of the game shows, I think The Chase Australia is the only one currently produced (and seen, via one of the Plus7 livestreams) in native HD.
Did TEN even advertise All Stars? I suddenly turned on ten (pun not intended) and noticed it was on!
An hours too long. This is dragging…
They've been airing regular ads for a while now.
Guess I just haven't been watching 10 for a while then

This really should've replaced the Sunday night episode and been kept to 30 mins also.
what I don't get with people is that they had said in the past that All Star Family Feud should be an hour to replica US and now we've got some people saying it should be shorter.
lol respectable
Of course no mention of the simulcast. Disappointing that came from the smh. It's Newscorp trash
Next Monday's episode of All Star Family Feud will be The Project v Neighbours. The Project team will be led by Carrie Bickmore alongside Waleed Aly, Peter Helliar and Steve Price, playing for Carrie's Beanies for Brain Cancer. Olympia Valance will captain the Neighbours team, with Alan Fletcher, Jackie Woodburne and Stefan Dennis playing for Australian Childhood Foundation.
I think ten should commission some more episodes of All Star Family Feud and place on Wednesday nights after Masterchef. It isn't doing too badly. I have only watched one episode so don't know what it is like in an hour format, and when I did watch it flicked to MKR a bit.