ABC2 in Victoria, NSW, ACT and TAS is showing the closing stages of W-League semi final between Melbourne City and Brisbane Roar, which is now in extra time. The match was on ABC until 7pm when it switched over. As the result tonight's regular line-up on ABC2 will be delayed.
UPDATE: City beat Roar 5-4 in penalty shootout and will host Sydney FC in the grand final next Sunday. It will be shown on ABC at 2pm.
with the 7pm News and the Australian of the Year Awards over on ABC, it made sense to switch the extra-time portion of the Semi Final over to ABC2.
Was it a good switch-over from ABC to ABC2?
on a side note: I think we need an ABC Sports topic. Yeah?
ABC will show all four days of Women's Australian Open golf, starting tomorrow (Thursday) at The Grange in Adelaide. However it will be shown on delay in SA against the gate, as well as QLD, NT and WA, which is not ideal especially if the final round goes into a play-off. The broadcast however will be streamed live at the tournament website.
The Australian reports today ABC sports presenter Stephanie Brantz has joined ESPN as one of several journalists for the Australian version of the sports website, to be launched this week.
Football Federation Australia announced today that the Matildas (Australia women's soccer team) will play New Zealand's Football Ferns at Melbourne's Etihad Stadium on Tuesday, June 7 at 5pm AEST, as their final hit-out at home soil before the Rio Olympic Games. The match will be shown live on ABC and Fox Sports. This match will be followed by Socceroos v Greece at 8pm at the same venue. The men's match will air live on Fox Sports (but may be shown on delay on SBS).
Why can't ABC air both men's and women's matches. It will be more sensible for the ABC to partner with Fox Sports for the latest A-League rights.
ABC could be the new home of the A-League and Socceroos. They achieved massive ratings during last year's Asian Cup Final with an average audience of 1.8 million tuning in to Australia's historic victory over South Korea.
It comes down to money and commercial sponsorship. ABC is walking a tightrope when it shows the W-League because the major sponsor (Westfield) is mentioned on air and on the ground. The ABC charter has strict rules on how commercial sponsors can be mentioned on air.
###Australian Matildas v New Zealand Ferns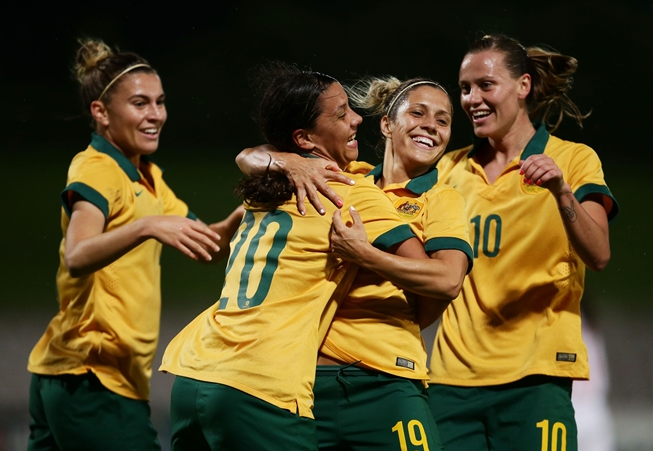 Tuesday 7 June at 5:00pm AEST
Join an all-female commentary team with commentators Amy Duggan and Stephanie Brantz, and ex-Matilda team members Sarah Walsh and Heather Garriock, as The Matildas take on fellow 2016 Rio Games qualifier New Zealand live at Melbourne's Etihad Stadium.
The match will be the official Rio farewell for the Matildas, who are an all-time high 5th on the FIFA world rankings and aiming for a medal in Brazil.
This match is part of a double header, played alongside the Socceroos v Greece, on a night that showcases the exciting style of Australian football and give equal billing to the women's national team alongside the men.
The last time Australia's two senior national football teams played a double header was in 2008 in Sydney when the Matildas defeated Canada and the Socceroos beat Ghana.
The Matildas' match against the Football Ferns will be shown LIVE on ABC TV and is a final hit out on home soil in their preparations for the Rio Games.
The Australian Ladies Masters golf tournament has been evicted from the Royal Pines Resort on the Gold Coast. The Ladies Masters has been held there since 1992. A new tournament, the RACV ALPG Players' Championship, will be played at Royal Pines in February 2017. ABC currently holds the broadcast rights to the Ladies Masters, it's not known yet if it will show the Players' Championship.
ABC yesterday announced details of its coverage of the Rio Olympic Games, covering radio, TV and online. The main radio broadcast (analogue, digital, online and ABC Radio app) will be at mid-mornings covering swimming and athletics finals. The overnight coverage will only be heard on digital radio, online and the ABC Radio app.
ABC's full radio broadcast schedule can be found here
Full press release:
ABC GRANDSTAND HAS YOUR 2016 RIO OLYMPICS COVERED
Join us for Rio 2016 as ABC Grandstand will bring listeners the big Olympic moments live on Radio from 10am-2pm AEST during week one and 9am-12pm AEST during week two, as well as daily updates across ABC Local Radio, News and online at abc.net.au/grandstand.
The ABC's Rio commentary team will be on hand to bring all Australia's Gold Medal action live to radio audiences, including award winning commentator Gerard Whateley who will be poolside at the swimming with dual Olympian Rob Woodhouse.
"The Olympics brings the nation together like no other sporting event and in Rio the ABC furthers a proud and rich tradition of taking Australia to the Games," Grandstand Presenter Gerard Whateley said. "From the adrenalin rush at the pool and track, to the stories and controversies, and the raging debates and soaring accomplishments you'll share it all with the ABC."
During the Games, start each morning with News Breakfast for up-to-the-minute results and a preview of what's ahead from sports presenter Paul Kennedy in Copacabana.
Throughout each day National Sports Correspondent Mary Gearin will report on all the action plus a full wrap each night on the 7pm ABC News.
Grandstand TV presenter Peter Wilkins will delve deep with athlete interviews and features throughout the day on News 24. Ben Worsley will be giving us the full colour and movement from Rio HQ on 7.30.
The Games coverage will be broadcast on ABC Local Radio, Grandstand Digital Radio, online with live updates on twitter @abcgrandstand and the ABC Radio App.
Grandstand Digital Radio is your dedicated non-commercial Olympic radio network, visit abc.net.au/radio to stream.
The 9th season of the W-League soccer starts this weekend, and the ABC and Fox Sports will again simulcast one match per week live, starting with Adelaide v Melbourne Victory on Sunday.
ABC's main channel will show the 2017 ISPS HANDA Women's Australian Open golf, to be held at the Royal Adelaide Golf Club next month.
TV times (all Adelaide time)
Thursday, February 16: 2:30pm – 5:30pm
Friday, February 17: 2:30pm – 5:30pm
Saturday, February 18: 12:30pm – 5:30pm
Sunday, February 19: 12:30pm – 5:30pm
###2016-17 W-League semi-finals
Perth Glory vs Sydney FC
Saturday 4 February 2017
nib Stadium, Perth
Kick-Off: 3.30pm local (6.30pm AEDT)
Live coverage on ABC TV in WA from 3.30pm AWST and ABC TV in other states from 10.55pm local time. Live coverage on FOX SPORTS 506 from 6.30pm AEDT.
Canberra United vs Melbourne City FC
Sunday 5 February 2017
GIO Stadium, Canberra
Kick-Off: 8.00pm local (8.00pm AEDT) <- note new kickoff time
Live coverage on FOX SPORTS 505 and replayed on ABC TV nationally (check local guides)
The ABC has four channels but they can't show the Perth v Sydney game live into Sydney.
At the end of W-League regular season, Canberra finished first, followed by Perth, Sydney and Melbourne City. Perth may host the W-League grand final if it beats Sydney AND if Melbourne City is victorious over Canberra. In that case, ABC may have to show the match live on ABC2. It is possible for the GF to held in late afternoon to not only avoid the heat but also to maximise attendance. However due to time difference it may overlap with the 7pm TV news in Sydney and Melbourne.
The ABC has made it clear over the years that they will not shift the 7:00pm news, with election coverage being pretty much the only exception. So it will have to be on ABC2, as you wrote.
The FFA announced today the W-League semi final between Canberra and Melbourne City this Sunday has been pushed back to 8pm AEDT under its heat policy. That means the match will not be shown live on ABC, it will be a late night replay.
Top temperature of 37C is forecast for the nation's capital on the day, with sunny morning followed by showers and thunderstorm in the afternoon and evening.
Edit: Karen Tighe said on ABC Radio Grandstand this afternoon (4/2) that this match would be shown on ABC TV tomorrow at 10pm, thus on a 2 hour delay for viewers in VIC, ACT, NSW and TAS.
Well, they cut Donald Trump's victory speech short to go to the news.
Both scenarios became true so Perth will host the W-League grand final next Sunday against Melbourne City. Kick off is at 4.30pm local time (7.30pm AEDT). Since the ABC has promoted Midsomer Murders will air at the usual time of 8.30pm I reckon the GF will be shown live on ABC2.
EDIT 11/2: According to online guides, the W-League grand final will be shown on ABC2 this Sunday from 7.30pm to 10pm AEDT. However it will be live in NSW, ACT, VIC and TAS only and delayed elsewhere so it won't interrupt children's programming in late afternoon. That is unacceptable. If you don't want to wait, there will be live coverage on ABC Radio in WA and nationwide on digital radio and ABC Sport website.