Discussion of ABC NewsRadio

The NewsRadio NewsMaker of the Year is…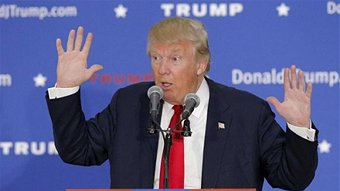 NewsRadio listeners have voted for who they thought should be named ABC NewsRadio's NewsMaker of the Year - someone who has made headlines this year - through their excellence, passion for a cause; political nous, influence or personal bravery.
Outspoken business magnate and Republican US presidential candidate Donald Trump was announced as the winner.
The runner-up is Australian Human Rights Commission President, Gillian Triggs, who called for the end of offshore detention.
The top five results:
Donald Trump
Gillian Triggs
Tony Abbott
Rosie Batty
Malcolm Turnbull
Despite a close race among subsequent candidates, Donald Trump maintained a clear lead in the final two weeks of the month-long poll, claiming more than 22 percent of total votes.
The real estate tycoon and television personality announced he was running in the Republican US presidential race in June. Within weeks he became the frontrunner in a field of 17 candidates.
As he announced his campaign for the presidency, Trump declared the American Dream dead but vowed he was the man to bring it back "bigger and better and stronger than ever before, and we will make America great again".
Trump's campaign has not been strong on policy. Instead, the presidential hopeful has taken a hardline approach to issues that already appeal to many Republicans, like immigration and border control. After branding Mexican immigrants as criminals, drug dealers and rapists, he pledged "build a great, great wall on our southern border".
He sought to make his lack of political experience a virtue and on foreign policy he was adamant that "No one will be tougher on ISIS than Trump".
In early December, he called for a "total and complete shutdown" on all Muslims entering the United States, drawing rebukes from both sides of US politics.
Speaking at a rally in South Carolina, Mr Trump warned of more September 11-style attacks if stern measures were not taken, adding that: "We have no choice".
Mr Trump went further than other Republican candidates, who have called for president Barack Obama to suspend plans to offer sanctuary to as many as 10,000 Syrian refugees fleeing their country's civil war.
Mr Trump's statement drew sweeping condemnation by presidential rivals and the White House, which denounced his call as "totally contrary" to US values.
These provocative statements, combined with Trump's innate showmanship, have led to a flood of free media attention.
According to NPR reporter Scott Detrow Trump spent "virtually nothing" on advertising until this week, having revealed plans to spend $2 million per week on advertising in early primary states throughout January.
"Looking at the last campaign finance reporting period - that would be July August and September - the Trump campaign only spent $6000 on radio ads. That's less money than they spent printing t-shirts," Mr Detrow said.
"That's really a drop in the bucket."
"By comparison, Jeb Bush's campaign has spent more than $30million," he said.
Last year's ABC NewsRadio NewsMaker of the year was Domestic violence campaigner, Rosie Batty.
For the first time, I heard on News Radio this afternoon…
A song!
Cream - Prince
Obviously connected to the news of his passing.
NewsRadio will broadcast today's A-League Grand Final between Adelaide United and Western Sydney Wanderers across Australia, at 4pm AEST today just before kickoff. The match will also be broadcast on ABC Local Radio in South Australia.
was broadcast on digital as well. i would have thought grandstand or ABC extra would have been the choices for this
The Festival of the Boot returns to ABC NewsRadio this year as Roy and H.G. deliver their outrageously funny commentary of AFL and NRL Grand Finals. It starts this Saturday with the AFL Grand Final at 2pm AEST.
Fairfax article ABC in 2017 reveals that ABC News Radio will be rebranded ABC News in 2017
The News24 channel and NewsRadio will be rebranded "ABC News": But how do we distinguish between them – and the TV news bulletins? A spokeswoman says: "When necessary, they will be described as 'the ABC News channel' and 'ABC News on radio' respectively … the TV bulletins will be described as 'ABC news [State name] at 7pm on ABC TV'."
perhaps they might go back to the rolling news format and get rid of some of the long form programming.
they need to ditch shows like the law report, the health report, the audio broadcast of Q&A and the other long form programming. the rolling news format was a big strength of newsradio but they are moving away from that and the usefulness of the station is fading bacuse of it
They should be kept for weekends because there is usually not much happening apart from sport.
Also, WA listeners often miss out on rolling news at breakfast time because (due to time difference) Federal Parliament sessions are on when they wake up, forcing them to tune into ABC 720 or commercial stations for latest news. Perhaps the ABC should look at that issue, maybe some rolling news from 7-8am WA time on analogue with Parliament proceedings broadcast online (they already have split broadcast with AFL matches in NSW and QLD).
The problem with this is that NewsRadio was set up to fill the dead time when parliament was not sitting. Parliament was broadcast on these frequencies and when there was none the stations were dead air. There is legislation exisiting that says analog frequencies need to carry the parliamentary broadcasts.
The best way to get around it is to get a digital radio (if it exisits where you are) as there is no parliamentary broadcasts on it.
When it started it was often announced on-air as 'ABC News Radio on PNN the Parliamentary and News Network', a very long winded name.
it was originally PNN (parliamentary news network) and is still the call sign for the FM frequencies - on the gold coast or example it's 4PNN.
they got sued by CNN and as part of the settle ment they dropped the PNN initals. the " 'ABC News Radio on PNN the Parliamentary and News Network' name was used in the transition period.
The metro AM licences are xPB as well. I'm too young to remember the pre- NewsRadio days- I'm assuming the txs were switched off completely on non-sitting days.
[quote="dxnerd, post:13, topic:508, full:true"] I'm assuming the txs were switched off completely on non-sitting days.
[/quote]
Yes that's my recollection of them.
It was reported at the time that the transmitters used were back ups for the main ABC AM station - I think they were still called ABC Radio 1.
The hourly news bulletins on. Local Radio, Radio National and Classic FM are all just branded as "ABC News".
Going to be a bit confusing with a station that uses the same name for a full time broadcast.
with the rebrand of ABC local happening today i wonder of we will finally get something on newsradio - new stingers at least to introduce headlines, sport etc.
it feels like newsradio is the neglected step-brother of local radio. i can't remember when they last had a overhaul of stingers - it's been a few years i think
I presume that ABC NewsRadio will get a new On-Air sound whenever the wider TV/radio rebrands of ABC News happen this year.
According to this, it seems that ABC News Radio was directed to re-broadcast ABC24 last Monday
ABC radio staff slam 'odd' decision to rebroadcast TV coverage of plane crash
ABC News Radio journalists have criticised a decision from ABC management to take their broadcast off the airwaves during last week's Essendon plane crash, and instead play the audio feed of TV's ABC News 24.
What was broadcast on 3LO at the time?
Jon Faine's morning show was on ABC Radio Melbourne at the time of the plane crash. He would have taken lots of phone calls from witnesses and his colleagues near the scene.