###DAFUQ?

From 15 February
New six-part web series DAFUQ? premieres on ABC iview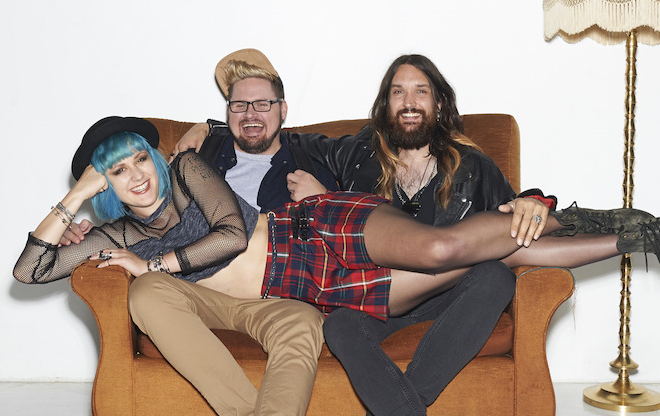 Get ready for the hottest thing in non-mainstream cross-platform news, as DAFUQ? (as in, 'what the…?'), an original new six-part web series, premieres on ABC iview from Monday 15th February.
Just when you thought the trend of smug, hipster-halfwits attempting to try their hand at investigative online journalism couldn't get worse, along comes the DAFUQ? team. Edgy reporters, Lee D (Matt Lovkis), Rift (Henry Inglis) and Pandora (Amberly Cull) are prepared to go where mainstream media isn't and ask the questions they won't.
In reality, they're a group of self-important, attention-limited wannabes who like the idea of being gonzo-journalists but lack any of the necessary skills. Whatever the story, whether it is the leaking of military secrets, chasing down a prehistoric high, ISIS or bikie wars, DAFUQ?'s reporters will get to the heart of it – and make it all about themselves.
Produced by Western Australian production company Mad Kids, and written and directed by Henry Inglis and Matt Lovkis, DAFUQ? is a tongue-in-cheek parody of the new wave of 'edgy' online gonzo journo.
Rick Kalowski, Head of Comedy, ABC TV, "DAFUQ? is one of the most timely, daring ideas to have crossed ABC Comedy desks in a long time, and I'm thrilled that it's found a home as an ABC iview original, and sees ABC continue its collaboration with WA's outstanding Mad Kids comedy team."
Lauren Elliott, Producer, "Mad Kids is thrilled to introduce Australian audiences to the deranged world of DAFUQ? and its three intrepid reporters who have insisted that we mention that mainstream media is lame and DAFUQ? is the only news organisation that doesn't suck."
ABC KIDS Play app, now available for Android tablets
The hugely popular ABC KIDS Play app is now available to download from Google Play, joining ABC KIDS iview as a destination for preschool children on Android tablet devices.
Since its launch on iOS devices in 2015, the ABC KIDS Play app has had over 225,000 downloads, and was included in Apple's Best of 2015 collection.
The ABC KIDS iview and ABC KIDS Play apps have become the most downloaded Australian-made kid's apps to date, with both apps remaining in the top 10 apps within the kids category since launching.
ABC Head of TV Strategy and Digital Products, Rebecca Heap, said: "We're thrilled with how well ABC KIDS Play has been received so far and pleased it is now available to even more families. The success of the ABC KIDS Play and ABC KIDS iview apps is testament to the trust that Australian families have put in the ABC to educate and entertain their children."
Download the app on Google Play

###ABC iview commissions five new South Australian projects
Inaugural SAFC/ABC TV LABS 'iview originals' initiative grant recipients announced
The South Australian Film Corporation and ABC TV have funded five South Australian projects through the unique SAFC/ABC TV LABS iview originals initiative - with a joint half a million dollar investment.
Each project will showcase the state's writing, filmmaking and production talent. The projects are all now moving forward with further development in anticipation of production in the next six months, with the plan that each will produce their own series of 6 x 5 minute episodes to premiere exclusively on ABC iview.
The selected projects explore a wide range of topics including an autistic Uber driver's search for love; an immigrant adjusting to Australian life; and pop stars overcoming their disability barrier. With three comedies and two documentary productions selected, the projects showcase South Australia's diverse creative abilities.
The full list of SAFC/ABC TV LABS iview originals initiative grant recipients are:
Goober
Producer: Kirsty Stark
Writer: Ben Crisp
Directors: Simon Williams and Brendon Skinner
Harry is an Uber driver for three reasons: he really wants to make friends; he really needs the money; and he really can't hold down any other job. Harry also lurks somewhere on the autism spectrum. That's why he tries really, really hard to act normally. It's also why he tries so hard to be helpful, but for some reason, it never seems to work. Nevertheless, Harry is eternally optimistic - especially about his love for Wendy, the girl from his favourite drive-thru restaurant. Harry spends his life trying to turn passengers into friends, and Wendy into his girlfriend.
Pop Ability
Writer/Director/Producer: Katrina Lucas
Writer: Lauren Drewery
Executive Producers: Susan McKinnon and Lauren Drewery
The Sisters of Invention – the world's first pop girl group with disabilities – are challenging society's pre-conceived ideas about what a pop star looks like, what they can say and what they can do. After a successful first album and music video, they want to push their creative limits and establish themselves as professional singer/songwriters in their own right. But can they break free of the tough reality of living with a disability?
Prisoners and Pups
Writer/Director/Producer: Shalom Almond
Executive Producer: Lauren Drewery
Prisoners sign up to rehabilitate retired greyhound racing dogs to prepare them for life on the outside. The inmates have just a few weeks to learn how to train, socialise and transform the dogs into loving, family-friendly pets – and then face giving them up for adoption in the outside world. In turn, can the dogs help the inmates rebuild their lives? Can man and animal work together to create a better life for each other?
Lost In Pronunciation
Producer: Julia de Roeper
Writer: Ivan Aristeguieta & Chris McDonald
As Venezuelan comedian Ivan discovers what it means to be a real 'Aussie', his quest to becoming a permanent resident isn't so much about ticking a box on a form, but learning about the strange and unique customs that we take for granted, and that make us Australian. With the help of two Aussie roommates, a lesbian tradie and hipster vegan, he gets a firsthand insight into modern Australia and in the current climate of being an immigrant, what it takes to being one of the 'good ones' and how lucky we really are.
Almost Midnight
Producers: Alex Keay and Peta Astbury
Writers: Stephen Banham and Aaron Casey
Director: Stephen Banham
Almost Midnight is a coming-of-age romantic black comedy about a socially-inept young man named Dave. The tale is told in five minute real-time slices of Dave's life just before the New Year's countdown over six subsequent years. Through this fragmented technique, the audience is able to witness Dave's growth from the bumbling wall-flower to a fully-matured man, comfortable in his own skin. Dave's alcohol fueled misadventures provide many tragicomic cringe moments until he finally learns that you can't hurry love.
ABC TV partners with Screen Queensland for ABC iview Queensland Originals: Factual Formats Initiative
Screen Queensland announced at today's launch of the Australian International Documentary Conference, a new collaboration with ABC TV, presenting ABC iview Queensland Originals: Factual Formats Initiative.
ABC iview Queensland Originals is an initiative that helps Queensland practitioners produce online factual and factual entertainment series to premiere on ABC iview - with the potential to be broadcast on ABC2 - supporting the development and production of up to three digital series.
The program will also take three Queensland producers to MIPTV 2017.
"We are thrilled to be joining with ABC TV to deliver this exciting new program that focuses on engaging early to mid career Queensland factual producers to produce digital first factual formats capable of entertaining Australian audiences and being sold internationally," said Screen Queensland Chair Linda Apelt.
"ABC iview Queensland Originals forms part of our early career screen program constructed to build meaningful career pathways for these practitioners and those industry seeking to develop and acquire new skills.
"SQ and ABC TV will invest almost $500,000 in this initiative as we see it delivering real outcomes for those in our industry who work within the factual genre.
"This is an important program that will highlight our state's talent and stories in the factual space and give practitioners the opportunity to work with the ABC."
Richard Finlayson, ABC Director of Television said: "ABC TV is serious about breaking new ground in factual storytelling, and we want to help Australian producers create innovative and compelling factual formats that sell to the rest of the world. The ABC aims to spur creative and financial success for Queensland producers in factual storytelling."
ABC iview now available on Apple TV
ABC is pleased to announce that iview is now available on the recently released 4th generation Apple TV
iview is Australia's most popular video on demand service and continues to delight Australians of all ages with an extensive range of Australian titles, immensely popular children's programming, a dedicated ABC Arts channel and iview Originals.
iview's fast and simple interface, which has been designed especially for the 4th generation Apple TV, makes program discovery easy and a new 'continue watching' option on the home screen allows viewers to easily pick up where they left off.
ABC Head of TV Strategy and Digital Products, Rebecca Heap, says "we've had strong audience demand for iview on the new Apple TV and have built an experience that makes it easier than ever to explore and watch the ABC's distinct and diverse Australian stories on your TV."
To access ABC iview on 4th generation Apple TV, simply download the app from App Store through the device.
Read more
###When I Get A Minute
A culture show hosted by Leigh Sales & Annabel Crabb - exclusive to ABC iview every Friday for 8 weeks, starting tomorrow
When I Get A Minute (#WIGAM) is a review series for the very busy, hosted by two of Australia's most time-poor media personalities – Leigh Sales (7.30) and Annabel Crabb (Kitchen Cabinet, Canberra al Desko).
Every Friday, for eight weeks exclusively on iview, Sales and Crabb will bring you an occasionally shambolic conversation about books, movies, TV shows, cooking and other cultural obsessions.
When I Get A Minute – a new show about culture, friendship and the constant quest to be better at both. Starts tomorrow on iview.
###The Cookie Thief

Sunday 3 April at 5pm on ABC KIDS
Premiere Special: When the Museum of Modern Cookie opens on Sesame Street, Cookie Monster and friends are very excited to visit, however when the cookie art starts to go missing, Cookie Monster must prove his innocence.
Big bucks for short scripted
ABC and Screen Australia announce $1.5 million digital initiative for scripted content
ABC and Screen Australia have joined forces to create Long Story Short, a national, digital-first scripted series initiative to develop and produce five major projects to premiere on ABC iview. Creative teams with great ideas for scripted projects including contemporary drama, narrative comedy or sci-fi which appeal to younger Australians aged 18-35, are encouraged to apply.
A minimum of five projects will be chosen to receive funding of up to $300,000 each, plus industry support to write and produce a compelling scripted series to premiere on ABC iview.
For more information and to apply, visit Screen Australia Download the application form here.
Applications should be emailed to lss@abc.net.au by the published deadline of midnight 15 April 2016.
###The Katering Show
from Friday 15 April
Hit series coming to iview.
ABC iview is thrilled to announce that from Friday April 15th, food intolerant Kate McCartney and her intolerably smug foodie co-host Kate McLennan, launch exclusively on iview with a fresh picked season of The Katering Show.
In this new series, McCartney and McLennan take a Sassy Swipe™ at the over-hyped food trend of Ramen; they take the term "Yummy Mummy" way too literally; they sample a tablet that counteracts lactose intolerance in an episode dubiously cleverly titled It Gets Feta; they subject themselves and a special guest to the latest weight loss torture regimes of Paleo, Raw Food and The 5:2 Diet; and they dedicate an episode to their culinary hero and spirit bosom, Maggie Beer, where they peddle their own noxious version of verjuice.
But The Kates are aiming to give back too; to use their position as attractive celebrity chefs and trained actors to change the world. First, they'll use their no talent to address the important issue of marriage equality. McLennan will then check her white privilege by generously inviting The Daily Show's Ronny Chieng into the kitchen in an episode that highlights both McLennan's sunny bigotry and her lack of star power.
And finally The Kates will solve climate change - and the cracks in their relationship - by cooking with kitchen scraps from the series in their celebratory End of Days farewell.
Of course, the entire flirty little series is peppered with references to The Kates' crumbling personal situations; including, but not limited to, McCartney's rat piss soaked rental property and McLennan's endless bouts of 'in-knicker' infections.
To catch-up on the first series of The Katering Show click on the link below.
Production Credits: A Guesswork/Lead Balloon Production in association with ABC iview, ABC TV, Screen Australia and Film Victoria. Written by and Starring Kate McLennan and Kate McCartney. Produced by Tamasin Simpkin.
ABC and Screen Australia Announce Projects Sharing $200,000 for New Arts Content
ABC Television and Screen Australia are delighted to announce the four successful teams who will share in $200,000 of funding for Art Bites, a joint initiative that encourages new arts content from emerging and early-career Australian filmmakers.
Two filmmaking teams from Western Australia, one team from Queensland, and one team from New South Wales will each receive $50,000 to fund a 6 x 5 minute web series that will premiere on the ABC Arts channel on iview from November 2016. Screen West and Screen Queensland have also offered support for their local talent.
The four successful series are accessible, engaging and entertaining and cover a diverse a range of topics. Set to appeal to younger audiences (18 to 35 years) the four series give a unique and fresh insight into an aspect of arts in Australia.
Suburban Interventions (WA) will delve into the life and artistic practice of artist Ian Strange, while The Glass Bedroom (NSW) will examine the influence of social media on the work of artists. The Wanderers (QLD) will explore Australia's most exciting street artists and Shock Art (WA) is a look at how art can take us into deeply uncomfortable territory.
Applications were assessed on criteria including the distinctiveness of ideas, the teams' ability to manage their project and whether the stories align with ABC Arts' ambition to shine a spotlight on the arts with quality, smart, entertaining and shareable content.
Each project will have the mentoring support from a digital Arts Commissioning Editor at ABC and an Investment Development Manager from Screen Australia.
Head of ABC Arts, Mandy Chang, says, "This is a wonderful opportunity, in partnership with Screen Australia, to develop the next generation of arts filmmakers, and we're excited to see the films that emerge from this initiative. ABC Arts on iview is a fantastic platform on which to showcase this up-and-coming Australian talent."
Senior Manager for Documentary at Screen Australia, Liz Stevens, says, "We were really impressed with the stories that were submitted to the Art Bites initiative and the high level of interest emerging filmmakers have in telling arts-based stories. The final projects give four emerging filmmakers an opportunity to show audiences what they find exciting and important about arts in Australia, right now, through the very popular, accessible and shareable ABC iview platform."
###Selected series
Suburban Interventions (WA)
Suburban Interventions will look at how growing up in the suburbs or Perth informed the artistic practice of artist Ian Strange and led to a global analysis of the iconography of suburbia and home.
Producer: Brooke Silcox
Executive Producer: Amanda Morrison
Director: Ian Strange
The Wanderers (QLD)
The Wanderers examines work of six of Australia's most exciting street artists as they take their work on the road – a discovery of self and new culture as they explore the influence of a new environment on their individual artistic styles.
Producer: Drew McDonald
Director: Selina Miles
The Glass Bedroom (NSW)
The Glass Bedroom will profile six Australian artists who use Instagram to create bold new works to share with their thousands of followers. The series will take viewers inside the 'glass bedrooms' of these Instagram artists, to explore the relationship between authenticity, identity, and social media in their work.
Producer: Bethany Bruce
Executive Producer: Bridget Ikin
Director: Kate Blackmore
Shock Art (WA)
Shock Art explores the art shocking us today and why it can take us deep into extremely uncomfortable territory. The effect of powerful art can leave a lasting impression long after we've viewed it. Is it OK for it to be offensive, controversial, and even dangerous?
Producer: Alice Ross
Director: Sam Field
###Story Hunters
From Monday 16 May
New Series Exclusive to ABC iview - Finding the stories you want told
Story Hunters is an exciting new video journalist concept, showcasing original stories powered by the audience. Housed on the ABC's iview service, Story Hunters is a growing collection of distinctive fact based journalism, as well as opinion pieces and satirical content.
Story Hunters will use the audience to find untold stories and explore fresh angles to existing ones. It is digital first content, made to be both easily accessible and shareable.
Executive Producer Erin Vincent says:
"It's an exciting new space for the ABC to be entering into. It's a project that recognises that changing audience habits require fresh approaches to storytelling."
"We are using social media to both initiate and engage with our story tellers, so we're asking the audience to tell us what issues they want explored and investigated."
The team will deliver compelling stories from all over the country. Supervising Producer Paul Horan says:
"We have a talented team of video journalists, who are working on this project and engaging with the audience about the types of stories they want covered. Don't expect your traditional ABC News style of presentation – this is something quite different!"
There will also be "Guest Hunters" throughout the series including, former Mamamia Editor-in-Chief Jamila Rizvi and Author and Comedian Rosie Waterland.
The pilot program will see new stories published each week.
Stories going live today include:
Beginner Beauty Queens - Part 1 & 2
Video Journalist Mike Clay travels to South Australia to ask who enters beauty pageants and why? 15 young women are competing for two spots in the finals for Miss World Australia. So, what does it take to win?
What's Going On? Journey to Canberra
The first in a series of how Canberra really works. Guest Hunters Jamila Rizvi and Rosie Waterland journey to the heart of Australian democracy to answer all the questions you're thinking but not asking.
What's in the Giftschrank?
What makes a book dangerous? Giftschranks or poison rooms were used to keep offensive literature from Hitler's time in power after WW2. Ashlynne McGhee discovers that Australia has Giftschranks of its own, full of books deemed too dangerous for the general public.
###Hello Stranger

From Friday 17 June
Hello Stranger is a contemporary snapshot of the people of Australia. We talk to people in the street… then follow one story home.
People pass each other every day, but rarely stop to say hello. It turns out that we are more complex, remarkable and much stranger than you've ever imagined.
Filming in all corners of the country, from Arnhem Land to the banks of the Murray river in SA, and from the housing commissions of Redfern to Caville Avenue in Surfers Paradise, Hello Stranger interviewed over 300 Australians cast directly off the streets.
Each episode begins with a vox pop asking a universal question to people across the country.
When have you broken the rules?; What are you addicted to?; How did you learn about sex?; Where do you feel most at home?; When have you gotten revenge?
Following one of the characters we interview on the street, Hello Stranger then takes the audience into the hidden personal worlds of contemporary Australians. This series is an unprecedented survey of the country as we are today. Real stories told by the strangers we meet.
I was watching the 7pm Victorian news on the iView app on my phone, on the train home from the AFL at Melbourne's Etihad Stadium tonight, when I noticed that closed captions are now available with the news. When the 7pm bulletins were first available 2-3 years ago, captions were not available.
This post was flagged by the community and is temporarily hidden.
###Black As

From Monday 4 July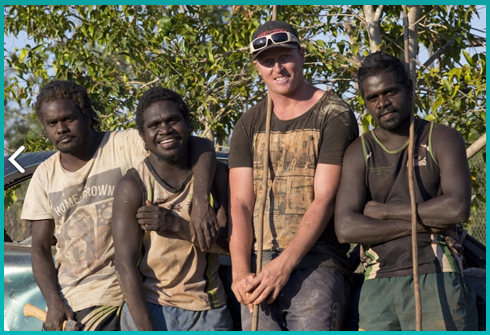 Off beat, off track and online…go bush with the Black As boys – Chico, Jerome, Dino and Joe, as they venture into the wilds of Arnhem Land, hunting for adventure and a good feed. Made by the team behind the acclaimed 2001 Bush Mechanics series, Black As features 24 x 5 minute episodes premiering on iview July 4th.
###Wallander Series Binge

From Sunday 17 July
Kenneth Branagh stars as Kurt Wallander, a flawed but deeply human detective, in this series of captivating tales set in the dramatic and beautiful landscape of southern Sweden.
Based on the award winning Wallander novels by Henning Mankell, Kurt Wallander is a sensitive but brilliant detective – a man who takes on each murder case he works on personally and will stop at nothing in his search for the truth, even at the expense of his health and family life.
###No Strings Attached - iview Exclusive

From Friday 22 July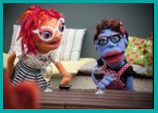 This Melbourne-made web series peers beneath the covers of the exhilarating, at times awkward, world of dating apps. No Strings Attached recreates this world with puppets used to re-enact actual dating app dates as told by the people who've survived them.
This genre-bending mash-up sees documentary, comedy, drama and reality TV collide. It's Crank Yankers meets Creature Comforts on the set of The Bachelor. This innovative, off-beat series features voice recordings of people relaying their tales of dating triumphs and woes in 5-7 minute vignettes. Their voices are then lipsynced by a cast of puppets who re-enact their dates for the screen.
The second season to the award-winning Tales from Tinder, No Strings Attached features diverse, dramatic, and daring tales of dating disasters and delights; from the shocking failures, bizarre revelations and embarrassing slip-ups, to the rare stories where true love is found.
This series features stories of people from all walks of life: from a dating app addict who swapped drugs for online dating; to the love sick existentialist who is brutally dumped; to the polyamorous man who gets more than he bargained for when he sets his wife up on a date with his Tinder girlfriend.
From Tinder to Grindr, RSVP to OK Cupid – online dating is no-longer a dirty word for many - it's the norm. Whether using it for casual relationships or something more lasting, in the overly saturated market place of dating apps, people are encouraged to shop for their perfect match – but more often than not, users get more (sometimes less) than they bargained for.
On the surface, No Strings Attached is an entertaining comedy, but at its heart it's a study of modern relationships as mediated by technology, and the surprising and awkward things that happen when we're trying to connect with another human being.
As of today, the ABC is now streaming all* of it's channels live on iView: http://iview.abc.net.au/collection/live-streams
*Only Sydney/NSW versions for now but I'm sure that other market variations will eventually make it on there. Also, it must be said that the ABC's main channel (again, the Sydney/NSW version only) has been streaming for several months now and I think ABC News 24 has been streaming ever since the channel was launched but don't quote me on that!
I tried to watch ABC News Victoria on iView tonight as I came home late from my trip to Sydney, but the clip was all green with little or no sound. I ended up watching the NSW bulletin instead.