Coming to Seven for the first time since 1995.
HA. You beat me to it (as i started the 62nd Logies post).
Although its some 8 months away and not much news will happen for some time, but i do hope that being on Seven, that it will bring back some new life into the Logies. With a host to start off with.
Am hoping that the public can vote for the public awards again, instead of voting for just the nominations this year, like what has been happening for 61 years of the 62 years of the Logies… As in, going through a whole list of cast and presenters to vote for, instead of having the cast and shows nominated for us already by a "number of industry people"…
I also hope next year's Logies will be shown live nationally, just like Seven's coverage of the Brownlow Medal.
Who knew Seven thought this way about the Logies
Seven West Media managing director and chief executive officer, James Warburton , previously said of hosting the Logies: "The TV WEEK Logie Awards are more than television's night of nights; they are a treasured Australian institution and a celebration of Australia's love of television.
Surely the Logies won't drop to this level of cringe (although Julia Morris' skit from 2018 did nearly destroy the entire thing)

Hilarious and the reactions are priceless: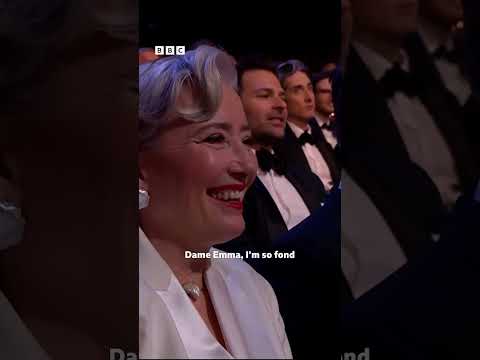 credit: YT, BAFTAs last week
Each to their own. I personally think things like this and Julia Morris's skit are perfect for the Logies.
Watch this and try not to laugh at her: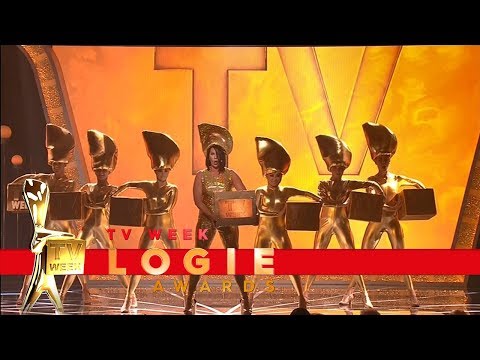 I remember it was universally lambasted by viewers on social media that night.
credit: YT, channel 9
I watch it regularly. It's in my YouTube favs.

Meanwhile, each of the networks has been re-assured by Logies publicist Kelly Black the show will go ahead, but later than originally scheduled.

'For planning purposes, it may be useful to know the event will likely fall in the new financial year,' Ms Black emailed the major players.
Sydney rolls out the red carpet for the Logies
Television's night of nights set for 30 July 2023
The Seven Network is proud to announce Sydney will be the new home of television's night of nights, the TV WEEK Logie Awards.

The glittering awards will shine on Australia's #1 total TV network later this year, with the 63rd TV WEEK Logie Awards set to be broadcast exclusively on Channel 7 and 7plus on Sunday, 30 July.

Seven West Media Managing Director and Chief Executive Officer, James Warburton, said: "The time was right to find a new home for the Logies and bringing them back to Sydney after more than 30 years made perfect sense. Australia's TV networks and many of its major production companies are based in Sydney and the city provides a backdrop for some of the country's most popular TV shows.

"I'd like to thank NSW Premier Dominic Perrottet for his support in bringing the TV WEEK Logie Awards to Sydney. Seven has exciting plans for the Logies. They will be different, bigger than ever, spectacular and a great celebration of Australia's love of television."

NSW Premier, Dominic Perrottet, said bringing the TV WEEK Logie Awards back to Sydney after three decades will be a game-changer for NSW.

"Sydney is the best city in Australia and the home of our television and production industries, making it the obvious choice for the TV WEEK Logie Awards," Mr Perrottet said.

"Television's night of nights now has its rightful home in The Harbour City, showcasing the glitz and glamour of our vibrant nightlife. This will inject millions of dollars into the NSW economy, creating hundreds of jobs in production, hospitality and events."

In September last year, Seven signed a long-term agreement with Are Media to become the official broadcast partner of the TV WEEK Logie Awards.

Are Media Chief Executive Officer, Jane Huxley, said: "It's so exciting to see the next era begin for the TV WEEK Logies, welcoming Seven as the official broadcast partner and with a new location for the illustrious awards night. The TV WEEK Logie Awards remains the most anticipated event of the year for the television industry as we celebrate the most popular stars and shows on our screens.

"We are delighted to continue our role as long-standing custodians of the awards and look forward to showcasing and celebrating Australia's incredible TV talent for many years to come."

The 63rd TV WEEK Logie Awards will be produced by the Seven Network, in association with ITV Studios Australia.
Sunrise just announced it on-air too. Does an external producer like ITV usually produce it, had a feeling Nine's was in-house? Director of Sport Brent Williams was EP for many years when at Crown.
The Logies were last held in Sydney at the State Theatre in 1986.
I think July 30 is pretty late to host the awards, given the eligibility period for shows ends at March 31 this year.
I say that it is a welcome change for the Logies. Going to Seven and to Sydney, after many years in Melbourne (and briefly in the Gold Coast), and on Nine for many years.
Although… we know that Seven don't have a great welcome in hosting anything live (ahem, Australian Idol and the Carols in the Domain). I just hope that the Logies are live - or near live.
I just hope that the online voting returns for the public awards, instead of "an expert from the industry" giving us the nominations for the popular awards, then the public voting the winner like last year.
This news received a very sour response on Melbourne radio this morning (perhaps not surprising) from Tony Jones and Jane Holmes on 3AW, particularly in regard to the joint ARE-Seven media release with its industry claims NSW Premier remarks.
NSW Premier on Seven this afternoon - "another win for NSW and another loss for Queensland." Could have just mentioned the win and stopped there.
Sydney's 6pm News had just had a piece for the upcoming Logies, revealing that Sydney has the Logies. Was nothing more than a filler of a story. They interviewed Home and Away star, Matt Evans, who was nominated for the New Talent Award last year. They could have interviewed someone a bit more famous than him. Lol
They also said that nominations will be announced in June.