Discuss matters relating to DAB+ only station (previously on 1170AM) 2CH Sydney.
Heres a bit of a random idea the new buyers of 2ch could they do a deal with sbs radio 2 and swap freq. That way sbs radio 1 and sbs radio 2 and 2ch will be on fm.
I would like the guys from mediaspy to run a classic hits station. 2ch fm 97.7 fm

.
Very unlikely to happen IMO. Of course, I agree that having SBS Radio on FM is a bit of a waste of FM.
If 2CH really wanted an FM conversion, it most likely would've done so 15-20 years ago when there were more FM frequencies available for use in the Sydney area.
I think if 2CH had ever converted to FM, it would have changed format and been similar to WSFM.
You are correct I think. The originally 2ws was the same format as it was on AM band. Then it gradually became an "FM station" dropping its AM like music.
But I think times have changed. Look at the success of smooth. So today, the same format of 2ch could work on fm. I would rather a forever classic station.
The reason why I raised the swapping of freq as it did happen in Melbourne on 3aw in 2006. It would make sense for 2ch to be FM in this day and age.
3AW swapped with 3EE/Magic (1278 <> 693) as they were both on AM and had the same owner.
2CH doesn't really have a partner as such to swap with - certainly not to FM anyway.
This post was flagged by the community and is temporarily hidden.
Have heard the same rumour as well jasatkniox33.
2CH can still be owned by MacQuarie if a New Media Reform Occurs either February or March, If Metro Commercial Stations Two Station Limit is Lifted and for Better, 2CH shall become a Magic Rebranded Station.
I believe they could manage it on behalf of a new owner also, likewise they could also apply and no doubt be granted and extension of time which could take them over the threshold if the rules change.
From what I'm hearing, 2CH is to become Magic 1170 soon.
Guess we'll just have to wait & see if it's just Magic 1278 like Magic 882 or if it has different programming?
I wonder if all Magic 1278 staff will be sacked (again), & all 3 Magic stations will come out of Sydney, in the not too distant future?
Though it could all just be another rumour, who knows?
Macquarie seems to be going back down the MTR debacle road again, with big losses across the network, & now shedding more staff.
I wouldn't be surprised if the 2 station rule is lifted (at least for AM stations) and Macquarie get to keep 2CH/Magic 1170. With DAB radio the 2 station rule is redundant anyway with operators running a lot more than 2 stations in each market.
Why the brackets? That second link says "Join Andrew Overnights Mon – Fri for the songs you know and love on Magic 2CH"
Because I have a hunch the website is wrong and 2CH won't take on the Magic brand.
I suspect the process for listing shows on both the Magic1278 and 882 websites is done automatically, where a piece of code inputs the correct frequency for each site on each show's listing. That assumes that the Magic's use the same backend as 2CH.com, which it may well not.
No reason, other than that.
2CH has rebranded this afternoon as Magic 2CH!
You heard it here first.
They've already changed the slideshow image on DAB+ over!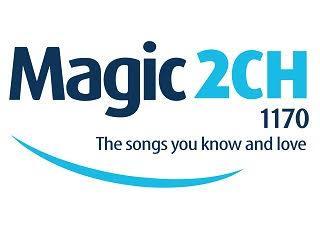 Ditto the branding on the mobile version of the website.
But frankly is anybody really surprised…NO.
The most interesting thing is…I thought that 2CH was going to be sold off.
Surely MRN wouldn't rebrand a station to shortly before selling it off to a new owner who would most likely relaunch the station? Hmm…
Surely the '2CH' part of Magic 2CH is just a transitional phase and will be dropped eventually to Magic 1170, once the 2 station rule is dropped perhaps and they know for sure they can keep it.