###Tomorrow When the War Began
From Saturday 23 April at 7:30pm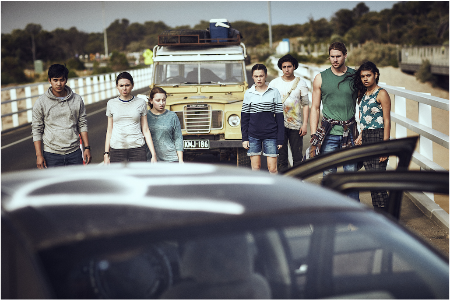 The highly anticipated television series Tomorrow When the War Began is set to delight families, and fans of the John Marsden novels, when it premieres next month on ABC3.
The six-part adventure series tells the story of a group of young Australian friends who find themselves in the midst of a hostile takeover by a newly forced Asian Coalition. The unsuspecting Australian military is quickly overwhelmed and none of Australia's allies, including the U.S., are immediately willing to risk possible nuclear war to come to her aid.
The teenagers must overcome seemingly insurmountable odds and discover that in order to save the things they hold most precious, they must be prepared to sacrifice everything.
Acclaimed actors, Sibylla Budd, Deborah Mailman, James Stewart and Alison Bell are joined by Australia's freshest talent including Molly Daniels, Narek Arman, Jon Prasida, Madeleine Clunies-Ross, Madeleine Madden, Andrew Creer, Fantine Banulski and Keith Purcell.
The producers and various cast members are currently available for interviews. Please contact me should you wish to take up this opportunity. Official media kit attached.
An Ambience Entertainment Production in association with ABC3, Screen Australia and Film Victoria. Based on the novels by John Marsden. Producers: Michael Boughen and Tony Winley. Executive Producers: Matthew Street and Kim Vecera.