###The Chaser's Election Desk
Series Premiere Wednesday 8 June at 9.00pm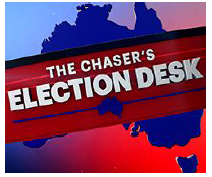 A long election campaign needs a long desk. Other networks boast of explosive coverage, yet offer paltry election desks as short as 33 metres (Channel Seven) and 36 metres (Channel Nine — and that length is mostly for Karl to rest his beers on).
But only The Chaser offers a desk long enough to cover this year's explosive marathon with truly explosive explosiveness.
Measuring a seat-analysingly enormous 263,814 kilometres in length, stretching from Hobart to Broome and winding through all 150 electorates on the way, and with a full time election blowhard stationed every 60 centimetres for no particular reason, only one desk is equipped for this stupendously protracted shit-fight.
The longest desk. The most explosive desk. The Chaser's Election Desk.