Sunday Night returns Sunday, 28th February 2016.
Sneak peek of the new set;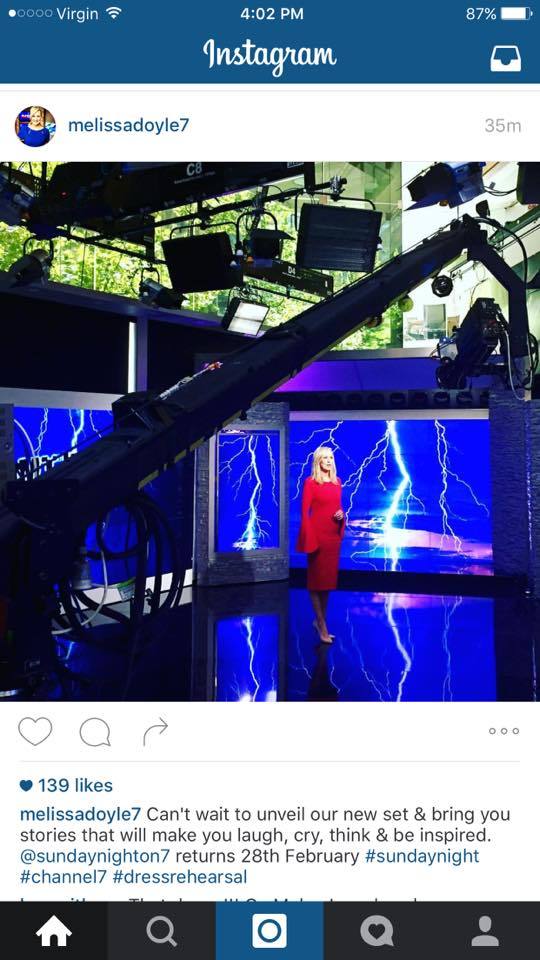 Eugh, the fake stone returns…
I don't know… But does anyone else feel like this program has maybe ran its race?
Hopefully the graphics get updated, but I highly doubt that they will be!
Aside from that, I think that really the only thing that will save Sunday Night is a 7pm timeslot…presuming that it airs there rather than 8.40pm, 9.10pm or whenever they feel like it, of course.
Hopefully once MKR is done they will move it to 7pm and leave it there for the rest of the year.
Definitely not. It rates well. Usually excellent, well produced stories. Great host.
Based on that photo it's hard to tell where in Martin Place studio is the new set located. Is it right next to Sunrise / Seven News set?
The first new episode for 2016 will feature this story, the baby born out of a woman killed in the Hobart car crash last month. Seven has been showing promos for this story since Monday night.
It's in the performance area at the northern end of the studio. Here's a very quick mock up of the overall studio layout: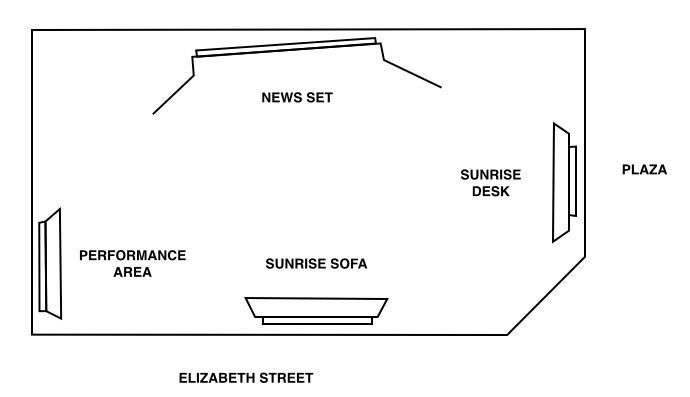 The new plasma wall behind the sofa area rolls across into the performance area (it's the one obscured by the crane on the left of the photo) and links up with the performance area plasma wall (the one on the right). The person taking the photo has the sofa area immediately to their left.
Hope that makes sense…
Thanks for the explanation Eddel.
Promo aired tonight returning in 8.30pm timeslot.
Reminds me of the flying banners that Nine News had for a while.
I thought it looked a bit like an old Today Tonight package myself!

THE MIRACLE BABY
A stolen car tears through the near-empty streets of a city asleep. It's just after midnight. Across town, a young mum clips her sleepy toddler into a safety seat as her partner slides in the passenger side and braces for his overnight shift at a city bakery. Daniel Stirling, the love of his life Sarah Paino and his adored son Jordan set off on the short trip to work. An earlier ride failed to show. Sarah and Jordan should've been asleep in bed. The stolen car, with four young teenagers on board, roars on through the night as Sarah pulls up at Banjo's bakery near Hobart's city waterfront, kisses Daniel goodbye and heads off. Perhaps, if that kiss had lingered a second longer, Sarah might still be alive. Instead, minutes later as she heads home, the stolen car spears into her car with such velocity it throws it to the other side of a four-lane road. Incredibly, little Jordan is fine. Sarah, though, is horrifically injured. When paramedics arrive they see her broken body and then her belly. She is seven-months pregnant. This is a story of what ifs and maybes, minutes and seconds, the arbitrary hand of fate and the superhuman effort to save a little unborn child as life drained from his mother. More than 1000 Australians will likely die on our roads this year, each a dreadful tragedy for families and friends. But this crash struck a chord across the nation. This was somehow different. A family making simple, everyday decisions we all make cast into harm's way. And amid the heartbreak, a miracle. Sunday Night's Melissa Doyle tells this extraordinary story.
MAD WORLD
As one of our more passionate Mad Max fans declares, in full character, leather kit, mohawk and with the sort of fervour that would melt your most devout Trekkie or Star Wars devotee: "You can run but you can't hide!" Come Monday morning, Australian time, Mad Max: Fury Road will be the worldwide buzz as Aussie director George Miller and his creative team line up for a possible haul of 10 Academy Awards. Yelling their ear-splitting support from all corners of the world will be the fanatical diaspora of Mad Maxers, who once a year converge on a remote corner of the Californian desert to live and breathe their fantasies in a place called Wasteland. They strive for authenticity and they're judged on their passion as they ride their millimetre-perfect recreations of the cars, trucks bikes and all-round weird wheels of Mad Max's post-apocalyptic world. It is an awesome sight to behold. Sunday Night's Alex Cullen braves The Thunderdome and a hoard of some of the wildest movie buffs ever for an amazing journey into a fervent subculture. As Lord Humungus declares through his steel plate mask: "This is going to be EPIC!"
MEL AND MOLLY
First there was the blockbuster mini-series Molly. Then the enthralling The Real Thing, a documentary tribute to his considerable talent and musical influence, featuring a cavalcade of famous friends and more than a few secrets. Now, it's time for the man himself to speak. Ian 'Molly' Meldrum sits down with Sunday Night's Melissa Doyle to reflect on some of the big revelations brought to light in Seven's series of bumper productions. What transpires is Molly's most candid interview ever as he discusses booze, his sexuality, gay marriage and his efforts to recover from two debilitating falls. At 73, the wild man's mellowed ever so slightly. And while he plans to be around for some time to come, he reveals he has selected the song he wants played at his funeral. Wonder what that could be?
This episode of SUNDAY NIGHT hosted by Melissa Doyle airs on Sunday at 8.30pm on Seven.
Preview during the news:
What's the previous 2012-2016 Seven watermark doing there?
The new SN Set looks good IMO
This post was flagged by the community and is temporarily hidden.
MARTIN BRYANT – INSIDE THE MIND OF A MONSTER
Sunday 6 March at 8.30pm

A SUNDAY NIGHT MAJOR EVENT: Port Arthur. The location is seared forever in the national consciousness.
35 dead. The scale of the killing shocked and horrified us all.
Martin Bryant. Australia's worst mass murderer.
We know precisely where it happened. We know how many people died. We know that scores more were seriously injured, that so many families were shattered that day. And we know who was responsible.
What we don't know is precisely what motivated Bryant to kill and kill again. Nor do we know how he accounted for his killing spree once he was arrested and charged. That is, until now.
Startling new video has emerged along with chilling first person accounts never before seen or heard that have enabled Sunday Night to build the most definitive picture of one of the nation's darkest days.
Why so many victims? How did Bryant explain his actions? Was he chasing infamy? Was he contrite? Did he comprehend the magnitude of his crimes?
This Sunday Night major event features new, deeply personal and detailed accounts of Martin Bryant – the man and his motivations – from those who came to be closest to him in the days, weeks and months that followed the Port Arthur atrocity. They're men who got inside the mind of a monster.
And what they found there was shocking, unbearably so.
We'll also hear from the girlfriend who was showered with money and proposals by a simple, illiterate loner harbouring a terrifying murderous intent. And in never-before-seen video, hidden from the public and obtained by Sunday Night, we'll see and hear arguably the most authoritative account of all.
Sunday Night's Mike Willesee leads this powerful and important investigation as Australians continue to crave answers to the big questions still surrounding this appalling crime 20 years on.