Reckon that lasted up until the Manchester Commonwealth Games mid year.
IIRC, Tom Williams was a host for Channel 7 at these Olympic Games.
I didn't realise that they still had games on C7 during that era. The graphics themselves (certainly the score bug animation) don't seem all that different from what Seven used on FTA games in 2000 apart from the C7 lick of paint… given how whizz-bang the late-90s graphics on Seven were (animation! wow!), 2000 felt like a step back for young'un me… but it arguably wouldn't look out of place now.
"When footy ruled the world", and not the money Packer and Foxtel threw at the AFL - that seemed to be the message between the lines from Seven. They used an instrumental version of that as their theme of sorts in 2001 - including some "45 years of footy on Seven" historical vignettes (of course counting 1987 in that period a bit of a stretch though I guess World of Sport still existed, barely) but I only remember them playing the song with vocals on Grand Final day - they also might have at some point during the Footy Marathon the night before the GF too.
Even Bruce's final message tried to made it sound that Aussie Rules would practically never again go back to Seven… and well, we know what happened, although it definitely cost them for a bit.
I actually don't remember them having played all the old themes going back from… I guess the 60s all the way through to the 98/99 theme as part of that farewell, but that was definitely a nice touch to see.
Yeah they opened and closed the Marathon with the full version of it. Was hosted by Landy.
Found another airing of it here, but has Huddo as host. Can't remember if he fronted something on GF day, or if this is from beforehand.
Very catchy tune haha.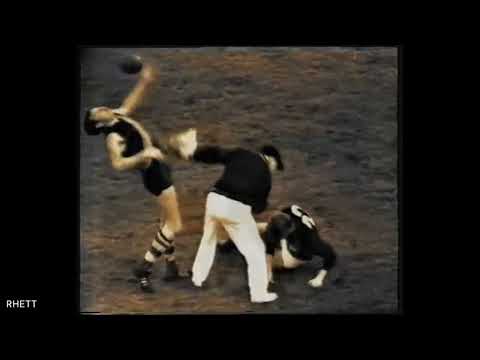 Probably from the replay of the R16 game when Essendon came from 3 years behind North early in the second quarter to win. Game was replayed in full on the Monday night into Melbourne as they would likely have got Adelaide vs Sydney and West Coast vs Geelong live on the Sunday when it was played.
In Melbourne, this would've aired immediately following The Weakest Link. Not sure whether it aired elsewhere though.
Is that a young Jason Bennett?
Eddie McGuire called Friday night footy with Dennis Cometti. Tim Lane left for 10 where he remained until they lost the rights in 2011
It wasn't until the following season that Lane arrived at 10, after the 9 imbroglio he just continued with his role at the ABC.
Bit of a close run for that "first 24/7 single sport channel" claim, even just on this side of the globe, as the Rugby Channel started across the ditch later in the month - though the latter had arguably the first meaningful games with the start of the Super 12 season.
Fox Footy would have still beaten them to it by a week (for the regular pre-season cup) if not for that weird game to introduce it… North Sydney being so small a ground that the Swans and Bombers could only fit 16 or even 15 a side.
Stretching the memory, but wasn't Sports AFL 24/7? The Golf Channel would have predated Fox Footy as well.
Actually that's a good point too, although I never had Optus Vision so I have no idea what Seven did with Sports AFL during the week.
And of course, with Seven and Optus having been the enemy for so long, and with Optus Vision practically consigned to a footnote by 2002 - Foxtel was never going to admit that I guess

Here is the Record from that game:
Coverage was delayed on the FFC.
Did Channel Ten really use the slogan "Sweet VFA" as its slogan for VFA? 1980 VFA Grand Final Port Melbourne v Coburg-Final Quarter - YouTube
YouTube: VFAFOOTY
Looks like it (though whether 0/10 came up with it is another matter). Sounds it may have had to do with the fact that in terms of top-level football in Victoria, there was "sweet (V)FA" on a Sunday, with the VFL still blocked from Sunday matches (by state legislation) for a little longer, something the Association clung onto for dear life - that didn't fully change until the Swans moved up to Sydney in 1982 which gave Seven VFL footy to televise on a Sunday. The League had already played some games in Sydney since '79 to get around that though.
Given the animosity between the VFL and VFA was fairly heightened at the time… I'm only slightly surprised such a slogan existed?

disclaimer: Sydney raised and '85 born here so before my time - searches suggest it was certainly a VFA slogan but "why" of why they used it is educated speculation!
Some of the earlier games from that season had a more typical "You're On Top With Ten" slogan so it sounds like it wasn't used (to promote 10's coverage at least) at every game.
I didn't even know that was a familiar phrase in 1980, let alone being used for an ad slogan

Phil Liggett is now commentating Tour de France for streaming platform Peacock (owned by NBCUniversal).