Look What They've Done To My Song, Ma.
Anyways, here's the full clip of the fake news update and the set-up: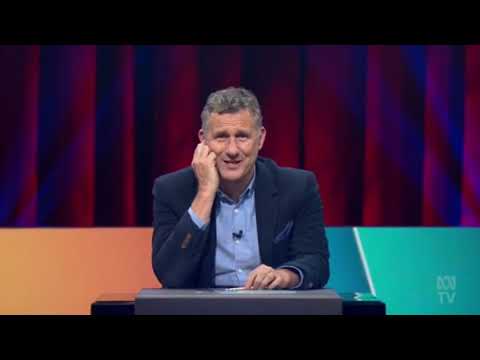 This will sound a little rude and disrespectful, but does Alan Brough have an issue with his chin/neck? I know he's lost a lot of weight but it kind of stands out. I hope he's OK.
I haven't watched this show for a while and left it on my screen tonight while I was having my dinner. It is nice to see Lloyd Langford. Initially, I was worried for him because he was relatively quiet in the beginning but he won it for the team in the final segment.
My brain is obviously not designed for quiz shows because I find most of the questions quite challenging. I can't really relate to a lot of the music references. But when I recognised some of the music references, my brain froze.
No wonder I didn't make the honor roll in schools and universities
UPDATE 11/5: according to Eventbrite website, all tickets to the filming of Spicks and Specks have been given out. The last recording will take place on June 10 at ABC Southbank studios.
It's time to play…. Spicks and Specks!
The new season of Spicks and Specks is like no other! Ten mystery songs, one-hundred clues, two team captains and forty guests trying to figure it all out. Join Adam Hills, Myf Warhurst, Alan Brough and a slew of guests when Australia's most popular music quiz show returns to ABC TV and ABC iview on Sunday 7 August at 7.40pm.

Hidden within each of the 10 new episodes are clues to a new game – The Secret Song. Adam will drop cryptic clues in amongst the regular questions and games, with bonus points on offer if Alan or Myf work it out. Guessing The Secret Song could mean the difference between winning and losing. And, as always, you can play along with all your old favourite games including Substitute, Know Your Product and Look What They've Done To My Song, Ma.

Joining our team captains are Spicks and Specks favourite guests including Hamish Blake, Denise Scott, Dave O'Neil, Luke McGregor, Rhys Nicholson, Nath Valvo and Zoe Coombs Marr. Making their Spicks and Specks debut are special guests Casey Donovan, Montaigne, Emma Watkins, Dylan Alcott and Mama Alto. Throw in performances from a stunning lineup of fabulous new bands and you won't want to miss this series!

Host Adam Hills said "As the Australian live music scene slowly gets back on its feet, we wanna give it a leg up by showcasing some of the best new musicians Australia has to offer (as well as a couple of legends thrown in for good measure). Of course, we'll do it all with some of the best comedians in the country. Spicks and Specks is a joy to make, and this series feels like one of our best."

Spicks and Specks, there is no substitute.
Episode one: Sunday 7th August at 7.40pm Australia's favourite music quiz show is back! Adam, Alan & Myf are joined by Casey Donovan, Rhys Nicholson, Bec Charlwood and Polish Club's Novak. Can you guess the secret song? Some of the clues can be real sticky!
Episode two: Sunday 14th August at 7.40pm Ex-Wiggle Emma Watkins, Michael Hing, Joel Creasey and Camp Cope's Georgia Maq light up the panel in this episode featuring A Gazillion Angry Mexicans (yep, that's a band name). Tune in to find out the secret song and more.
Episode three: Sunday 21st August at 7.40pm Adam, Myf and Alan are joined by Tom Cardy, Jemma Rix, Nazeem Hussain and Danielle Walker in a show featuring throat singing, a Zuckerberg singing, a magician's bird getting quite disappointed and Brian Mannix in a bathtub.
Episode four: Sunday 28th August at 7.40pm Montaigne and Luke McGregor play keepy-uppy, Steph Tisdell discusses her allergy to band-aids, Zan Rowe gives fashion advice to a superstar and Khan Ong tells us how to eat a spaghetti sandwich. Yep. It's a music quiz show.
Episode five: Sunday 4th September at 7.40pm Putting their hands in the air like they really care this week are Hamish Blake, Vanessa Amorosi, Courtney Act and Aaron Wyatt. Special guest Michala Banas joins Alan as fill- in captain. Can you work out the secret song?
Episode six: Sunday 11th September at 7.40pm You'll want to be tuning in to see this episode with Dave O'Neil, Alex Lee, Odette and Kav Temperley, as they disappoint John Travolta, try to get into a nightclub and attempt to solve this week's secret song.
Episode seven: Sunday 18th September at 7.40pm Joining Alan & Myf are Briggs, Andrea Keller, Reuben Kaye & Zoe Coombs-Marr. Have they got the brains to work out this week's secret song? Features violinist Eric Avery plus a new extremely cute game: The Kids are Alright.
Episode eight: Sunday 25th September at 7.40pm Thando, Cal Wilson, Nath Valvo and Reuben Styles join Alan and Myf to try and solve the secret song clues. Will they all arrive at the correct answer? Features a fabulous performance by Ausecuma Beats to close the show.
Episode nine: Sunday 2nd October at 7.40pm Prepare for a big warm hug, in the form of a music trivia show. Adam, Myf and Alan are joined by Dylan Alcott, Gabbi Bolt, Mama Alto, Pete Hellier and experimental harp ensemble, Perolas. Not to be missed.
Episode ten: Sunday 9th October at 7.40pm The lights go out, the door blows, Adam forgets his cards, and The Who's drummer keeps floating across the screen, but everything is going according to plan. Features Denise Scott, Timomatic, Sam Taunton and Brooke McClymont.
Impressive guest line-up.
Does anyone know why episodes 1 and 2 have the same date and time? Are they going to be shown as a double episode?
The first episode date in the release isn't correct. It should be Sunday 7 August at 7.40pm.
Tonight's new season premiere is up against a lot of competition. The "secret song" is a great addition to the series and the first one isn't too hard to guess. I think you'll be surprised how many clues you missed though!
Crap. I totally forgot the show was on tonight. Overall, a good season return?
Is the show going to be repeated during the week?
Wednesday night on the main channel.
All pre-empted by one week -so that episode 6 is tonight.