Looks like the move paid off.
7NEWS Spotlight: busting the scammers
This Sunday, 7.00pm, on Channel 7 and 7plus
Aussies saved in major international scammer sting
7NEWS Spotlight has stepped in to save vulnerable Australians from losing their life savings to sophisticated phone scammers in a major international sting to air at 7.00pm this Sunday on Channel 7 and 7plus .

It's a skyrocketing crime costing Australians more than $205 million and counting this year alone.

In Sunday's exclusive expose, 7NEWS Spotlight's Denham Hitchcock turns the tables on the complex, global web of thieves robbing Aussies of their hard-earned money, joining forces with a vigilante group who "hack the hackers" and save one Melbourne woman mid-scam.

The real-time rescue will shock viewers, as producers rush to the shaken woman's home and stop the transfer of every cent of her savings to an anonymous caller posing as a spyware salesman.

Her confusion and desperation are palpable, her trauma made even worse when it is revealed she is a stage 4 cancer patient undergoing chemotherapy treatment.

The 7NEWS Spotlight exclusive also includes the chilling recordings of the "Indian Swindler" as he goes about his phone scams, stealing close to $1 million from Margaret Sutton, an elderly woman with dementia.

Back in Australia, reporter Ross Coulthart talks to another devastated family whose accountant father was hoodwinked out of more than $800,000.

In the US, Steve Pennells picks up the story of "scam-baiting", in which ordinary Americans are fighting back against the scammers from their living rooms and garnering thousands of YouTube followers in the process.
Tonight's show is very slick so far.
7News Spotlight: Taken
Sunday 19 July 7:00 PM
Cricketing great Stuart MacGill reveals what really happened the night he says he was abducted and bashed by armed thugs.
I haven't waited for it to be slow tracked.
7NEWS Spotlight: Stuart MacGill – Taken
Cricket star's shocking abduction ordeal
It sounded like the script from a Hollywood blockbuster.

An international sports star snatched from a Sydney street by masked bandits, driven to a remote location, stripped naked, horrifically beaten and held at gunpoint.

But for former Aussie spin bowling superstar Stuart MacGill, being swept up in this devastating drug deal gone wrong has left very real physical and emotional scars.

Now, in a 7NEWS Spotlight exclusive to air 7.00pm this Sunday on Channel 7 and 7plus, the one-time rival to Shane Warne reveals how he survived this terrifying, "targeted" kidnapping and assault and lived to tell the tale.

The father of two and restaurateur tremors and weeps as he recounts the 2021 abduction, which has led to the arrest of four men, including the brother of MacGill's partner Maria O'Meagher.

Reading from his official police statement, MacGill is the picture of a broken man, turning to 7NEWS Spotlight to share his alarming story and reset his life, left shattered by the ordeal.

Executive producer Mark Llewellyn said: "Nobody who has ever worn a baggy green has ever had a story like this; it is one of the most extraordinary stories I've ever heard.

"Stuart MacGill could have hidden in the shadows, but he hasn't. This is his raw, unvarnished account. He doesn't expect sympathy, but he does hope people will finally know the truth."
7NEWS Spotlight: Justice for Chloe
Sunday 26 June 7:00 PM
How her killer played the system and his 'get out of jail free' card

Chloe Hoson loved to dance, laugh and play, a giggly little girl who brought sunshine to those lucky enough to share her life.

But at the tender age of just five, her life was violently taken by killer, Timothy Kosowicz, who smothered her head with plastic shopping bags, sexually assaulted her and left her tiny, broken body in an empty creek bed, near her caravan park home.

In a case of unimaginable horror that will break the heart of every mother, Chloe's killer would plead insanity and later walk free after being found not guilty on the grounds of mental illness.

Now, in an exclusive 7NEWS Spotlight investigation this Sunday at 7.00pm on Channel 7 and 7plus, forensic criminologist Tim Watson-Munro argues Kosowicz' "get out of jail free" card should be reviewed and others like him sent to prison for their crimes.

You play detective as 7NEWS Spotlight examines the evidence and the leads, speaks to critical witnesses and re-investigates the case in search of justice for Chloe.

In heart-breaking detail, Chloe's shattered mum and family share their anger and devastation at losing their angel to a schizophrenic monster who successfully claimed he went momentarily mad when he killed and raped her.

After time in a medical facility, Kosowicz is now back on Sydney's streets, living within walking distance of schools and child care centres.

Watch on as Watson-Munro applies four decades of forensic expertise to this case, and begs the question: Is it time to change the law?
Sonia Kruger and Paul Mercurio are certainly involved. I think Baz Luhrmann, who was back home in Australia recently for the premiere of Elvis movie, might have also appeared.
7NEWS Spotlight: Strictly Ballroom - The Encore
This Sunday, 7.00pm on Channel 7 and 7plus
Sonia Kruger and cast bring back the hit movie's magic
Love is in the air again when Sonia Kruger reunites with her Strictly Ballroom co-stars, 30 years after the movie made her a star.

Recreating scenes from the sequinned spectacular, revisiting original sets and reuniting its lead actors, Tara Morice and Paul Mercurio, Kruger pops open the champagne to host a dazzling 7NEWS Spotlight special – Strictly Ballroom - The Encore – this Sunday at 7.00pm on Channel 7 and 7plus.

Fans of Baz Luhrmann's directorial debut will be wowed by the reunion three decades after it took the Cannes Film Festival by storm and inspired a new generation to take up the beloved art of ballroom dancing.

Kruger and company watch the film together for the first time since its Australian premiere in 1992, revealing saucy set secrets and how her role as dancer Tina Sparkle saw her quit her "real" job and begin her own career in showbiz.

The Gold Logie-nominated presenter talks to Mercurio and Morice about the impact the movie had on their lives, returning to Granville Town Hall where pop icon John Paul Young performs the film's chart-topping anthem in a fabulous feathered finale.

The movie has been digitally remastered in 4K quality for the anniversary of this celebration of Aussie suburbia, which encouraged its audience to embrace life – and all its quirks - to the full.

Join in this magical dance down memory lane and recapture the big screen sparkle which won over the world.
I watched the show tonight. I love the movie Strictly Ballroom. But this episode had a lot of padding to make it go to an hours length.
Next weeks episode has Mark Riley doing a piece on Anthony Albanese and showing us where the PM lives.
7NEWS Spotlight: Albo
Sunday 10 July 7:00 PM
Behind the scenes with Australia's new prime minister, as Anthony Albanese invites Spotlight into the Lodge for the most intimate interview of his career and sets out his agenda for saving the nation.
Hopefully it wasn't pre-recorded 2 weeks ago… as the PM has been out of the country.
Update:
7NEWS Spotlight: Albo
'Access all areas' to Australia's new PM Albanese
When Labor leader Anthony Albanese became Australia's 31st prime minister in May, few could have expected him to 'go global' quite so soon.

Criticised for spending most of his early days in office overseas, Albanese has barely had his feet on the ground or under the desk.

But, as a 7NEWS Spotlight exclusive with the PM shows, he's made himself right at home in The Lodge; as well as taken to flying the flag for our interests abroad.

In an all access introduction to the nation's new leader*, 7NEWS political editor Mark Riley follows PM Albanese from campaign trail to world stage and back again, in a riveting reveal of our PM in action to air this Sunday, 7.00pm on Channel 7 and 7plus.

Albanese shares the heartbreaking story of his birth, and the bravery of his single mother, whose portrait now takes pride of place in the PM's new residences in Canberra and Kirribilli.

We meet Jodie Haydon, his 44-year-old partner, who made her mark as our 'first lady' on the PM's recent European tour; and tells of her love for the most powerful man in the country.

In a wide-ranging program, 7NEWS Spotlight's cameras capture the PM playing tennis with his only son Nathan; re-floating relations with President Emmanuel Macron in Paris; on a top-secret trip to the frontline of Ukraine's war with Russia; before hot-footing it home to the Sydney flood crisis.

It's a whirlwind primer of Australia's top job and an up-close-and-personal look at the man now leading our nation (*ukulele not included).
I think it was filmed on the overseas trip.
Was filmed over 4 weeks, Mark Riley told Weekend Sunrise this morning.
Excellent interview. Congratulations to Mark Riley.
Great interview with Albo tonight. Exceptionally well produced and edited story.
Way better than 60's recent efforts I must say.
Evidently Musher is the permanent host.
7NEWS Spotlight: House of Horrors
Sunday 17 July 8.30pm
How Bill Cosby's teenage victim finally got justice from 'America's Dad' PLUS Stormy Daniels dumps on Trump

Judy Huth was just 16 when 'America's Dad' and TV icon, Bill Cosby, lured her to Hugh Hefner's Playboy Mansion, after plying her with alcohol and sexually molested her.

Now, in a 7NEWS Spotlight world exclusive with reporter Ross Coulthart - to air this Sunday, 7.00pm on Channel 7 and [7plus](file:///C:/Users/byrnesh/AppData/Local/Microsoft/Windows/INetCache/Content.Outlook/26TCNWHS/7plus.com.au) - Cosby's victim finally speaks her truth after getting justice from the 84-year-old, found guilty of assaulting her.

In her first TV interview since the landmark civil suit ruling last month, Huth exposes the disgraced comedy king for the "creep" and premeditated abuser he is.

Huth's courageous testimony and this conviction should spell more legal trouble for Cosby, whose public downfall began when more than 50 women accused him of sexual assault; including former basketballer Andrea Constand, who helped send him to prison in 2018.

That judgement was overturned last September - and Cosby released after just three years of a 10-year prison sentence – but the legal fight to bring him to account continued; with the jury in Huth's civil suit the first to find him guilty of sexual battery, and awarding her $US500,000 in damages.

It's a shocking tale of abuse, which pulls back the curtain on the dark goings on at the Playboy mansion, now proven to be a sexual predator's playground.

Also, on the program, 7NEWS Spotlight reporter Steve Pennells sits down with porn star and provocateur-in-chief, Stormy Daniels, who dumps new sex secrets about former President Donald Trump and goes after his "vapid b*tch" wife Melania.
7NEWS Spotlight Dream Team
Sunday 24 July 08:45 PM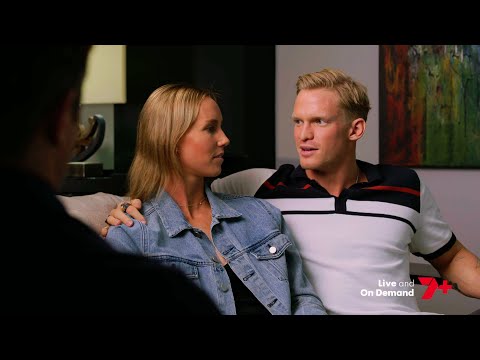 Swim stars Cody Simpson and Emma McKeon happy together
In a 7NEWS Spotlight exclusive, popstar turned swim star, Cody Simpson, and Australia's most decorated Olympian, Emma McKeon, share the inside story behind their electrifying romance, 8.45pm this Sunday on Channel 7 and 7plus.

In their first interview together, Australian sport's power couple open up to reporter Denham Hitchcock about their relationship, revealing how lives once so different are now very much in sync.

Days out from the Birmingham 2022 Commonwealth Games, swimming's dream team are clearly focussed on doing themselves and their nation proud, but take time out to offer us a rare glimpse inside their private lives away from the pool.

Cody and Emma talk candidly about how they inspire each other and address the headlines and scrutiny which have followed the seemingly unlikely pairing.

Their parents – swim stars themselves who also met at training – weigh in on the loved up duo, reflecting on the journeys their children have taken to end up where they are today.

Don't miss a minute of Cody and Emma's heart-warming story – 8.45pm this Sunday on Channel 7 and 7plus.