Discussion of Screen Australia projects and funding, especially not yet associated with a broadcaster.
2022 Year in Review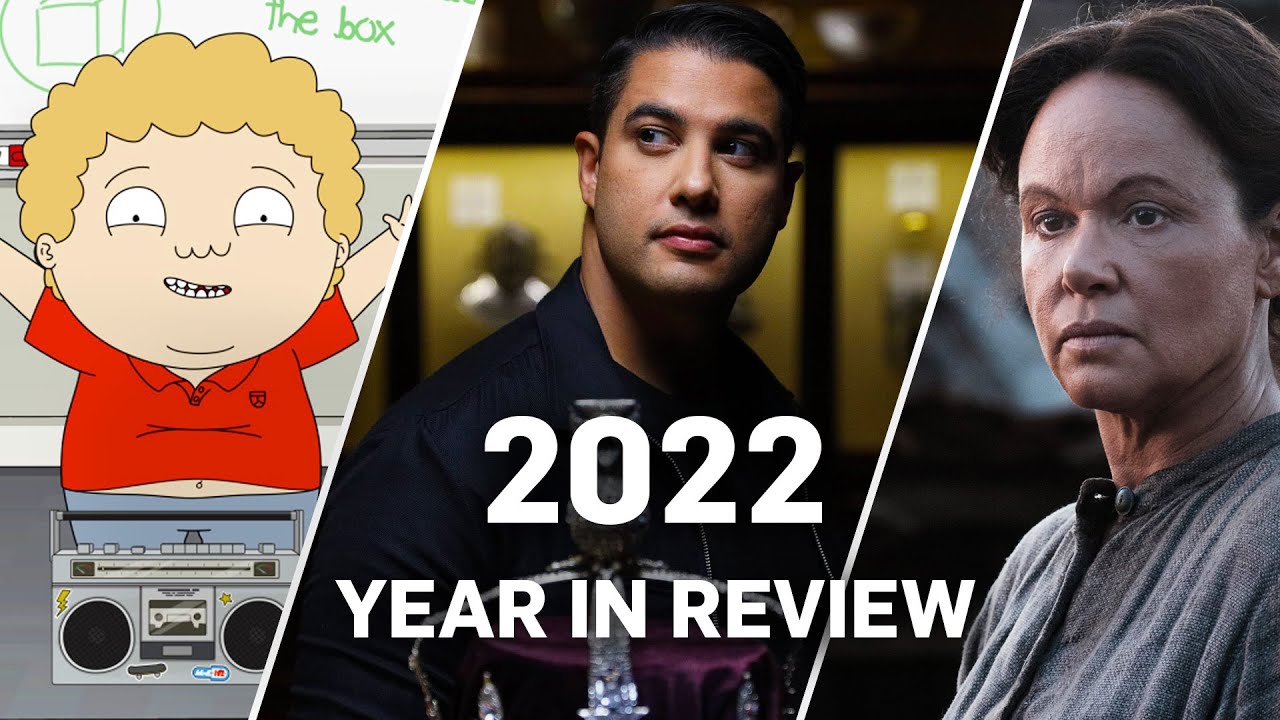 SCREEN AUSTRALIA ANNOUNCES $1.2 MILLION OF DEVELOPMENT FUNDING
Screen Australia has announced 19 feature films, 10 television dramas and three online projects that will share in over $1.2 million of Story Development funding. The projects include Moja Vesna writer/director Sara Kern's new feature film A Way Away, children's sci-fi animated series Combatoms and Just Chidi Things from writer/producer/lead actor Chika Ikogwe, producer Ana Tiwary and executive producer Rose Byrne.

This slate includes 19 projects supported through the Generate Fund and 13 through the Premium Fund.

Screen Australia's Head of Development Louise Gough said, "We are excited about this distinctive mix of projects and the range of audiences and markets they intend to serve. We are proud to support creatives as they expand their body of work across a range of platforms and formats. This includes debut feature films from Jack Dowdell, a 2019 Developing the Developer recipient, and writer/director Bradley Slabe who created the award-winning short film Lost & Found."

Screen Australia's Head of Online Lee Naimo said, "We love seeing Online creators taking advantage of the opportunities we provide to incorporate development into their project plans. It's great that the creative team behind the hugely-popular TikTok and YouTube series The Formal will no doubt be growing their already enthusiastic following with new series Kick It, as well as Nicholas Colla and Nicolette Minster from Deadbeat Ends Meet teaming up with emerging creators*.* We encourage more online creators to talk to us early about Screen Australia's development support."

Joining Screen Australia's Development Unit is Development Executive Tanya Mukerjee who started last month. Tanya has previously worked in the corporate sector as a Diversity, Equity and Inclusion Lead, at BBC Television in London as a Diversity & Inclusion Specialist, Executive Manager at Creative Diversity Network, which saw her work across the UK television broadcaster and production sectors, and at ITV as Diversity Partnerships Manager. Tanya also previously worked as a Script Editor on programs such as Fireflies and in script roles on Water Rats and McLeod's Daughters and brings a wealth of story and sector knowledge to the role.
The projects funded for development include:
FUNDING APPROVALS 2022-2023 TELEVISION DEVELOPMENT
PREMIUM
END OF.
Werner Film Productions
Genre Drama, Comedy
Director Alethea Jones
Writer Ash Flanders
Producer Joanna Werner
Script Editor Cléa Frost
Synopsis After taking a job as a legal transcriptionist, a failing performer fights a losing battle with the transcript of his own life.
THE CAILLEACH
Babadook Pty Ltd
Genre Horror
Director Jennifer Kent
Writers Jennifer Kent, Lynne Vincent McCarthy
Synopsis In 1740's rural Ireland, the already hard lives of an elder healer and her daughter are irrevocably changed when a terrifying host of creatures begin to feed on the broken souls of their poor and remote farming community.
COMBATOMS
Big Serious Studios Pty Ltd
Genre Family, Sci-fi, Action adventure
Creator Charlotte Rose Hamlyn
Director David Peers
Writers Charlotte Rose Hamlyn, John Armstrong
Producer Katrina Peers
Synopsis When a group of kids discover super powered creatures (Combatoms) in their small town, they must race to harness their amazing abilities before a ruthless corporation can exploit them to reshape the world.
THE SUBJUGATE
Aquarius Films
Genre Thriller, Science fiction
Writer Becca Johnstone
Producers Angie Fielder, Polly Staniford
Synopsis A near-future, dystopian, sci-fi crime thriller, where two homicide detectives hunt a serial killer in a small-town religious community that has been rehabilitating surgically reformed murderers.
HAVE I SAID TOO MUCH?
Hardy White Pictures Pty Ltd
Genre Drama
Creator Amy Molloy
Director Erin White
Writers Erin White, Michelle Hardy, Amy Molloy
Producer Michelle Hardy
Executive Producers Ian Collie, Rob Gibson
Synopsis A window into life after oversharing, Have I Said Too Much? is a half-hour drama series that follows UK journalist, Amy Murphy (25) as she rebuilds her life in Australia after her controversial memoir about being widowed at a young age makes headlines around the world for the unconventional way she tried to move on. Inspired by a true story, and the memoir Wife, Interrupted by Amy Molloy.
GENERATE
SUMMER OF EVIL
Orange Entertainment Co
Genre Horror, Fantasy
Writer Michael Hudson
Producers Michael Hudson, Stephanie Westwood, Diya Eid
Synopsis An unlikely gang of youths venture on a terrifying quest deep in the bush to save the adults of their small community from a supernatural threat that has enslaved them. On their journey they'll also discover that the spooky Dreamtime stories they were told as kids aren't just stories.
GORGEOUS
Chips & Gravy Films
Genre Drama, Thriller
Writers Alexandra Keddie, Gemma Bird Matheson
Producers Alexandra Keddie, Gemma Bird Matheson
Script Consultant Jane Allen
Story Consultant Jada Alberts
Synopsis Off the back of a career defining story, Journalist Charlotte Barber returns home to Launceston, Tasmania to make a podcast; a 'then and now' piece juxtaposing the current 2017 Marriage Equality vote with the unsolved murder of her girlfriend's mother 20 years earlier when homosexuality was still criminalised. As she conducts her investigations, Charlotte's personal connection to the story becomes intertwined with her own need to confront the shame she's held around her sexuality.
JUST CHIDI THINGS
Chika Ikogwe
Genre Comedy, Drama
Writer Chika Ikogwe
Producers Chika Ikogwe, Ana Tiwary
Executive Producer Rose Byrne
Script Editor Alexandra Cullen
Synopsis After people pleasing Chidi is suspended from med school, she does whatever it takes to avoid disappointing her Nigerian parents. She thinks everything's under control, but nosy Aunty Janice has other plans!
BHANG BHANG
Every Cloud Productions 2 Pty Ltd
Genre Mystery, Dark Comedy, Crime, Magical Realism
Creator Meleesha Bardolia
Writers Meleesha Bardolia, Marieke Hardy, Hannah Samuel
Executive Producers Mike Jones, Drew Grove
Synopsis When an Indian-Australian detective, Celeste Pritchard, investigates a high-stakes Bollywood film crime plot at a luxurious Melbourne hotel, she is forced to confront a case she herself may have caused and is thrown into a colourful, dangerous and morally ambiguous new world.
PLACED
Ambience Entertainment PTY Limited
Genre Drama
Director Partho Sen-Gupta
Writers Partho Sen-Gupta, Cathy Strickland
Producers Monica O'Brien, Megan Hutt, Faith Martin
Synopsis What happens when bureaucracy grates up against the complex realities of people's lives. Through the eyes of a Case Worker, the series lifts the lid on the high stakes and emotionally charged world of foster care where the devastation of separation and the hope of reconciliation swing on a pendulum of entangled emotions.
Screen Australia announces over $7.4 million of production funding for 9 projects
Screen Australia has announced five feature films, two television dramas and two children's projects that will share in more than $7.4 million of production funding. The projects include dramedy Audrey, the debut feature from director Natalie Bailey, featuring actor and disability activist Hannah Diviney (Latecomers) which started production last week; plus family feature films Drone Racers and Whale Shark Jack.

Also receiving funding is One Night, a thriller for Paramount+; season 2 of Channel Seven's RFDS and new ABC children's series Galaxy Girl.

Screen Australia's Head of Content Grainne Brunsdon said, "It's fantastic to kick the year off with such a strong pipeline and wide mix of projects coming through. These distinct local stories, whether it's uniquely Australian comedy, suspenseful thrillers or exciting family adventures, highlight how much high quality drama is being created in our sector at the moment."

"We're committed to supporting children's content to ensure Australian kids are able to see themselves reflected onscreen, and we're pleased to announce two television shows and two family films that are set to engage young audiences. There is a strong appetite for Australian children's content around the world which was evident at MIPCOM last year, so we're thrilled to see more exciting projects coming through in this space."
The funded feature films are:
Audrey: A dramedy following self-appointed Mother of the Year, Ronnie Lipsick, who is living a life she never wanted, with a derailed career, a husband whose love for life has gone limp and two daughters who she struggles to connect with. When an accident lands her eldest daughter Audrey in a coma, Ronnie gets a second chance at life by taking on her daughter's identity – only she's not the only one in the family who sees Audrey's comatose state as an opportunity. Directed by Natalie Bailey (Bay of Fires) and written by Lou Sanz (The PM's Daughter), the film features actor, writer and disability activist Hannah Diviney, whose drama Latecomers has been selected for Seriesmania 2023. Audrey is produced by Michael Wrenn (6 Festivals), Dan Lake (Early Winter), Shannon Wilson-McClinton (Hearts & Bones) and Diya Eid with Executive Producers Kurt Royan (Retrograde) and Roxana McMallan (How to Please a Woman). It is financed in association with Screen Queensland with support from the Melbourne International Film Festival (MIFF) Premiere Fund. International sales will be managed by Bankside Films with Rialto distributing in Australia and New Zealand.
Drone Racers: This family feature is about unruly tween Esme who discovers a talent for the fun, futuristic sport of drone racing. Working with her tech-nerd cousin, she takes her new skills from the beaches, bush and burbs of their outback town, all the way to the world championships. Alison James (director of award-winning short film Judas Collar), is directing from a screenplay by Jules Duncan (Rams). The film is produced by Janelle Landers (Rams), Aidan O'Bryan (Girl Like You), James Grandison (Blueback) and Jessica Mitchell (Yardbird). Drone Racers is financed with support from Screenwest, Lotterywest and the Western Australian Regional Screen Fund. The film is being released internationally by Universal.
Fear Below: From director Matthew Holmes (The Legend of Ben Hall) and writer Gregory Moss (The Cost), this 1940s-set thriller is about a team of professional divers whom when hired to locate a sunken car from a river are thwarted by a deadly bull shark. When they discover they are working for ruthless criminals trying to recover their stolen gold bullion, their situation becomes even more dangerous. Fear Below is produced by Blake Northfield (Wyrmwood: Apocalypse) and Michael Favelle (Combat Wombat), with Sandra Tahmasby and Clement Dunn (Sissy) executive producing. It is financed in association with Screen NSW and Odin's Eye Entertainment who are also managing international sales. Studio Canal is distributing the film in Australia.
Whale Shark Jack: This family feature, set at the breathtaking Ningaloo Reef, centres around 11-year-old Sarah, whose parents research whale sharks. Sarah's best friend is a whale shark named Jack, who she rescued as a pup. Following a tragic accident, Sarah and her dad move to the coastal town of Exmouth. Sarah wants to return to her old life at sea and pegs all her hopes on Jack's anticipated annual migration. But when Jack fails to return, Sarah embarks on a risky mission to find him. Written by Kathryn Lefroy (Library of Love), Whale Shark Jack will be directed by Miranda Edmonds and Khrob Edmonds, whose credits include Tango Underpants. Edmonds is producing alongside Timothy White (I Am Mother). Also producing are Kelvin Munro and Philip Wade. The film is financed in association with Screenwest, Lotterywest and the Western Australian Regional Screen Fund, the Australian Children's Television Foundation and Filmology Finance, with support from Wade Brothers Films, Minderoo Pictures and Ulladulla Films.
The Rooster: A mysterious drama that follows a sole police officer in a small town, Dan, who feels responsible for the death of his childhood friend. Grieving, Dan camps out in the bush at the site of his friend's death where he meets an older hermit who may have been the last person to see his friend alive. As Dan uncovers the truth about how he died, he faces some difficult truths about himself as an unlikely friendship develops with the old man and he realises that all is not as it seems. A debut feature written and directed by Mark Leonard Winter (The Greatest Love of All) and produced by MahVeen Shahraki (Ellie & Abbie (and Ellie's Dead Aunt)) and Geraldine Hakewill (Young Labor), The Rooster is funded by Mind The Gap in association with the Melbourne International Film Festival (MIFF) Premiere Fund and distributed in Australia by Bonsai Films. It received funding through Screen Australia's Enhancement Fund.
The funded television dramas are:
One Night: A six-part drama for Paramount+ about three women whose bond was all but destroyed by the traumatic events of one night 20 years ago. Now 20 years later, one of the friends Simone has written a book - the one story she could never get out of her mind, and her debut manuscript has become an unexpected overnight success. But it soon becomes apparent that the devastating story the book tells doesn't exclusively belong to her. One Night is produced by Easy Tiger's Ian Collie, Rob Gibson and Ally Henville (Colin From Accounts, The Twelve) with Motive Pictures' Simon Maxwell (The Woman in the Wall, Get Millie Black) as executive producer and Harriet Creelman, co-executive producer. Created and written by award-winning Emily Ballou (The Slap, Taboo), who also serves as executive producer. The series is directed by Catherine Millar (The Twelve, The Secrets She Keeps) and Lisa Matthews (Doctor Doctor, The PM's Daughter). It is financed in association with Paramount+ and Fifth Season is managing international sales.
RFDS Season 2: Following on from the success of season 1, RFDS returns to the Seven Network with another eight-part season. This gripping medical drama based in Broken Hill follows the modern-day heroes of the Royal Flying Doctor Service as they navigate private lives as turbulent and profound as the heart stopping emergencies they attend. Directing season 2 are Jeremy Sims (Last Cab To Darwin), Adrian Russell Wills (The Warriors), and Rachel Ward (Rake) and the writers are Ian Meadows (Upright), Claire Phillips (Offspring), Adrian Russell Wills, Kodie Bedford (Mystery Road) and Magda Wozniak (Bad Behaviour). The series is produced by Ross Allsop (The Artful Dodger), co-produced by Ian Meadows and executive produced by Sara Richardson and Imogen Banks (Kindling Pictures). The series is financed in association with Seven Network with support from Screen NSW and EndemolShine Australia. International sales are managed by Banijay Rights International.
The funded children's projects are:
Space Nova Season 2: A 15-episode second series for the ABC following the space faring Aussie Nova family who, on the brink of their greatest mission ever - travelling to the homeworld of the elusive Stardustians - almost destroy their starship, throwing them off course and stranding their new Stardustian friend Ziggy in parts unknown. Now, to find Ziggy and unravel an 'imbalance in the universe', the Novas will have to challenge everything they thought they knew about space: see the unseeable, know the unknow-able, and find the unfindable. The creative team sees the return of series director Pablo de la Torre and head writer Thomas Duncan-Watt, producers Suzanne Ryan, Yasmin Jones and executive producer Suzanne Ryan. Joining for season 2 is writer/episode director Chantelle Murray (Shed). The series is financed in association with the Australian Children's Television Foundation and is co-produced by Giggle Garage, Malaysia. International sales are managed worldwide by ZDF Studios, excluding Australia and New Zealand, which is being handled by ACTF.
Galaxy Girl: This 10-part series for the ABC is a coming-of-age sci-fi comedy about an extraterrestrial and all-round extra sparky human being called Lulin, whose Astoradian powers suddenly kick in, complicating her world and making her the target of hostile intergalactic invaders! Lulin must learn to control her powers before they lead to serious Year 6 uncoolness. Galaxy Girl is written by Melanie Sano (Neighbours), Jessica Paine (Neighbours), Michael Drake (The Wonder Gang), Megan Palinkas (Heartbreak High) and Vidya Rajan (How to Stay Married), teaming up with producer Pennie Brown (How to Stay Married) and executive producers Emma Fitzsimons (Koala Man) and Gillian Carr (KuuKuu Harajuku). Produced by Princess Pictures and Moody Street Kids with finance from the ABC in association with VicScreen, ABC Commercial is managing international sales.
SCREEN AUSTRALIA ANNOUNCES $4.6 MILLION FOR 21 DOCUMENTARIES
Screen Australia has announced two documentaries through the First Nations Department, 12 documentaries through the Producer Program and seven projects through the Commissioned Program that will share in $4.6 million of production funding.

This includes feature documentary Rose Gold following the star-studded Australian "Boomers" basketball team, Breakaway Femmes about the women's Tour de France, Devil's Last Stand on the realities faced by Tasmanian Devils, plus a second season of NITV's Our Law narrated by Deborah Mailman.

Screen Australia's Head of Documentary Alex West said, "We're pleased to announce this latest mix of documentaries which explore various chapters of Australia's history, highlight where we may be headed in the future and shine a light on Australians making a difference. In doing so, I hope this extensive offering will also provide viewers with insights on topics including art, health and science, our environment, gender and multiculturalism – which can help add to important contemporary conversations."

Angela Bates, Head of First Nations at Screen Australia said, "We are proud to support two experienced teams in their mission to deliver compelling documentaries, Rebel with a Cause and Our Law season 2. Our Law will continue to provide an honest insight into the challenges First Nations police officers face as they aim to change the system from within, while Rebel with a Cause celebrates four outstanding trailblazers in Queensland, who have each left lasting legacies in their respective fields."
THE PROJECTS FUNDED THROUGH THE FIRST NATIONS DEPARTMENT:
Rebel with a Cause: A 4 x 51-minute documentary series for NITV that celebrates the personal journey of four outstanding First Nations trailblazers from Queensland – poet Oodgeroo Noonuccal, teacher and barrister Pat O'Shane, radio presenter Tiga Bayles and Senator Neville Bonner – who against the odds created amazing pathways for future generations. Douglas Watkin (Ella), Jill Robinson (Sistas in Mining) and Sio F. Tusa and EJ Garrett of Elements are directing, with Dena Curtis (Grace Beside Me) and Citt Williams (Yellow Fella) producing. From Inkey Media, Rebel with a Cause is financed with support from Screen Queensland.
Our Law Season 2: An 8 x 30-min series for NITV which provides intimate and candid access to First Nations police officers, recruits, and cadets as they attempt to break the cycle of Indigenous incarceration and repair deeply troubled Aboriginal-police relationships, while giving a rightful voice to the First Nations communities being policed. Following on from the success of season 1, Our Law's second season expands nationwide with unparalleled access to the Western Australian Police and now new access to other Australian police jurisdictions. From the creative team behind season 1, including director Perun Bonser and producers Taryne Laffar and Sam Field, this series is a Pink Pepper Pty Ltd and Periscope Pictures Pty Ltd production and is financed in association with NITV with support from Screenwest and Lotterywest.
THE PROJECTS FUNDED THROUGH THE COMMISSIONED PROGRAM ARE:
THE PROJECTS FUNDED THROUGH THE PRODUCER PROGRAM ARE:
Screen Australia announces $700,000 of story development funding for 20 projects
Screen Australia has announced 17 feature films, two television dramas and one online feature that will share in $700,000 of Story Development funding. The projects include Eggshell Skull from writer/director Mia Wasikowska based on the book of the same name by Bri Lee; animated family adventure film Laser Beak Man; TikTok mockumentary series CEEBS from two of the writers of ABC ME's Turn Up the Volume; and television dramedy Debatable, executive produced by AACTA award-winning producer Meg O'Connell.

This slate includes 11 projects supported through the Generate Fund and nine through the Premium Fund.

Also announced today are the three successful teams to receive additional development funding through SBS, NITV and Screen Australia's Digital Originals initiative.

Screen Australia's Head of Development Bobby Romia said, "It's fantastic to support this exciting mix of projects including four stories for children and families, with Laser Beak Man being adapted from stage to screen, and the re-invigoration of the much-adored 'Walking with Dinosaurs - The Arena Spectacular' animatronics in The Great Dinosaur Rescue. These heart-warming stories will explore themes including the importance of chasing your dreams, taking care of the planet and the power of teamwork and community."

"Providing career development and talent escalation opportunities for local screen practitioners is at the core of what we do and I'm delighted to support alumni from Screen Australia's Talent USA program including Rachele Wiggins with Method to Madness and Vonne Patiag with Tomgirl."
The projects funded for development include:
For the complete list of development funding approvals refer to television, online and feature film breakdowns.
DIGITAL ORIGINALS PROJECTS IN DEVELOPMENT
Screen Australia, SBS and NITV have announced three projects from this year's Digital Originals initiative to receive further development funding. These projects were selected from the seven teams who received initial development funding in 2022. From here, up to three projects will move into production for SBS platforms and NITV.
The successful projects are:
Moonbird (TAS): An estranged father and son reconnect when they go muttonbirding together for the first time on a remote Bass Strait island, only to find there are no birds. Team: Nathan Maynard, Adam Thompson, Catherine Pettman, Matthew Newton.
Moni (NSW): In a desperate attempt to appease his sister, Moni, a closeted 39-year-old Samoan man awkwardly sets out to find a female date for her wedding; however, when his dead mother has other plans, his seemingly simple mission becomes a whole lot more complicated. Team: Taofia Pelesasa, Eliorah Malifa, Alana Hicks, Erin Foy, Nicole Coventry, Jessica Tuckwell, Tommy Misa.
Warm Props (working title) (WA): 8hr call, 40-degree heat, culturally clueless crews and locals who haven't spoken to each other in decades. What could possibly go wrong with this casting call? Team: Jub Clerc, Jodie Bell.
The Digital Originals initiative aims to develop exciting and innovative short-form drama projects to premiere as a single episode program on SBS On Demand and NITV, from screen creatives who are currently under-represented in the sector. This includes people who identify as culturally and linguistically diverse, First Nations Australians, people with disability, female and gender diverse, LGBTIQ+ and those who are located in regional and remote areas.
Across an impressive slate of projects, including The Tailings, Iggy & Ace, Homecoming Queens, and Robbie Hood, Digital Originals continues to be a proven career pathway for creatives. Alumni includes Dylan River (Mystery Road: Origin), Corrie Chen (New Gold Mountain), and Stevie Cruz-Martin who comes off the back of directing The Tailings for SBS On Demand, to direct SBS and Screen Australia's new drama series, Safe Home. The latest Digital Original project to air on SBS On Demand was Latecomers, which has been celebrated for its ground-breaking story and for giving voices to under-represented communities.
SEEING OURSELVES ON-SCREEN
SCREEN AUSTRALIA REPORT REVEALS PROGRESS FOR DIVERSITY IN AUSTRALIAN TV DRAMA
Screen Australia has released new research into diversity on Australian screens, titled Seeing Ourselves 2: Diversity, Equity and Inclusion in Australian TV Drama. A follow up to the landmark 2016 study, Seeing Ourselves 2 examines the diversity of main characters in 361 scripted Australian TV and online dramas broadcast between 2016 and 2021, how this compares to the Australian population, and what has changed since the previous Seeing Ourselves report.

The report shows that there have been increases in the levels of diversity since 2016 including higher representation for First Nations people (7.2% from 4.8%), disabled people (6.6% from 3.6%), LGBTIQ+ people (7.4% from 4.5%), and non-European people (16% from 6.9%). However, a number of Australia's communities remain under-represented on-screen compared to population benchmarks and in particular disability representation remains critically low.
MATILDAS' FIGHT FOR EQUAL PAY, AMONG EIGHT DOCUMENTARIES RECEIVING SCREEN AUSTRALIA PRODUCTION FUNDING
Screen Australia has announced two documentaries funded through the Commissioned Program and six projects through the Producer Program that will share in over $2 million of production funding.

The projects include This Is Us, about the gender equality success story of the Matildas football team, ABC's The Way We Wore, exploring the history of the Australian fashion industry, Ellis Park about Australian musician Warren Ellis and his wildlife sanctuary in Sumatra directed by Justin Kurzel and Rewards for the Tribe which follows the collaboration between two acclaimed Australian contemporary dance companies.

Screen Australia's Head of Documentary Alex West said, "This new mix of projects will provide insights into aspects of Australia's past as well as contemporary issues, highlighting relevant topics such as wildlife conservation, gender equality in sport and the public healthcare system. We are proud to support these documentaries and I'm confident they will strike a chord with local audiences and beyond."
THE PROJECTS FUNDED THROUGH THE COMMISSIONED PROGRAM ARE:
Life on the Hospital Frontline (working title): A 3 x 52-minute documentary series for SBS that explores the challenges faced by the Australian public health system by going behind the scenes at one of Australia's busiest public hospitals – St Vincent's in Sydney. Life on the Hospital Frontline (working title) is series produced by Jo Siddiqui, written/directed by Anthony Barwell and executive produced by Dan Brown whose credits include What Does Australia Really Think About? and Claremont: A Killer Among Us. The series is financed in association with SBS with support from Screenwest and Lotterywest.

The Way We Wore: From Stranger Than Fiction and Wheels Rolling, this 3 x 60-minute series for the ABC is a definitive history of the Australian fashion industry. The series will unpack the cultural and historical significance of the Australian fashion industry and explore how the clothes we wear provide an unexpectedly intimate insight into the evolution of our country. Filled with archival material, gorgeous animation and interviews from the most highly regarded fashion faces in the country, The Way We Wore will ask why fashion matters and what it says about who we are and where we are going. Writing, directing and producing is Nel Minchin whose credits include Firestarter: The Story of Bangarra and Folau, with Mel Hayward (Hotel Coolgardie) also writing. Also producing is Jo-Anne McGowan (Mountain) and Sarah Noonan, with Jennifer Peedom (Mountain) attached as executive producer. ABC Commissioning Editor Kalita Corrigan. It is financed in association with the ABC with support from Screenwest and Lotterywest and Screen NSW.
THE PROJECTS FUNDED THROUGH THE PRODUCER PROGRAM ARE: