Discussion of Screen Australia projects and funding, especially not yet associated with a broadcaster.
2022 Year in Review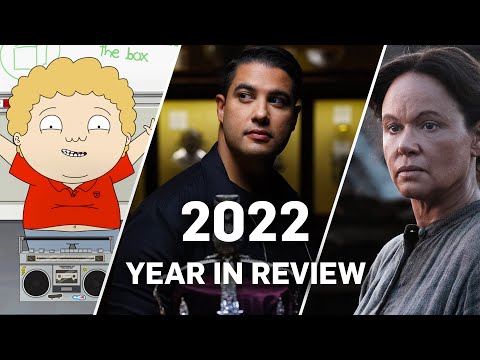 SCREEN AUSTRALIA ANNOUNCES $1.2 MILLION OF DEVELOPMENT FUNDING
Screen Australia has announced 19 feature films, 10 television dramas and three online projects that will share in over $1.2 million of Story Development funding. The projects include Moja Vesna writer/director Sara Kern's new feature film A Way Away, children's sci-fi animated series Combatoms and Just Chidi Things from writer/producer/lead actor Chika Ikogwe, producer Ana Tiwary and executive producer Rose Byrne.

This slate includes 19 projects supported through the Generate Fund and 13 through the Premium Fund.

Screen Australia's Head of Development Louise Gough said, "We are excited about this distinctive mix of projects and the range of audiences and markets they intend to serve. We are proud to support creatives as they expand their body of work across a range of platforms and formats. This includes debut feature films from Jack Dowdell, a 2019 Developing the Developer recipient, and writer/director Bradley Slabe who created the award-winning short film Lost & Found."

Screen Australia's Head of Online Lee Naimo said, "We love seeing Online creators taking advantage of the opportunities we provide to incorporate development into their project plans. It's great that the creative team behind the hugely-popular TikTok and YouTube series The Formal will no doubt be growing their already enthusiastic following with new series Kick It, as well as Nicholas Colla and Nicolette Minster from Deadbeat Ends Meet teaming up with emerging creators*.* We encourage more online creators to talk to us early about Screen Australia's development support."

Joining Screen Australia's Development Unit is Development Executive Tanya Mukerjee who started last month. Tanya has previously worked in the corporate sector as a Diversity, Equity and Inclusion Lead, at BBC Television in London as a Diversity & Inclusion Specialist, Executive Manager at Creative Diversity Network, which saw her work across the UK television broadcaster and production sectors, and at ITV as Diversity Partnerships Manager. Tanya also previously worked as a Script Editor on programs such as Fireflies and in script roles on Water Rats and McLeod's Daughters and brings a wealth of story and sector knowledge to the role.
The projects funded for development include:
FUNDING APPROVALS 2022-2023 TELEVISION DEVELOPMENT
PREMIUM
END OF.
Werner Film Productions
Genre Drama, Comedy
Director Alethea Jones
Writer Ash Flanders
Producer Joanna Werner
Script Editor Cléa Frost
Synopsis After taking a job as a legal transcriptionist, a failing performer fights a losing battle with the transcript of his own life.
THE CAILLEACH
Babadook Pty Ltd
Genre Horror
Director Jennifer Kent
Writers Jennifer Kent, Lynne Vincent McCarthy
Synopsis In 1740's rural Ireland, the already hard lives of an elder healer and her daughter are irrevocably changed when a terrifying host of creatures begin to feed on the broken souls of their poor and remote farming community.
COMBATOMS
Big Serious Studios Pty Ltd
Genre Family, Sci-fi, Action adventure
Creator Charlotte Rose Hamlyn
Director David Peers
Writers Charlotte Rose Hamlyn, John Armstrong
Producer Katrina Peers
Synopsis When a group of kids discover super powered creatures (Combatoms) in their small town, they must race to harness their amazing abilities before a ruthless corporation can exploit them to reshape the world.
THE SUBJUGATE
Aquarius Films
Genre Thriller, Science fiction
Writer Becca Johnstone
Producers Angie Fielder, Polly Staniford
Synopsis A near-future, dystopian, sci-fi crime thriller, where two homicide detectives hunt a serial killer in a small-town religious community that has been rehabilitating surgically reformed murderers.
HAVE I SAID TOO MUCH?
Hardy White Pictures Pty Ltd
Genre Drama
Creator Amy Molloy
Director Erin White
Writers Erin White, Michelle Hardy, Amy Molloy
Producer Michelle Hardy
Executive Producers Ian Collie, Rob Gibson
Synopsis A window into life after oversharing, Have I Said Too Much? is a half-hour drama series that follows UK journalist, Amy Murphy (25) as she rebuilds her life in Australia after her controversial memoir about being widowed at a young age makes headlines around the world for the unconventional way she tried to move on. Inspired by a true story, and the memoir Wife, Interrupted by Amy Molloy.
GENERATE
SUMMER OF EVIL
Orange Entertainment Co
Genre Horror, Fantasy
Writer Michael Hudson
Producers Michael Hudson, Stephanie Westwood, Diya Eid
Synopsis An unlikely gang of youths venture on a terrifying quest deep in the bush to save the adults of their small community from a supernatural threat that has enslaved them. On their journey they'll also discover that the spooky Dreamtime stories they were told as kids aren't just stories.
GORGEOUS
Chips & Gravy Films
Genre Drama, Thriller
Writers Alexandra Keddie, Gemma Bird Matheson
Producers Alexandra Keddie, Gemma Bird Matheson
Script Consultant Jane Allen
Story Consultant Jada Alberts
Synopsis Off the back of a career defining story, Journalist Charlotte Barber returns home to Launceston, Tasmania to make a podcast; a 'then and now' piece juxtaposing the current 2017 Marriage Equality vote with the unsolved murder of her girlfriend's mother 20 years earlier when homosexuality was still criminalised. As she conducts her investigations, Charlotte's personal connection to the story becomes intertwined with her own need to confront the shame she's held around her sexuality.
JUST CHIDI THINGS
Chika Ikogwe
Genre Comedy, Drama
Writer Chika Ikogwe
Producers Chika Ikogwe, Ana Tiwary
Executive Producer Rose Byrne
Script Editor Alexandra Cullen
Synopsis After people pleasing Chidi is suspended from med school, she does whatever it takes to avoid disappointing her Nigerian parents. She thinks everything's under control, but nosy Aunty Janice has other plans!
BHANG BHANG
Every Cloud Productions 2 Pty Ltd
Genre Mystery, Dark Comedy, Crime, Magical Realism
Creator Meleesha Bardolia
Writers Meleesha Bardolia, Marieke Hardy, Hannah Samuel
Executive Producers Mike Jones, Drew Grove
Synopsis When an Indian-Australian detective, Celeste Pritchard, investigates a high-stakes Bollywood film crime plot at a luxurious Melbourne hotel, she is forced to confront a case she herself may have caused and is thrown into a colourful, dangerous and morally ambiguous new world.
PLACED
Ambience Entertainment PTY Limited
Genre Drama
Director Partho Sen-Gupta
Writers Partho Sen-Gupta, Cathy Strickland
Producers Monica O'Brien, Megan Hutt, Faith Martin
Synopsis What happens when bureaucracy grates up against the complex realities of people's lives. Through the eyes of a Case Worker, the series lifts the lid on the high stakes and emotionally charged world of foster care where the devastation of separation and the hope of reconciliation swing on a pendulum of entangled emotions.