###Revolution School
From Tuesday 31 May at 8:30pm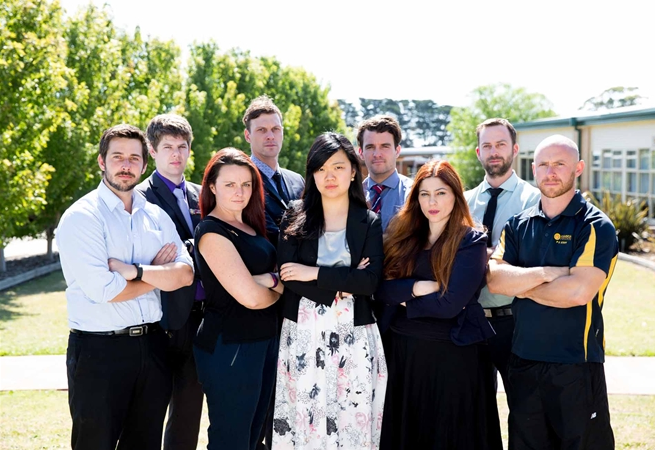 REVOLUTION SCHOOL is a four-part documentary series which investigates how to improve secondary education in Australia. The series was filmed in 2015 over the entire school year at Kambrya College, a typical public high school in Melbourne's outer south east.
The series uses fixed rig and roving cameras. It is an Australian TV first which captures the challenges, dramas and triumphs of life in an Australian high school in a way not seen before. Kambrya is a large school, with more than 1100 students from 42 different nationalities. There are high achievers who are aiming for the stars, but also kids at risk of dropping out and others with serious behavioural difficulties and learning challenges.
As a state-funded school Kambrya takes on all comers, but it did have a big problem. In 2008 the school was ranked in the bottom 10% of schools in Victoria on Year 12 results, and principal Michael Muscat knew he had to make significant changes. The question was, what changes?
Faced with the challenge of transforming Kambrya, Michael Muscat went in search of answers and found support for his approach and guidance from Professor John Hattie, an educational statistician. Hattie is Director of the Melbourne Education Research Institute, part of the Melbourne Graduate School of Education (MGSE) at the University of Melbourne. Under the leadership of Professor Field Rickards, the Melbourne Graduate School is ranked in the top few tertiary education institutes in the world.
Hattie has spent decades number crunching the data from over 70,000 separate studies on the factors that influence how well our kids do in school. From how much TV they watch, to the amount of homework they are given, to the number of students in a classroom, Hattie has been able to come up with a definitive evidence-based ranking of nearly 200 factors influencing what truly makes a difference to student achievement.
It turns out the answers are not what we might expect. And certainly not the problems the politicians and media often focus on, such as class sizes, facilities, funding levels or testing regimes.
At Kambrya Michael Muscat looked at the evidence and decided the best way to lift the school off the bottom rung was to focus on more effective teaching and learning. It might sound simple but when you're dealing with emotional teenagers, time-poor staff, anxious parents, social media bullying and the pains of growing up, change isn't always easy. Across the series we follow the dramatic story of how Kambrya tries to transform itself and change the lives of the kids.
Production credits: Series Producer, Alex West. Executive Producer, Michael Cordell. CJZ Director of Production, Toni Malone. ABC Commissioning Editor, Anita Brown. Produced with the assistance of Film Victoria and Screen Australia