ABC's new lifestyle series Movin' to the Country debuts in July
From Friday 2 July at 7.30pm
Growing great ideas in Regional Australia
Australians are moving to the country faster than you can order a soy latte to go with your smashed avocado.

New research released by the Regional Australia Institute (RAI) shows one-in-five city residents are considering a move to the regions, with more than half wanting to make the jump within the next twelve months. The global pandemic and work-from-home phenomenon have supercharged this trend.

Starting on Friday, 2 July, 7.30pm on ABC TV and ABC iview, Movin' to the Country celebrates the entrepreneurs, innovators and dreamers who are transforming the look and feel of Australia's beautiful regional areas in surprising new ways.

The six-part series introduces inspiring people who've lived in regional Australia their whole lives, returned to the country, or made the decision to pack up their city lives to make a difference in regional towns. Movin' to the Country showcases the beauty our country has to offer and celebrates the livability and appeal of regional Australia.

Hosts Craig Quartermaine, Kristy O'Brien and Halina Baczkowski, travel to a different region every week to tell the stories of folk looking to make a good living from their little patch of paradise. While it is not all beer and peaches, despite the struggles and setbacks, they've never looked back.

Each episode of Movin' to the Country explores three stories within one region, to discover how people are creating new lifestyles for themselves and how their success has cascading effects in the community.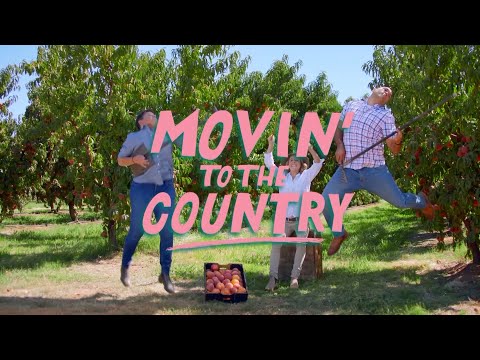 EPISODES:
EPISODE ONE: ORANA, NEW SOUTH WALES FRIDAY, 2 JULY, 7.30 PM

EPISODE TWO: SOUTH EAST TASMANIA FRIDAY, 9 JULY, 7.30 PM

EPISODE THREE: NORTH CENTRAL VICTORIA FRIDAY, 16 JULY, 7.30 PM

EPISODE FOUR: TOP END, NORTHERN TERRITORY FRIDAY, 23 JULY, 7.30 PM

EPISODE FIVE: LIMESTONE COAST, SOUTH AUSTRALIA FRIDAY, 30 JULY, 7.30 PM

EPISODE SIX: CAPRICORN & SUNSHINE COASTS, QUEENSLAND FRIDAY, 6 AUGUST, 7.30 PM
PRESENTERS:
Halina Baczkowski joined Landline in 2017 after a 20-year career as a radio host and producer, starting as an FM Radio 'Rock Patrol' driver. She progressed to producing and hosting before moving to news-based talk radio at Brisbane's 4BC. She was later part of youth network NOVA, producing the breakfast program as well as creating, producing and co-hosting the first LGBTQI program for a commercial radio network. In 2010, she moved to the ABC in Brisbane, producing and managing news based radio programs, before joining the Landline team as a reporter and producer.
Kristy O'Brien is an NT based journalist who had worked extensively in the Darwin newsroom and on various National Current Affairs programs including Australian Story, Back Roads and Landline. She was named Overall Rural Journalist of the Year and Television Journalist of the year SA/NT in 2019 and 2020 for her outstanding work in agricultural & regional Journalism. Kristy is also an accomplished documentary producer and was named Screen Producer Australia's One to Watch. In 2014 she was recognised at the Australian International Documentary Conference as a rising star receiving a scholarship to work for Jamie Oliver's Production Company in London.
Craig Quartermaine is a proud Nyoongar man from Perth, now living outside Brisbane. He's a stand- up comedian and ABC radio presenter whose former lives include working as a FIFO truck driver in WA's mining industry and an apprentice chef. After his career change to the media in his late twenties, Craig contributed to writing the second season of ABC TV's hugely popular Black Comedy and then became the WA correspondent for NITV.