Discussion of radio ratings for State capitals - Adelaide, Brisbane, Melbourne, Perth and Sydney (sorry Hobart!)
With today the first day of work for many, thought I might have a crack at predicting the overall ratings for Melbourne for 2016…(sorry not close enough to what's happening in the other cities to have a crack)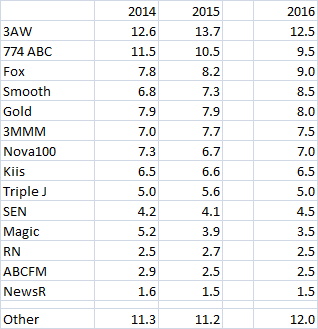 NB: 2014 and 2015 are average ratings for the 8 surveys. 2016 is predicted average for the 8 surveys
And the reasons why (which are of course, all an opinion and could be 100% wrong!):
Increased networking from 2GB ain't going to go down well with 3AW's somewhat parochial listeners. Then end of 2015 showed us a bit of a drop with Steve Price and Andrew Bolt, giving an insight to the perils of networked talk…
Dave O'Neill is no Richard Stubbs and 774 has been gradually sliding down the ratings from a peak of 13.7 in 2009. Hard to see it turning around - needs a bit of oomph and re-invigoration
Fox is steady as she goes. Like Steven Bradbury, it skates past whilst Kiis and Nova100 play fistycuffs. The Hamish & Andy continues to cross promote with Fifi & Dave to great advantage. The risk is that H&A is dropped due to ratings issues in other states.
The year of Smooth. Right place, right time, right music. Fairfax/Macquarie too busy shooting themselves in the foot with Magic with gains from 774 and 3AW.
Gold should hold its own - Jo Stanley is a good call. Although they could do better if they got the gang back together by swapping Matt Tilley and Lehmo.
Triple M will suffer not because of what've they've done but more from the actions of SEN which will drag some brekky listeners across.
Slight gains for Nova100 with what looks like an interesting choice of brekky crew. The rest of the lineup is not inspiring and the station has a bit of a Sydney image - the drive programme will continue to be disappointing, as Melburnians have too much local choice.
Kiis haven't addressed the mixed messages - so called new and fresh, yet Matt Tilley and Hughesy & Kate are not that. However to be fair, Hughesy and Kate are top notch and will continue to fight the good fight with Hamish and Andy. Can't see the brekky programme going far. So overall, break-even.
For some reason they remind me of Richmond, Triple J has alternated between 5 and 5.5 each year. Back to 5.0.
SEN should get a small improvement with Francis Leach and the Ox. Last time when they were on drive, Triple M got worried. They are a good combo and Triple M should be worried again (I know I'm going to give them a go). The limits of being a sports station will probably limit the growth from being higher.
Not even poaching Glen Ridge from 3MP will stop the Magic running out. If the rumoured 2CH magicification (is there such a word?) happens, transfer another 0.5 to other stations.
RN/Newsradio/ABC Classic - all steady states for what are essentially niche stations.
Other should continue to go up. Not only as Magic listeners drift to 3MP, but as digital radio continues to fragment the listening choices.
Anyway, could easily be wrong. Over to youse all…have a stab!
Clare Bowditch is replacing Richard Stubbs Monday to Thursday with an as yet unannounced show on Fridays.
My predictions for Sydney, both general station and programing ratings…
*While it will drop slightly, 2GB will continue to be Sydney's overall #1 radio station. But that's really a no brainer.
*702 ABC Sydney will probably be a consistent #2 or #3 for most of 2016. Possibly within 1% or less of 2GB by the end of the year.
*The battle for FM supremacy will most likely be between KIIS 1065, WSFM 1017 and Smooth 95.3
*Nova 96.9, Triple J 105.7 and Triple M 104.9 will all be around mid-range as usual.
*Relaunches of 2UE and (probably) 2CH will fail to impress listeners, with the ratings of those stations remaining mostly the same as last year if not slightly worse.
*2DayFM will continue to perform poorly in the ratings, as yet another new breakfast show fails to click with listeners. By Survey 3, there'll be more reactionary changes from SCA.
*ABC Classic FM 92.9, Radio National 576, ABC NewsRadio 630 and Sky Sports Radio 1017 will remain steady and of course at the bottom of the table because of the niche formats on those stations.
*Sydney's #1 breakfast program overall will of course be Alan Jones for the umpteenth survey in a row with the ARN stations battling each other out for the title of Sydney's #1 FM breakfast program.
*At drive, 2DayFM's ratings will be around mid-range. Either Nova or KIIS will have the #1 FM drive program, although 2GB's Sydney Live with Ben Fordham will be #1 overall of course.
*Elsewhere, 2GB will generally continue to dominate the ratings in the Mornings and Early Afternoon but will lose ground in the Evening and Overnight timeslots.
I think that I've got all bases covered there. I'd do predictions for the other cities, but I'm not really qualified enough to comment on them so will leave it to others!

I predict in Brisbane if Triple M continue with classic rock they'll get the jump on Nova and could even get 2nd place. Possibly taking listeners away from 4KQ and 973. 4BC and Magic will continue to fall. 612 and B105 will continue to rise.
I like your thinking SydneyCityTV. The 2DayFM Breakfast Train Crash will continue in 2016 (but with the main host now on a huge salary). Nova and KIIS will fight it out for No.1 Drive. Hasbeen and Andy will probably fight it out for No.5 or No.6 FM.
I disagree with you about Ben Fordham though. He was No.4 in the last survey and a long way behind 702. 2GB have not had a clear No.1 Drive show for a long time and I reckon Ben will probably continue to rate between 8.5 and 9.5. I do think that WSFM are starting to struggle and they finished 2015 on a 6.5. WSFM has had the same playlist of 42 songs for years now and I think the punters are getting tired of them. KIIS is No.1 with the 40 -54 year olds and I think this is partly because of the Pure Repeats format (cue: Summer of 69).
I agree, I think Triple M Brisbane will improve this year if they continue with classic rock. They'll need to promote it a bit and avoid getting too repetitive, but they should do well. Also Magic will continue to flounder - they've completely ruined anything they had. It's not even the networking that's the problem - it's the music. Honestly I'm aghast at how awful and "old" the station sounds now, after they'd made such efforts to make it sound more contemporary easy listening. I heard them play Silvia's Mother/Dr Hook on the weekend and realised it was over - "delete" from pre-sets.
Wouldn't be much left on AM in your presets then Brian? Haha! I myself have deleted the 'AM' favourites page in my car stereo. If I want the ABC (612 the only AM station I listen to) I just hit the band button.
###Record numbers tune in to commercial radio in 2015
Media Release from Commercial Radio Australia
Commercial radio enjoyed a strong year in 2015, with a record 10.3 million Australians tuning in each week in the five metropolitan capitals, up from 10.1 million in 2014 and 9.7 million in 2013.
The commercial radio listening summary, released today by industry body Commercial Radio Australia, shows audiences increased by 1.8% last year and are up by 6.2% over the past two years.

Chief executive officer of CRA, Joan Warner, said radio was continuing to appeal to all age groups, and its ability to reach a mass audience had underpinned the positive advertising revenue trend last year.

"2015 was a very good year for commercial radio, with listener numbers rising to record levels and a healthy increase in audiences for both the critical breakfast and drive time shifts," she said.

"Radio is also continuing to stay relevant to younger audiences, with 30,000 more listeners in the 18-24 age group turning in, which points to a positive outlook for the future."

The annual listening data is based on an average of the eight GfK radio ratings surveys conducted in the five capital city markets in 2015, compared with the previous year.

Throughout 2015, 7.4 million people listened to commercial radio during breakfast each week (Mon-Fri) and 6.9 million people listened during drive time (Mon-Fri), up from 7.3 million and 6.8 million respectively in 2014.

Figures showed commercial radio reached 79% of all people aged 10+ each week, 87% of those aged 10-17 and 78% of those aged 18-24.

Home was again the main place of listening, accounting for just over 46% of all commercial radio listening, followed by in the car (33%), at work (18%) and elsewhere (2%).

Ms Warner said while commercial radio stations had enjoyed success in podcasting, streaming and social media platforms, broadcasting would continue to remain key to appealing to mass audiences.

"People are listening to radio via multiple platforms, but traditional broadcast radio is still the preeminent means of consuming radio and is deeply embedded in people's lives throughout their day," she said.

Figures show digital radio is continuing to gain traction, with 3.17 million people listening to DAB+ broadcasts each week.

Radio stations are gearing up for a competitive start to the new year. Survey 1, 2016 is underway and results will be released by GfK on Tuesday 8 March. Media should register at the GfK website to receive radio audience survey summaries in 2016.

Sources: Commercial radio listeners, five metro markets. Gfk Radio Ratings, Survey 1 to 8, 2014-2015 and Nielsen Survey 1 to 8, 2011-2013. Total People 10+, Mon-Sun, midnight to midnight unless stated otherwise, all commercial and digital listening.