Scottish comedian Billy Connolly is back on Seven next month with the brand new travel series, BILLY CONNOLLY'S TRACKS ACROSS AMERICA.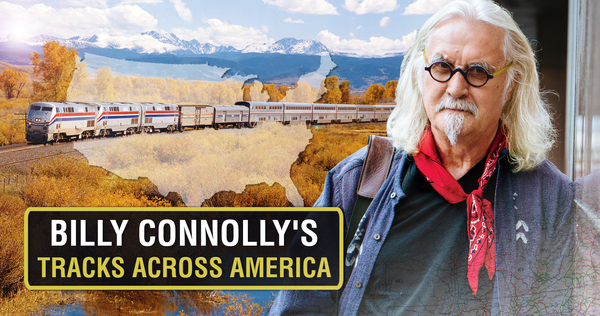 Scottish comedian hits the rails for epic new travel series across America.
This epic journey puts Billy in the company of three things he loves dearly – trains, America and his banjo – as he circumnavigates the four corners of the United States on its magic carpet made of steel.
Beginning in Chicago and finishing in New York, Billy will head into the vast and astonishing landscapes that make up America's backyard - an epic 26 states and over 9,500km of cities, coast, mountains, desert and swamp.
Rich in the romance of the American dream, this is a travelogue in the tracks of the pioneers who built a nation. A glimpse into modern America and the states we rarely get to see onscreen. It's a journey rich in people and places, chock-a-block full of moments you could only have in the company of Billy Connolly, a man who can move you to laughter and tears on the turn of a dime. A series painted in visuals straight from the silver screen, with Billy on the banjo strumming along to the 'chug chug' rhythm of the ride.
Produced by 7 Wonder Productions, BILLY CONNOLLY'S TRACKS ACROSS AMERICA follows his previous travel series on Seven – Billy Connolly's Route 66 in 2012 and Journey to the Edge of the World in 2009.
The premiere date will be announced soon.