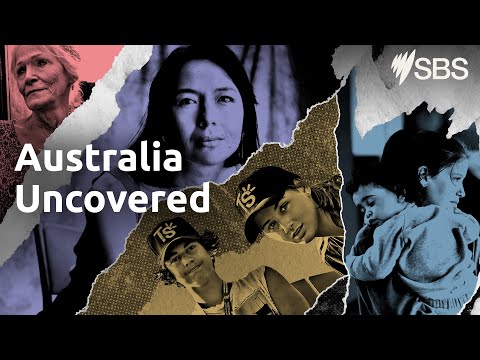 SBS is proud to present a second collection of Australia Uncovered, a strand of stand-alone documentaries that explore and celebrate contemporary Australia in revealing, surprising, and compelling ways. These four distinctive, bold, and uniquely Australian stories premiere every Tuesday evening from 25 October.

From award-winning investigative journalist Sarah Dingle and her fight to uncover the truth about who made her, and how in Inconceivable: The Secret Business of Breeding Humans. To an insight into the world of trauma cleaning through the journey of larger-than-life business owner Sandra Pankhurst in The Cleaning Company. Then we follow the lives of three young Australians as they navigate a condition that has no cure and is so little understood in Me and My Tourette's to exclusive access inside a one-of-a kind high school for teen parents in Kids Raising Kids. These programs explore diversity and equality in contemporary Australia, and are told by the country's top, award-winning storytellers.

SBS Head of Documentaries, Joseph Maxwell said: "SBS has made another big commitment to one-off documentaries in 2022, and we're pleased to bring our tentpole documentary strand Australia Uncovered back for a second season, with four unmissable shows in this collection. Each documentary is distinct, compelling, and meaningful with ambition and scale. Together they capture what SBS is known for, exploring contemporary Australia in a unique, bold and entertaining way."

Screen Australia's Head of Documentary, Alex West said: "We are excited to support these four engrossing documentaries. These projects offer revealing perspectives on contemporary Australian issues including the complexities of teen parenting, the hidden world of trauma cleaning and the ethical integrity of Australia's fertility industry. Not to mention, this is the first-time people living with Tourette's will be featured front and centre in an Australian documentary. I'm confident these projects will engage and inform viewers on SBS."
Episode 1 - Me and My Tourette's - Tuesday, 25 October, 8.30pm
Around one in every hundred Australians are diagnosed with Tourette Syndrome (TS),i a condition that has no cure and is so little understood, even by medical science. With repetitive, sudden movements and vocal tics, the involuntary physical effects can leave people with the syndrome feeling on the outskirts of Australian society. The one-hour documentary will follow three people as they experience a remarkable camp in Victoria that has the potential to change their lives. From a young man diagnosed for the first time in recent weeks to a teenager whose tics developed after losing her mother and now dreams of being a police officer. Through their personal stories we learn about the difficulties, remarkable courage, and the spectrum of this disorder.

Dan Brown, Creative Director, Joined Up said, "This was a film that we really wanted to make. To do it we had to rely on the bravery and determination of our cast and their absolute desire to shed light on this condition, to help the public to better understand and hopefully increase empathy for others living with the condition. We are incredibly thankful that the participants trusted us to tell their story."

Me and My Tourette's is a Joined Up Films production for SBS. Principal production investment from Screen Australia in association with SBS. Financed with support from Screenwest and Lotterywest.
Episode 2 – Inconceivable: The Secret Business of Breeding Humans – Tuesday, November 1, 8:30pm

This one-hour documentary is based on a journalist's discovery at the age of 27 that the man who brought her up and loved her dearly - was not her biological father. Her mother was impregnated with anonymous donor sperm. The intensely personal film is the story of award-winning investigative journalist Sarah Dingle and her fight to uncover the truth about who made her and how. At the same time, she uses her skills to investigate the secretive fertility industry, in her words - "a deeply unethical and pathologically secretive business that makes millions for its practitioners but has little concern for the human beings it creates."

Director & Co-Writer Sally Aitken said: "Inconceivable is a deeply personal story with widely shocking reverberations. There are many stories about the miracle of fertility science. Our film flips the perspective to that of the human conceived from donor material. Sarah is one of countless Australians whose conception helped build an export industry that is now listed on the stock exchange worth more than half a billion dollars. She uncovers other stories showing just how deep the problems run. In the quest for her own truth, our film asks the very essential question of what it is to be human - to know your origin story and your genetic inheritance."

Inconceivable: The Secret Business of Breeding Humans is a SAM Content production for SBS. Principal production investment from Screen Australia and Create NSW in association with SBS. Financed with support from Screen NSW.
Episode 3 – The Cleaning Company – Tuesday, 8 November, 8.30pm

The Cleaning Company is a fly-on-the-wall insight into the world of trauma cleaning through the journey of charming transgender business owner Sandra Pankhurst and the lives of a motley crew of workers at Frankston's Specialised Trauma Cleaning Services (STC) The theatrical release of this film was called Clean and earned an AACTA nomination premiering to acclaim at this year's MIFF and SXSW.

Lachlan McLeod, Director, Walking Fish said, "The Cleaning Company is a tribute to Sandra Pankhurst and her incredible team of trauma cleaners who approach their work with care and compassion for their clients and each other. This documentary has been three years in the making and we can't thank Sandra and the team at STC Services enough for letting us into their lives during this time."

The Cleaning Company is a Walking Fish Productions and Good Thing Productions production for SBS. Principal production funding from Screen Australia in association with VicScreen.
Episode 4 -Kids Raising Kids – Tuesday, 15 November, 8.30pm

School is a challenge for many teenagers, but for some, the stakes are even higher. Kids Raising Kids gives audiences exclusive access inside a one-of-a kind high school for teen parents in Canberra. - but our characters' lessons are not confined to the classroom. Many of the students are single parents, some are overcoming family trauma and drug dependency, and all are navigating a complex system. What unites them is a will to transform their lives - to get an education, stay on the right side of the law, and be the best parents they can be. Can they overcome the immense challenges in their lives to make it to graduation and a new future?

Writer & Director, Patrick Abboud said ,"Kids Raising Kids is an opportunity for all of us as an audience to try to better understand one another - drawing on the power of storytelling to reflect the genuine diversity that makes us who we are as Australians. Our intention was to give these students a platform of their own in the public domain to debunk some of the stereotypes and misconceptions around teen and young pregnancy - to allow them to share who they are on their terms. Like many of the stories I choose to tell, this is one more pocket of the country that is often overlooked."

Kids Raising Kids is an Only Human production for SBS. Principal production investment from Screen Australian association with SBS. Financed with support from Screen NSW and Screen Canberra.

Australia Uncovered premieres with Me and My Tourette's on Tuesday, 25 October at 8.30pm on SBS and SBS On Demand. All documentaries will be repeated at 10.30pm Wednesdays on SBS VICELAND from 29 October.
All four of the Australia Uncovered documentaries will be available to stream on SBS On Demand with subtitles in five languages: Arabic, Simplified Chinese, Traditional Chinese, Vietnamese and Korean, allowing more Australians to engage in these important topics.