###Art Bites

A new series of documentaries exploring contemporary art - 2017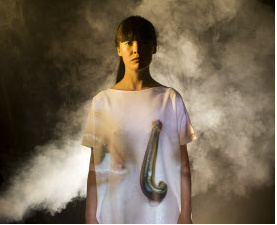 Shock Art explores the art that is shocking us today and why it can take us deep into extremely uncomfortable territory. The effect of powerful art can leave a lasting impression long after we've viewed it. Is it OK for it to be offensive, controversial, and even dangerous? This documentary series explores what art is shocking us today and asks whether it can sometimes go too far.
Over six episodes young Chinese-Australian curator and presenter Kate Britton will seek out artists and works across a diverse range of creative disciplines, pushing boundaries, challenging convention and enraging the public. Along the way she must own up to her own preconceptions, prejudices and revulsions.
As our society becomes more permissive, our shock artists clearly need to up the ante to grab our attention. But do we need to be shocked? Is there a line that should not be crossed?
Production Credits: Producer: Alice Ross. Director: Sam Field
The Glass Bedroom will profile six Australian artists who use Instagram to create bold works to share with their thousands of followers. The series will take viewers inside the 'glass bedrooms' of these artists, to explore the relationship between authenticity, identity and social media in their work.
Their works are highly constructed images of themselves and their lives. Usually it's a mash up of images – digitally altered or photographed – often in bold pastel colours, provoking followers with alternate views on identity, sex, corporate power and the mainstream media.
The series will question whether our online existences can be separated from our real lives. It will reveal how art is changing in the digital era, and how the 'gallery' is more accessible than ever.
Production Credits: Producer: Bethany Bruce. Executive Producer: Bridget Ikin. Director: Kate Blackmore
Suburban Interventions will look at how growing up in the suburbs of Perth informed the artistic practice of artist Ian Strange and led to a global analysis of the iconography of suburbia and home.
Ian Strange is an Australian installation artist and director who explores the iconography of the family home and the notion of suburbia.
Originally a filmmaker, his work includes painting, film, photography, sculpture, installation and site specific interventions. His collaborative way of working involves teams of artists, curators, construction workers, collaborators and the community itself. His work demonstrates the shift of art towards creating direct human impact – away from gallery walls.
The series will be directed by Strange, who will share how this growing sense of cultural unease around the idea of 'home' in Australia, and elsewhere, has developed into art.
Production Credits: Producer: Brooke Silcox. Executive Producer: Amanda Morrison
The Wanderers examines work of six of Australia's most exciting street artists as they take their work on the road.
The street art community is largely an urban art form, but it is also a nomadic one that involves a pilgrimage in search of the next wall or inspiration. It involves adventure but usually in a cityscape. The series will challenge this norm to see how street art can fit into unexpected areas or cultures.
Each episode will chronicle one artist's journey to create a mural for a specific area or community; through planning, engagement, and the painting itself.
The series will feature Australia's most well known street artist Sofles, as well as Georgia Hill, Dabs and Myla, Guido Van Helton, Rone and Numskull. They will travel far and wide, from the Tiwi Islands and Vanuatu to Tasmania and Sydney.
Production Credits: Producer: Drew McDonald. Director: Selina Miles
Runs for: Each episode is six x 5 minutes on ABC Arts Channel on iview.
Art Bites is an ABC Television and Screen Australia initiative encouraging new arts content from emerging and early-career Australian filmmakers. Each of the four production teams commissioned received $50,000 to make a 6 x 5 minute web series. Two filmmaking teams are from Western Australia, one from Queensland, and another from NSW. Screen West, Queensland and NSW have also all offered support for their local talent.