Possibly because the show is taking a break on 21 July.
Live from Melbourne
Thursday 14 July 8:30 PM
This week on Q+A, an international focus as the world reels from an assassination and a resignation while Australia's focus turns firmly to China and the Pacific.

The shooting of former Japanese Prime Minister Shinzo Abe, a towering figure on the international stage, has sent shockwaves around the globe. World leaders have been paying tribute to the politician, Japan's longest-serving prime minister hailed as one of the country's most powerful post-war leaders, while Japan is in mourning and trying to determine how such a killing could have happened.

In the UK, an embattled and scandal-plagued Boris Johnson finally resigned as Conservative Party leader but will remain as PM until a successor is chosen. That process appears to be turning increasingly acrimonious, as at least 10 MPs vie for the job, with more challengers expected to emerge. Former Chancellor Rishi Sunak is considered a front-runner but faces strong opposition in other high-profile candidates including former Health Secretaries Sajid Javid and Jeremy Hunt, and Foreign Secretary Liz Truss.

Closer to home, China says the Coalition government was the "root cause" for the spectacular breakdown in relations between Canberra and Beijing and has issued a list of four proposals to get the relationship back on track. Foreign Minister Penny Wong met with her Chinese counterpart on Friday, the first formal meeting between the countries' foreign ministers since September 2019. The AUKUS deal has been called a "sore point" for China, while some critics say the pact gives Australia a false sense of security. How will Australia manage the competing interests of an increasingly divided global community? Will the new government's efforts to push back on global superpowers make an impact?

On Wednesday, Prime Minister Anthony Albanese will fly to Suva for the Pacific Islands forum, expected to focus on China's increasingly ambitious push to expand ties with the Pacific nations. But the high-stakes meeting comes amid signs of strain within the forum, which has been rocked by the late withdrawal of Kiribati in protest over a leadership tussle in the group.

It's been a busy few months for Anthony Albanese and Penny Wong, travelling to all corners of the globe since Labor's election victory in May, signalling a new era in Australia's foreign relations. How successful will they be in resetting fractured relationships? And just what role will Australia play in our region?

During Anthony Albanese's recent trip to Europe, he met with French president Emmanuel Macron to repair the damage done over the submarine deal. In Ukraine, he visited President Volodymyr Zelenskyy and toured war-torn cities, pledging more financial support for the country's fight against Russia. But back home, the Prime Minister has been criticised by the Opposition for spending too much time away from Australia.

Join us for this important discussion about what a new era of foreign policy means for Australia.
David Speers hosts Q+A live from Melbourne on Thursday, July 14 at 8.30pm AEST.
His Excellency Vasyl Myroshnychenko is Ambassador of Ukraine to Australia and former Advisor to the Minister of Defence of Ukraine.

Peter Khalil was elected to federal parliament in 2016 and has held the seat of Wills since. Prior to his election, Peter worked for the Department of Foreign Affairs and Trade, as National Security Adviser to the Prime Minister

George Brandis was appointed Professor in the Practice of National Security at the National Security College, ANU, following his return to Australia after four years as High Commissioner to the United Kingdom.

Kylie Moore-Gilbert is a scholar of Middle Eastern and Islamic Studies. In 2018 she was detained during a trip to Iran, and served more than two years of a ten-year sentence before being freed in November 2020.

Hugh White is one of Australia's foremost experts on strategic, defence and foreign policy issues. His latest work, the Quarterly Essay Sleepwalk to War: Australia's Unthinking Alliance with America, explores Australia's fateful choice to back America to the hilt and oppose China.
Nothing new, but The Australian's media section has picked up on Q and A's ratings again. Will ABC respond?
As noted last Thursday
The ABC's political chatfest program Q+A has taken a further dive in the ratings as the troubled-plagued show struggles to draw strong audiences a year after the departure of former host Hamish Macdonald.

Last Thursday's program, which was hosted by Virginia Trioli, drew … the show's third worst viewership so far this year.

The dismal ratings performance has raised further doubts about the show's future in its current Thursday night timeslot.

Last week's show, which was broadcast from the public broadcaster's Sydney studios failed to make the top 20 programs on Thursday and even fell behind Ten's US soap The Bold and the Beautiful.
The show did pick up some viewers previous weeks even making the top 20 on 26 May with 326,000. However on Thursday was below the 200k mark.
This is fodder for its readers to make ridiculous and vile comments in the story thread.
They also hate Virginia Trioli so there's that as well.
No Q+A tonight due to the ABC's telecast of Sydney Symphony Orchestra gala from the Opera House.
No Q+A on Thursday due to Foreign Correspondent special.
Q+A Garma Special
Monday 1 August 9:35pm
Q+A returns with a special program from north-east Arnhem Land, broadcasting from the Garma Festival, Australia's largest Indigenous cultural gathering. Three years after the event was last held, Indigenous elders, politicians and cultural leaders will meet for this significant occasion.

The festival is a celebration of the cultural, artistic and ceremonial traditions of the Yolngu people – this year's is based around the theme of "Nhanga Ngathilyurra", meaning to look ahead towards the future – and comes amid Prime Minister Anthony Albanese's commitment to hold a referendum to enshrine a Voice for First Nations people in the Constitution.

The new PM says he's "determined to get this done" and that there have been too many years of "drift", pledging he will proceed even without bipartisan support. Indigenous leaders say much progress has been made on implementing the Uluru Statement from the Heart, but there is still a lot of work to be done. Mr Albanese will be at Garma but it's not yet clear what he'll be announcing – could we be moving closer to setting a date for the referendum?

Hosted by Stan Grant, Q+A will speak to Indigenous leaders and discuss issues facing their community, and will feature a special performance by First Nations singer-songwriter Miiesha.
Linda Burney was first elected federal member for Barton in 2016, following a 13 year career in the NSW Parliament as Member for Canterbury.

Yiŋiya Mark Guyula is the Independent Member for Mulka, elected to the Northern Territory Parliament in 2016. The Mulka electorate covers most of the Yolŋu country of East Arnhem Land and the mining town of Nhulunbuy. During his time in Parliament, Yiŋiya has challenged the Government to create inclusive laws and policies that work towards acceptance, understanding and equality for Aboriginal culture and authority.

Dean Parkin was closely involved in the process that resulted in the historic Uluru Statement From The Heart, and continues to advocate for constitutional and structural reform as Director of From the Heart.

June Oscar AO is a proud Bunuba woman from the remote town of Fitzroy Crossing in Western Australia's Kimberley region. She is a strong advocate for Indigenous Australian languages, social justice, women's issues, and has worked tirelessly to reduce Fetal Alcohol Spectrum Disorder.

Mayatili Maruka is a Rirratjingu Traditional Owner and Yolŋu woman based in north-east Arnhem Land. More to come.

Senator Jacinta Nampijinpa Price is a proud Territorian and Australian, former small business owner, former Director of Indigenous Research at the Centre for Independent Studies, a spokesperson for Advance Australia, a Sky News Political Commentator, contributor to The Australian and the Daily Telegraph and has served as Deputy Mayor of Alice Springs Town Council.
Updated: 31/7/22
ABC has announced that Stan Grant is now the permanent host of the show ending the rotation of hosts.
Stan Grant appointed full time host
"Special time" 9.30 Monday. Leave it there.
What's more exciting - the new permanent host, or the "special time" of its traditional timeslot?
Just what we've all been saying for years - just leave it at 9.30 on a Monday…!!
Thursday, August 4 | Live from Melbourne
This week on Q+A, a glimpse into the future. As the first sitting of the 47th Parliament draws to a close, the priorities and political challenges for the Albanese Government are becoming clearer. Legislating an emissions reduction target is a key focus, but how much ground will Labor have to concede to get the bill through?

The PM has promised a more inclusive and less divisive parliament, but how much will the realities of politics get in the way? Mr Albanese is facing headwinds in a progressive Senate, so what compromises will have to be made to implement his agenda?

And as the cross party negotiations play out, the CSIRO is warning that extreme weather will cost Australia more than $39 billion each year by 2050 – just one of the predictions in the agency's once-in-a-decade report on the future trends that will shape the next generation. More Australians will forgo insurance as costs spiral, while food security will also be a key challenge, the report warns.

Other megatrends that will define our future include health, artificial intelligence and autonomous systems, the digital world and geopolitical shifts. COVID and the Russian invasion of Ukraine have heralded a seismic shift in our direction – just how can we tackle the complex problems facing society?

COVID remains ever-present, as we face the age of the virus – with foot and mouth and monkey pox also threatening lives and livelihoods. And the effects of long COVID are becoming clearer, with some Australians facing living with disability for the first time as a result. Will the NDIS be able to cope with the extra pressures on the system?

And don't forget you set the agenda – submit your questions and join us for an important discussion.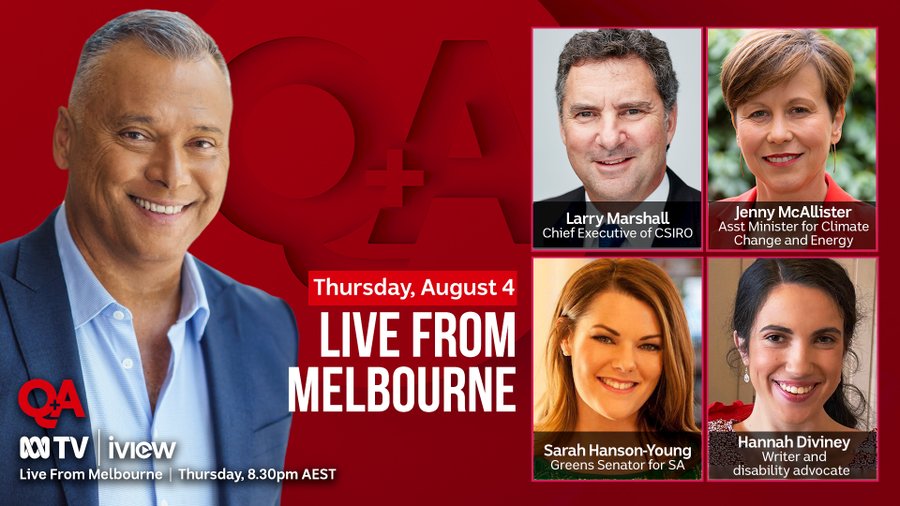 Dr Larry Marshall is Chief Executive of CSIRO, Australia's national science agency.

Jenny McAllister has served as a Senator for New South Wales since 2015, representing the Australian Labor Party. She was co-founder of the Labor Environmental Activist Network (known as LEAN).

With a background in activism and campaigning, Sarah Hanson-Young has brought a strong human rights focus to her years in Federal Parliament.

Warren Mundine has 30 years experience in the energy and mining industry covering renewables, gas and pipeline construction, uranium and nuclear power, and electric buses and vans.

Hannah Diviney is a writer, disability advocate and Editor-in-Chief and Chief Creative Officer at Missing Perspectives, a grassroots feminist youth newsroom.
Thursday, August 11 | Live from Melbourne
This week on Q+A, we look beyond our borders, to some of the big global issues that are causing ripples around the world, and here at home. Our government has tricky diplomatic and strategic waters to navigate – but how much is out of their hands?

Tensions with China continue to escalate, after Foreign Minister Penny Wong issued a joint statement with her US and Japanese counterparts condemning Beijing's military exercises around the Taiwan Strait and demanding they "immediately cease". The Chinese Embassy pushed back, saying "finger-pointing" was "absolutely unacceptable" and accusing the US of being the "biggest saboteur" of peace in the region.

The war of words comes in the wake of Nancy Pelosi's controversial visit to Taiwan which saw China launching ballistic missiles in an unprecedented live-fire military drill around the self-ruled island. The US House of Representatives Speaker's stopover was also marked by cyber attacks across Taiwan. Anthony Albanese says the "level of US engagement" with Taiwan is a matter for them, but what does it mean for our region?

Meanwhile, the international economy is in the doldrums, with inflation and interest rates biting. China's economy is facing multiple challenges – including slowing growth and a property market decline – what will that mean for Australia?

And here at home, our military structure, preparedness and investments are being reviewed for the first time in a decade. It's being led by a former Defence Minister and former Chief of Defence Sir Angus Houston, who says the "fast-changing" strategic environment is the "worst I've ever seen". How can Australia prepare for what may be ahead?

All this, plus the news of the week.
Q+A is live from Melbourne on Thursday, August 8 at 8.30pm AEST.
Following the election of the Albanese Labor Government in May 2022, Pat Conroy was appointed as Minister for International Development and the Pacific and Minister for Defence Industry.

First elected aged 28, James Paterson has spent his professional career fighting for free markets, individual freedom and the preservation of Australia's constitutional framework.

Sharan Burrow was elected General Secretary of the ITUC in 2010. Prior to this, Sharan was the second woman to be elected President of the Australian Council of Trade Unions (ACTU).

Dr. Jennifer Hsu is a Research Fellow in the Public Opinion and Foreign Policy Program at the Lowy Institute. She is currently working on a project which explores the intersections of Australia's multiculturalism and foreign policy.

Damien Cave is the Australian bureau chief at The New York Times and the author of Into the Rip: How the Australian Way of Risk Made My Family Stronger, Happier … and Less American.
Thursday, August 18 | Live from Penrith
This week on Q+A, we head to western Sydney to tackle the issues that are hitting households right across Australia's suburban heartland. From the cost-of-living crisis to critical infrastructure … educational opportunities to the rental squeeze – we'll discuss the issues that are impacting people's lives and livelihoods around the country.

As the flood recovery continues, what do those left to pick up the pieces still need to get their lives back on track? Just how well-prepared are we for the next major weather event? Amid the fallout from the NSW Parliamentary inquiry into the Northern Rivers flood, are our emergency services equipped to handle future disasters?

A thriving multicultural centre, western Sydney is a microcosm of Australia. But are the opportunities available to all or do some sections of the community miss out? And how can education empower the next generation to find their voices and possibly the answers to some of the biggest problems facing society?

And is multitasking a myth? We'll have international bestselling author Johann Hari on the panel, explaining why our ever-shorter attention spans may not be our fault.
Q+A is live from Penrith on Thursday, August 18 at 8.30pm AEST.
Johann Hari is a bestselling writer and journalist, whose most recent book Stolen Focus (2022) investigates why our ability to pay attention is collapsing.

Murray Watt was elected as a Senator for Queensland in 2016. He is the Albanese Government's Minister for Agriculture, Fisheries and Forestry and Minister for Emergency Management.

The Honourable Catherine Cusack was elected to the NSW Legislative Council in 2003 and was re-elected in 2011, and again in 2019.

Winnie Dunn is the General Manager of Sweatshop Literacy Movement and the editor of several critically acclaimed anthologies, including Another Australia (Affirm Press, 2022).

Blak Douglas is an Archibald Prize winning artist from Western Sydney. He was trained in illustration and photography before becoming self–practised in painting.

Amanda Rose is Australia's foremost Strategic Connector, Founder and CEO of Small Business Women Australia, Founder of Business Woman Media and Founding Director of Western Sydney Women, Mentoring Women and The Future is Bright.
Western Sydney Broadcasting Corporation showing off its obsession again.
They'd never do this sort of thing for a specific suburban centre in any other Australian city, even Melbourne.
Thursday, August 25 | Live from Melbourne
This week on Q+A, we tackle the complex issue of ethics in sport. Sport continues to be a defining element of Australian culture, woven into the fabric of our political, social and working life – but for a nation that prides itself on the "fair go", just how level is our playing field?

Fairness, inclusivity and personal beliefs all need to be taken into consideration, from the grassroots level to the Olympic arena … so how do we celebrate difference while setting rules on participation? Does fairness trump inclusion? How do sporting clubs respectfully represent the religious and cultural beliefs of those competing at an elite level?

From divisive debates on trans athletes' participation to the furore over an NRL club's pride jersey, sport has dominated news headlines this year. And research consistently shows racism is an ongoing problem. How can sporting bodies ensure all athletes, at all levels, feel included and respected? How do sports regulators balance fairness and inclusion allowing everyone an opportunity to participate? How do race, religion, gender and money affect sport in Australia today and what does this mean for the social cohesion of our country?

And don't forget you set the agenda – submit your questions and join us for an important discussion.
Q+A is live from Melbourne on Thursday, August 25 at 8.30pm AEST.
Kieren Perkins OAM is regarded as one of the world's greatest distance swimmers having won four Olympic medals.

Hannah Mouncey has represented Australia for the past 10 years as a Handball player, competing across the world in various events and has been a part of World Championship teams.

Joe Williams is a former NRL player and author who has delivered mental health and wellbeing programs to over 200 communities across Australia through his organisation The Enemy Within.

Dr David Lakisa is managing director of Talanoa Consultancy. In an Australian first, he was appointed as the inaugural Pacific Islander Coaching and Development officer at New South Wales Rugby League.

Catherine Ordway is Sport Integrity Research Lead at the University of Canberra and Senior Fellow at The University of Melbourne Law School.
Thursday, September 1 | Live from Sydney
This week on Q+A … finding common ground. In an increasingly fractured world – politically, economically and geographically – just what will it take to resolve some of the biggest issues facing us today?

The federal government's jobs summit will be underway, so can everyone put their disagreements aside to manage wages growth and attract workers where we need them most? The past few years have forced a rethink about the very nature of work. How can Australia make sure it is well placed to embrace new technologies, industries and new ways of working?

Meanwhile the secret ministries scandal isn't going away, with terms of reference announced for an inquiry into Scott Morrison's multiple portfolios. Former Tourism Minister Fran Bailey has spoken out saying she forced him out of Tourism Australia because of a "complete lack of trust". She also says he should quit parliament. Will the inquiry be a witch-hunt as the Coalition claims? Or can it prevent something similar from happening again?

And world-renowned author and philosopher AC Grayling has been wrestling with some of our planet's most urgent dilemmas in his latest book, For the Good of the World and will share his unique take on technology, climate and justice.

All this, plus news of the week, and a special live performance from Aussie music legends the Hoodoo Gurus.
A. C. Grayling is the Founder and Principal of the New College of the Humanities at Northeastern University, London, and its Professor of Philosophy.

Katy Gallagher is the Albanese government's Minister for Finance, Women, and Public Service. Prior to entering federal politics, Katy advocated for people with disability as a community worker, worked as a CPSU Organiser, and served as the Chief Minister of the ACT.

Stuart Robert has been the Federal Member for the northern Gold Coast seat of Fadden since November 2007.

Over the last 18 years, Catherine has worked in management, strategic and leadership roles in the agricultural, research and regional development sectors in Australia and internationally.

Wendy El-Khoury is the founder and director of leading global Wedding and Event Marketplace, Wedded Wonderland.