Paramount has launched a counter suit.
I say sort out the lawsuit with handbags at fifty paces.
Internet Sensations The Inspired Unemployed To Host Hilarious Australian Original Series.
Coming Soon To Paramount Australia And New Zealand.
Aussie larrikins, The Inspired Unemployed, have taken over the internet with their awkwardly hilarious videos and in 2023, we will see them take over our screens for the very first time.

Jack Steele and Matt Ford, the duo behind The Inspired Unemployed are renowned content creators, having amassed 3.8 million followers on social media. Now, Jack and Matt will host a hilarious eight-part Australian original series, produced by Warner Bros. International Television Production Australia.

Bursting with excitement, Jack and Matt jointly said: "We are so stoked to be working with Paramount ANZ on this TV show, from the first video we ever made our goal was to always have a TV show and for it to actually be happening is a dream come true. We've always believed that laughter is the best medicine, and we're thrilled to have the opportunity to spread joy and positivity to even more people through this platform."

Daniel Monaghan, SVP Content and Programming, Paramount Australia and New Zealand said: "The Inspired Unemployed have a huge following with a unique knack for making people sit up, take notice and laugh. Paramount ANZ is delighted to be their very first 'TV home' when Jack and Matt, alongside their mates will have audiences in stitches with this surprising series. We can't wait for audiences to watch the show later this year."

Michael Brooks, Managing Director of Warner Bros. International Television Production Australia and Head of Studios Australia and New Zealand said: "Jack and Matt from The Inspired Unemployed are internet sensations with a natural chemistry that can only come from years of working together. We have the perfect format for their first foray into television and look forward to sharing more hilarious moments with fans across the country later this year."
Looking forward to this, these guys are really funny.
Release is vague wether this will be FTA or SVOD, assuming it'll air on both at some point but given they already have the Betoota Advocate show (very different concepts I'm sure, but seem vaguely similar by way of a comedy duo of sorts) for P+ my guess is this'll be FTA first and then available to catch up on streaming.
Any A-League Finals Series without the Jets isn't worth watching.
Might just be me, but doesn't seem like a heck of a lot of new content the last few months. Might just be perception, but scrolling through there and seeing the highlights there's not much to be excited about - other than new Five Bedrooms which is well overdue.
Also, they've commissioned so many original series for the service and it seems a bit bare to date this year except for Last King of the Cross.
Yellowjackets has new episodes and is getting a reasonable promotional push.
Paramount+ Reveals Official Trailer For Season Three Of iCarly.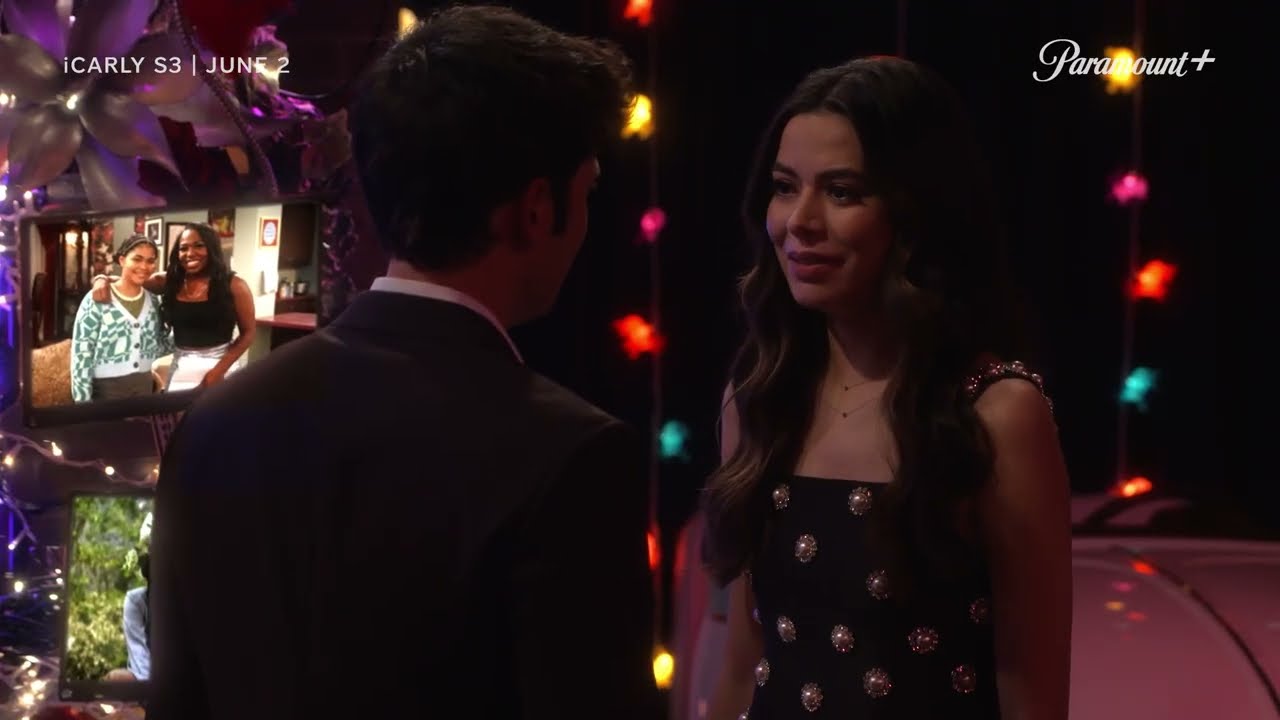 The Paramount+ Original Series Streaming Exclusively From Friday, 2 June.
Paramount+ has released the official trailer for season three of iCarly. The hit comedy series will return with two episodes on Friday, 2 June, streaming exclusively on Paramount+.

In the highly anticipated new season, adulting continues to be complicated for Carly and her friends. Carly and Freddie struggle to redefine their relationship (#Creddie), Spencer seeks a return to his roots, and Harper's reunion with an old rival leads to an unexpected outcome.

Seasons one and two of iCarly are currently available to stream on Paramount+. In addition to catching up on new iCarly episodes, fans can also binge all seasons of the original series on Paramount+.

iCarly stars Miranda Cosgrove as Carly, Jerry Trainor as Spencer, Nathan Kress as Freddie, Laci Mosley as Harper and Jaidyn Triplett as Millicent. iCarly for Paramount+ is produced by Nickelodeon Studios and is executive produced by Ali Schouten-Seeks (Young & Hungry, Diary of a Future President), Phill Lewis (How I Met Your Father, THE NEIGHBORHOOD) and Miranda Cosgrove, with Schouten serving as showrunner. Jerry Trainor, Nathan Kress and Alissa Vradenburg (The Simple Life) serve as producers.

Nickelodeon's original iCarly series, which ran from 2007-2012, followed a group of best friends as they created a webcast for and about kids their age while grappling with everyday problems and adventures. During its initial run, iCarly became a pop culture staple and regularly broke viewership records among audiences of all ages. The original iCarly series was created by Dan Schneider.
Paramount+ And Nickelodeon Announce Additional Casting For The All-New Zoey 102 Original YA Movie Starring Jamie Lynn Spears.
Zoey 102. Streaming Soon On Paramount+.
Paramount+ and Nickelodeon are thrilled to announce additional casting for Zoey 102, the all-new full-length original movie based on characters from the hit live-action Nickelodeon series Zoey 101, as they reunite for a wedding.

Joining the previously announced returning cast members are Dean Geyer (Glee), Owen Thiele (Theater Camp) and Thomas Lennon (Reno 911). Zoey 102 will premiere later this year exclusively on Paramount+.

Over a decade after the iconic series ended, Zoey Brooks is still trying to figure out life and love, this time in her 20s. The Pacific Coast Academy (PCA) gang returns to Malibu for an over-the-top wedding turned high school reunion for the books. Jamie Lynn Spears returns as Zoey Brooks, who graduated alongside the first female class ever to be allowed into Pacific Coast Academy. Erin Sanders returns as Zoey's best friend, Quinn Pensky. Sean Flynn returns as Zoey's on again, off again love interest, Chase Matthews. Also returning are Matthew Underwood, as Logan Reese; Christopher Massey, as Michael Barret; Abby Wilde, as Stacey Dillsen; and Jack Salvatore, as Mark Del Figgalo.

The wedding reunion includes new cast members: Thomas Lennon, as Zoey's boss Kelly Kevyn; Owen Thiele as Zoey's friend Archer March; and Dean Geyer, as a charismatic actor, Todd.

Zoey 102 is directed by Nancy Hower (Saturdays, So Help Me Todd, QuickDraw) and Monica Sherer, and Madeline Whitby (Betch, Drama Club, All That) wrote the script. Jamie Lynn Spears serves as executive producer along with Alexis Fisher, Hower, Sherer and Whitby. Production of Zoey 102 for Nickelodeon Studios is overseen by Shauna Phelan and Zack Olin, co-heads of Nickelodeon and Awesomeness Live-Action.

The YA movie Zoey 102 is based on characters from the iconic series Zoey 101, which debuted on Nickelodeon in January 2005, and quickly emerged as one of the top live-action kids' series on television. The series follows Zoey Brooks as she enrols in Pacific Coast Academy, a school that previously only allowed boys to attend. Throughout the series, Zoey and her friends navigate life as teenagers at a boarding school. The original Nickelodeon series was created by Dan Schneider.
The first episode will get a FTA broadcast on 10, on Tuesday June 6 at 9.40pm, after The Cheap Seats.
The show will return for a second season.
In a resubscribe email received this morning, it confirms that The Betoota Advocate presents series that was announced back in March premieres on June 14.
I'm sure they're gonna have a field day with that one after they talked about it a bit this week!
Paramount+ Releases Official Trailer For The New Season Of The Hit Original Series - Star Trek: Strange New Worlds.
Star Trek: Strange New Worlds Season Two Premieres Thursday, 15 June Exclusively On Paramount+.
Paramount+ today debuted the official trailer for the highly anticipated second season of its critically acclaimed original series Star Trek: Strange New Worlds. Season two will premiere Thursday, 15 June exclusively on Paramount+ in Australia and following the premiere, new episodes of the 10-episode season will drop weekly on Thursdays.

Additionally, the trailer revealed a first look at the previously announced special crossover episode featuring Star Trek: Lower Decks' Tawny Newsome as Beckett Mariner and Jack Quaid as Brad Boimler in live-action form aboard the U.S.S. Enterprise. The episode, which will also feature animation, was directed by Star Trek: The Next Generation and Star Trek: Picard actor and director Jonathan Frakes.

In season two of Star Trek: Strange New Worlds, the crew of the U.S.S. Enterprise, under the command of Captain Christopher Pike, confronts increasingly dangerous stakes, explores uncharted territories and encounters new life and civilisations. The crew will also embark on personal journeys that will continue to test their resolve and redefine their destinies. Facing friends and enemies both new and familiar, their adventures will unfold in surprising ways never seen before on any Star Trek series.

The series stars Anson Mount as Christopher Pike, Rebecca Romijn as Una Chin-Riley, Ethan Peck as Spock, Jess Bush as Christine Chapel, Christina Chong as La'An Noonien-Singh, Celia Rose Gooding as Nyota Uhura, Melissa Navia as Erica Ortegas and Babs Olusanmokun as Joseph M'Benga. Season two also features the return of special guest star Paul Wesley as James T. Kirk and new addition Carol Kane in a recurring role as Pelia.

Season two of Star Trek: Strange New Worlds is produced by CBS Studios, Secret Hideout and Roddenberry Entertainment. Akiva Goldsman and Henry Alonso Myers serve as co-showrunners. Alex Kurtzman, Akiva Goldsman, Jenny Lumet, Henry Alonso Myers, Aaron Baiers, Heather Kadin, Frank Siracusa, John Weber, Rod Roddenberry and Trevor Roth serve as executive producers.