I think a program such as The National Survival Test will still be relevant today.
Someone would have to have filmed it as they didn't have tape machines then.
Apparently a kinescope recording was taken of the opening spiel but it was lost or misplaced and that's what led to the more polished re-enactment that was made a year or two later.
I accept that, but the original post was about "the most watched event in Australia" rather than the highest TV rating.
i know, i was being a bit facetious

17 September 1988: Network Ten begins its coverage of the Games Of The XXIV Olympiad from Seoul, South Korea. With timezones similar to Australia, daily coverage went from 9am through to 2am, with a 2-hour break from 5.30-7.30pm (weeknights) and a half-hour (6-6.30pm) on weekends.
In Melbourne, the Opening Ceremony of the Olympic Games (on a Saturday morning) was not even Ten's highest rating show that week. That honour went to The Comedy Company earlier in the week, which almost doubled the ratings of 60 Minutes and just edged ahead of the Olympics opening ceremony. Ten was already on track to win the week's ratings in Melbourne even before the Games started on the Saturday.
It was a week where both Ten and Seven recorded increases in their news ratings at the expense of Nine's A Current Affair.
Source: https://news.google.com/newspapers?id=qsRYAAAAIBAJ&sjid=65YDAAAAIBAJ&pg=3273%2C1275025
19 September 1964: The VFL Grand Final is not able to be broadcast in Victoria so coverage of the game is restricted to evening replays. ATV0, however, as the new channel was keen to assert itself amongst its older rivals and ran two hours of previews and interviews ahead of the game, including a replay of the previous night's Grand Final Eve edition of Sports Angle.
19 September 1972: The Graham Kennedy Show debuts on Nine. The series was the follow up from Kennedy's two comedy specials that ran on Nine in November 1971 and March 1972. The Graham Kennedy Show continued on and off until Kennedy's abrupt departure from Nine in April 1975.
19 September 1986: The Nine Network celebrates 30 years of television with a two-hour special, Television — The First 30 Years, featuring footage from some of TV's most popular and most remembered programs and personalities.
19 September 1991: The tabloid current affairs show Hard Copy debuts on Ten, hosted by Gordon Elliott in LA. The show borrowed extensively from the US original but there were a team of reporters in Australia including Richard Willis, Iain Gillespie, Jane Hansen and Meni Caroutas. The show ran in Australia for two years.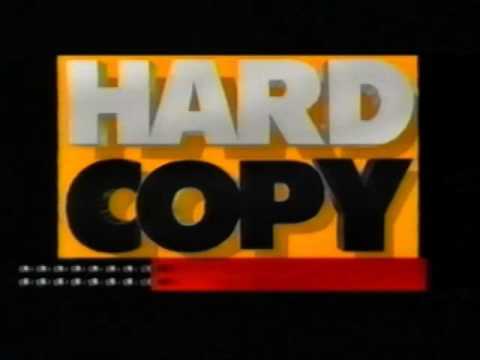 YouTube: the news is
10 Bold went HD on Thursday 23 Sep last year.