He can have that record. Two hours behind the mic is enough for me!
Interesting: " 104.9 Sunshine FM is the most listened-to radio station on the Sunshine Coast*"
If you follow the Asterix it's based on a Community radio survey. Guess who paid for the survey?
You're going to flip when you find out who pays for the Xtra Insights survey.
FWIW, have found that commercial and ABC stations rank similiarly in the McNair data that CBAA member stations receive (if a station opts in) to what is publicly released by GfK.
There's a chance that this is technically correct.
Community radio stations usually use McNair to do their surveys, and the way McNair counts listeners for these surveys is the number of listeners per week. Given the a-la-carte nature of community radio programming (at least the ones not LARPing as commercial stations), a lot of people will listen to just one show a week on a community radio station. So a community radio station that claims 100k listeners a week could have 100 shows each pulling in 1000 listeners and it'd count as 100k listeners per week.
Only catch here is that Sunshine FM definitely LARPs as a commercial station for a good chunk of the day, only one that appeals to the older demographics not adequately served by the three commercial stations licenced in the Nambour area. In that sense they're not quite your typical bits'n'pieces community station.
Just like 94.1 on the Gold Coast, they've cleverly realised there's a good chunk of people looking for a station doing what they're generally doing, and tailored their product accordingly.
There's fewer of those around nowadays than there used to be.
2023-24 Australian Government Budget Update
Highlights:
Indexation delivers minor additional funding to meet rising costs
Funding for assessment of broadcast infrastructure in First Nations communities
The 2023-2024 Federal Budget was handed down last night by the Treasurer Jim Chalmers. Budget papers show the allocation to the Community Broadcasting Program has increased in dollar amount because, for the first time, it has been indexed to keep up with rising costs.

The CBAA had been asking for this reform for some years and we were pleased to see this commitment made by the Albanese Government in the October Budget last year. This year's Budget figures show why this is so important. Due to indexation, funding allocation to the community broadcasting program has increased by over $600,000 over the next three years. This increase is offset by rising costs, so the sector's Government funding remains stable in real terms.

Community Broadcasting Program – Comparison of last two Budgets

| Budget Year | October 2022 Budget ($'000) | May 2023 Budget ($'000) | Increase (Oct vs May Budgets) |
| --- | --- | --- | --- |
| 2022-23 | 20,975 | - | - |
| 2023-24 Budget | 21,838 | 21,893 | +55,000 |
| 2024-25 Forward estimate | 22,345 | 22,587 | +242,000 |
| 2025-26 Forward estimate | 22,721 | 23,026 | +305,000 |
| 2026-27 Forward estimate | - | 23,535 | - |
| Total | 87,879 | 91,041 | +602,000 |

Note: Australian Government funding support for community broadcasting is provided through the Department of Infrastructure, Transport, Regional Development, Communications and the Arts to the Community Broadcasting Program and is administered independently through the Community Broadcasting Foundation (CBF).

The CBAA is continuing to call for Government to commit a substantial increase in funding to build station resilience and enhance the sector's community impact. We are working with the Department to support their review into sector sustainability and to ensure this process accurately captures the positive community impact broadcasters achieve reflects a clear understanding of the funding required to support sector sustainability. Many stations have participated in the Department's recent survey of the program, which is one input to this process. We are hopeful that additional support for broadcasters will be achieved once this work is completed before the end of the year.

First Nations Broadcasting Infrastructure

Additional funding will be provided in 2023–24 to support the continued provision of broadcasting services in remote and First Nations communities and to initiate work to assess the state of broadcasting transmission and reception equipment in these areas.

Other measures announced last night included:

$2.5 million over two years from 2023–24 to build media literacy in culturally and linguistically diverse communities
$1.6 million in 2023–24 to develop the News Media Assistance Program and support public interest journalism and media diversity
$286 million to deliver on Australia's Cultural Policy: Revive including through; restoring core arts funding; establishing Creative Australia, Music Australia and Writers Australia.
Northside Radio 99.3 (Chatswood, Sydney) are both providing on-air announcements & a RDS message publicizing 40 years on air.
RDS RT message as: Celebrating 40 years on air
Public event on Sat May 20th @ Chatswood Concourse
RAM FM Goulburn 103.3 have earlier in the year posted a YouTube video of their new antenna.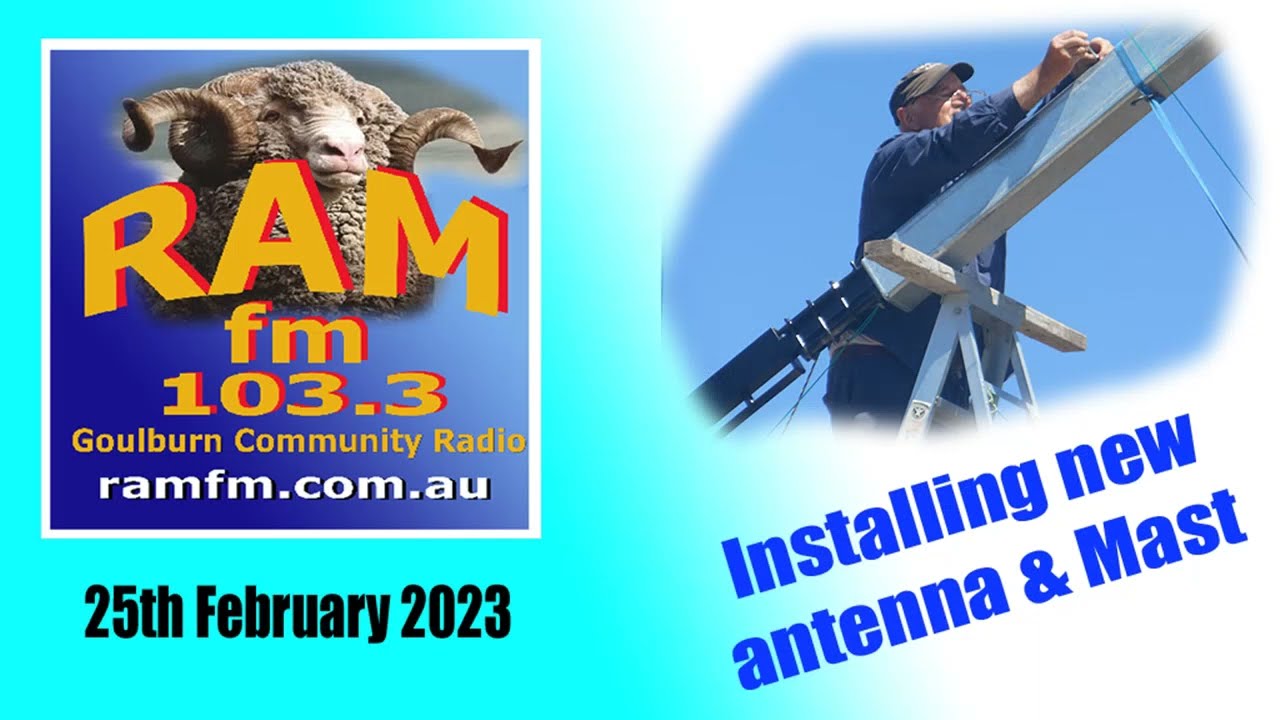 I can't recognize the make or type of antenna this is. Except it appears to be vertically polarised. I don't know if it's a STL or FM BCB, but given the almost omni directionality of it I'm guessing it's a FM broadcast antenna.
Do any of our Broadcast Engineers on this forum have knowledge of this antenna design or make? @RFBurns or others?
I have no idea, & can't find any that look like it from any manufacturers I know of, looks like they have another one on a pole lower down.
You might have to ask them?
I had a look on ACMA, they have 2GCR (Ram Fm) on the Telstra tower on Mt Gray, the same tower which broadcasts the ABC fm stations.
It is vertical polarity at a height of 20M.
In this video it looks as if they have installed their own tower adjacent to the Telstra site. You can see the three fm broadcast antennas, assuming them to be those of the ABC fm stations on the Telstra tower.
Yes very unique broadcast fm antenna.
They might be licensed at the Telstra site, but I don't think they have ever used the Telstra tower, according to a post on their Facebook page, the reason for them putting up this new pole/antenna was because their old one was damaged & fell down in a storm about 12 months before.
I'd say the similar looking antenna on the lower pole was the emergency replacement, maybe this style antenna was the one they could source the fastest & cheapest at the time & it worked for them so they got another one for this new permeant pole?
It looks like it might be an Omni-directional collinear antenna, but I've never seen any with those bits sticking out on the bottom & I don't know any major manufacturers who have black broadcast antenna's?
Maybe it's some custom designed & made antenna?
A lot of community stations use a 2 or three bay stacked omni vertical dipole array and a CTE exciter and PA. I have seen a number of those installations around the place so they must have been supplied as a set by someone. The other common community transmitters are Italian RVR's and their 900Mhz STL's are very common too.
Since straight dipoles are don't have much bandwidth, one would imagine the antennas were custom made for the frequency required.
The blokes doing the work in the Mt Gray video look like they could also be the ham radio club? Many community stations no longer have a technical volunteer to maintain their plant.
Possibly? I did also note the other identical black vertical antenna
That was my first thought - but a higher frequency omni vertically polarized collinear. A STL would likely be a directional yagi.
A collinear needs at least 2 or 3 in-line (same axis) dipoles to be described as such.
Nor I.
I was pondering that too.
One of the blokes in the videos says: "like a brought one"
He could be referring to the antenna.
There is this design of collinear antenna below.
Just wondering if anyone knows whats happening with the CRN 2 feed, as noticed it has had no audio on it for sometime, all audio appears to only be active on CRN 1
Noted after an absence of several weeks that 100.1 2HHH Hornsby had returned to the airwaves this morning, but the signal was greatly over-modulated with frequency over deviating into the adjacent channels of 99.9 2SWR & 100.3 2MCR.
Then as I started typing this message, the 2HHH transmitter abruptly went off air.
100.1 Live FM (Bathurst) signal being heard due to a slight tropo lift out to the west.
Isn't it Life FM or am i thinking of something else?
OMG. Yes, I meant Life FM. Thanks for picking up my error


I'm glad someone's paying attention.
UPDATE: 100.1 2HHH returned to air at 3.23pm & off again at 3.26pm.
Still problems…
Yeah I listen to all 3 but SWR is my favourite. I hope they hhh can resolve the over modulation issue (when back on air) as I live quite close to Waitara.