That's almost impossible. Netflix doesn't do livestreams does it?
they means arrives on Netflix, the same day or time it airs on NITV
Yeah so it doesn't "air simultaneously".
ABC returns to Mollyvale with more
Beep and Mort!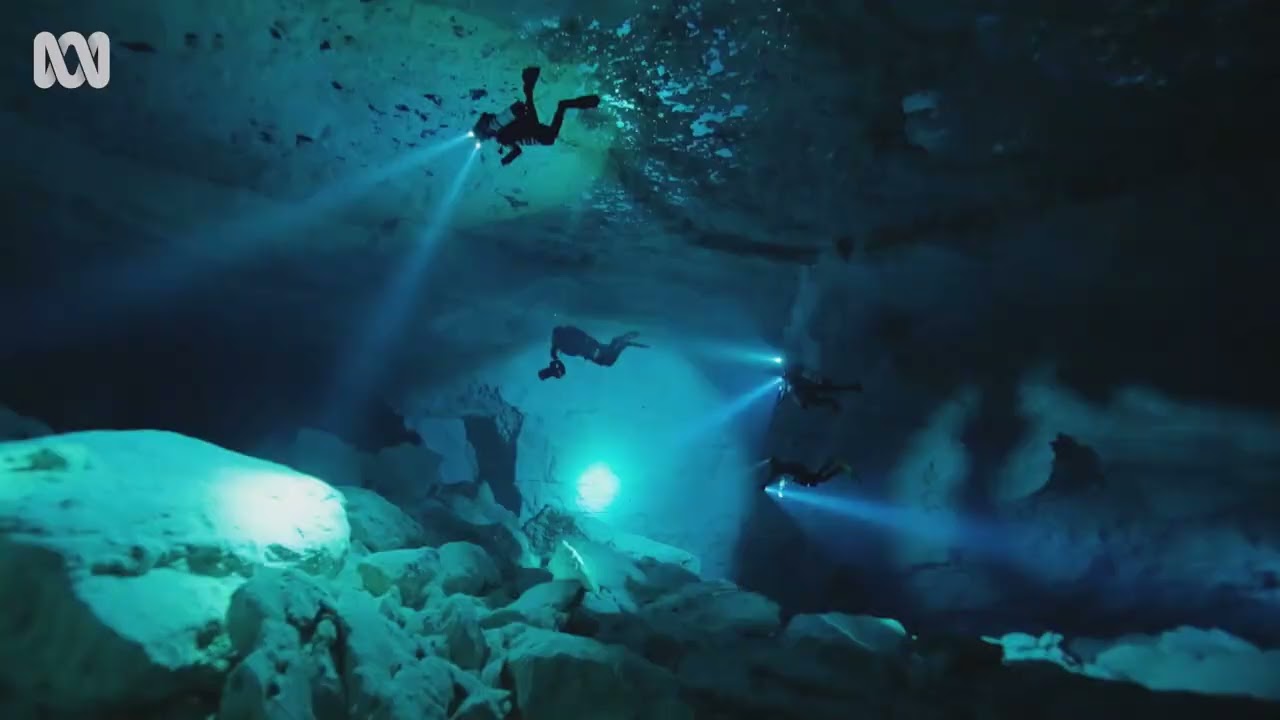 ABC, Screen Australia and the South Australian Film Corporation are pleased to announce that the heart-warming children's show Beep and Mort will delight Australian youngsters once again, with a new series coming to ABC and ABC iview later in the year.

Based on Windmill Pictures award-winning theatre show, Beep and Mort which combines live-action puppetry with post-animation, follows the adventures of Beep a robot from the stars and Mort a cuddly creature from Mollyvale. Although they come from different worlds, they're best friends.

ABC Head of Children's Libbie Doherty says, "Australians have fallen in love with these two beautiful characters Beep and Mort and embraced this breakout series that is distinctly quirky and charming in equal measure. Every generation needs its own puppet series and we are delighted to be bringing more of Beep and Mort to audiences later this year. We're proud to work alongside Kaye and Rosemary at Windmill and grateful to our funding partners, SAFC, Screen Australia and ABC Commercial who are instrumental in delivering this first class, engaging show for children all over the world to enjoy. We're also delighted that Sky UK has acquired the series for its recently launched channel Sky Kids, and anticipate that audiences in the UK will love it as much as we do."

Screen Australia's Head of Content Grainne Brunsdon said, "We are proud to support the talented team at Windmill Pictures as they venture into the second season of this hugely popular program for the ABC. With its fantastical, cuddly imagery and themes of self-discovery and the enduring value of friendship, I'm sure Beep and Mort will continue to delight young viewers here and around the world in season 2."

SAFC CEO Kate Croser said: "Congratulations to South Australia's Windmill Pictures on the success of their utterly delightful series Beep and Mort. The South Australian Film Corporation is proud to support the second season of this highly original children's series, and with it, launch the new ABC SAFC Content Pipeline Fund, a three-year partnership between our organisations to deliver exciting new South Australian based projects and high-quality content by South Australian creatives to ABC TV and ABC iview.

Beep and Mort reflects the very best of what the SAFC is all about: enabling South Australian writers, directors and producers to create and commercialise original IP, supporting South Australian production companies to scale and growing South Australia's screen capability through consistency of high-quality production activity. We welcome the South Australian State Government's commitment of $5.2m over three years to this exciting new fund to further strengthen the South Australian screen industry, and drive strong economic and cultural outcomes for the state."

Production credit: A Windmill Pictures Production. Major production funding from Screen Australia. Developed and produced in association with the ABC. Financed and developed in association with the South Australian Film Corporation. Worldwide distributed is managed by ABC Commercial.
The delicious return of Ginger and the Vegesaurs
Premiering on Monday 29 May, 7.50am on ABC Kids and ABC iview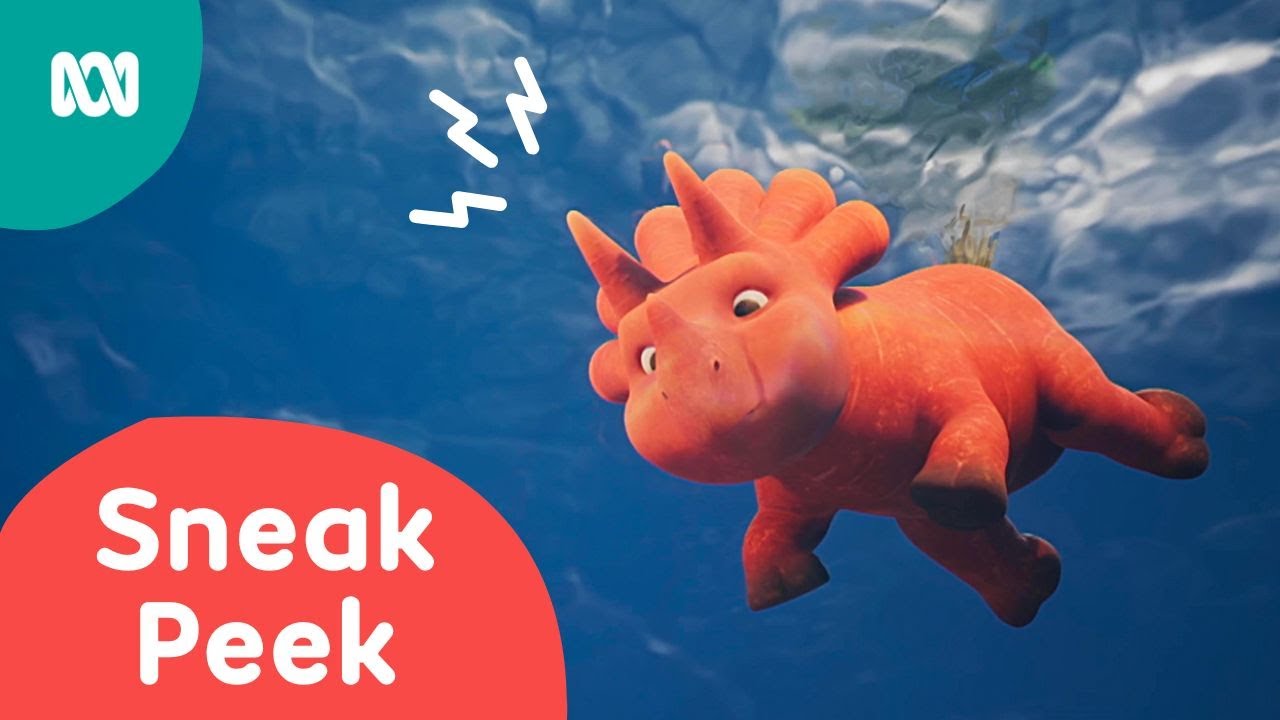 The inhabitants of Vegesaur Valley are back! ABC is thrilled to announce that the second series of the prehistoric preschool comedy Ginger and the Vegesaurs will premiere on Monday 29 May, 7.50am on ABC Kids and ABC iview.

With a new episode each week day, season two sees Ginger, an inquisitive young Tricarrotops and the pod of baby Pea-Rexes throwing themselves into further fun and adventure in the rich and colourful Vegesaur Valley.

With five new species to meet and epic new landscapes to explore, every day is exciting when you're a young Vegesaur in the Late Crunchiest period – 70-65 million years ago.

From the depths of the crystal lake Ginger and her pals come across the huge and friendly Watermelonsuchus; on the snowy mountains they meet a woolly-skinned Kiwimammuthus; and on the plains of the valley floor they encounter a small and feisty Beetrootasaurus*.*

Produced by Cheeky Little Media (Kangaroo Beach) using Unreal Engine, a 3D animation technology, Ginger and the Vegesaurs season two is a vivid, imaginative, and adventurous romp for ages 3-6.
Production credit: A Cheeky Little production for the ABC. Major production investment from Screen Australia in association with the ABC. Financed with the assistance of and distributed by Studio100. Developed with assistance of the ABC. Post, digital and visual effects supported by Screen NSW. Executive Producers: Patrick Egerton, David Webster, Gary Eck and Nick O'Sullivan. ABC Head of Children's Libbie Doherty. ABC Executive Producer Jo Boag.
Kangaroo Beach double-length season two finale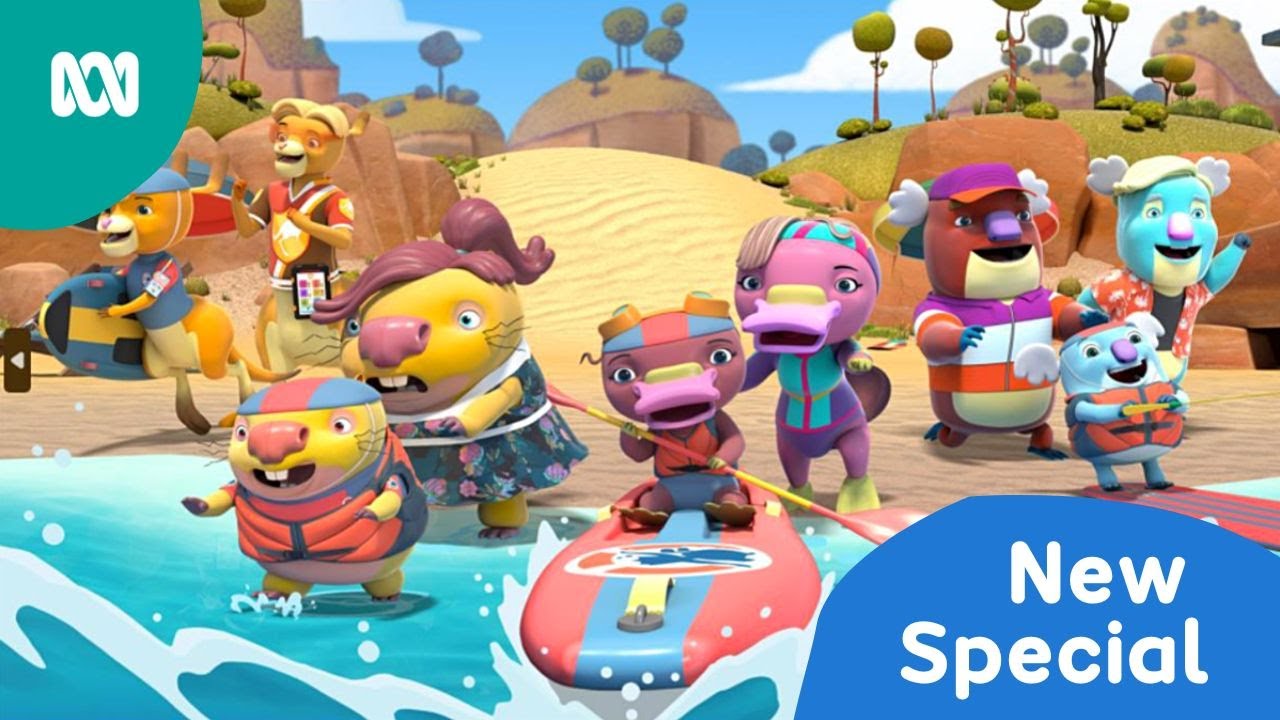 Premiering on Sunday 14 May, 5.05pm on ABC Kids and ABC iview
Can't get enough of Kangaroo Beach? ABC are thrilled to present a 22-minute special episode for the season two finale on Sunday 14 May, 5.05pm on ABC Kids and ABC iview.

After a summer of training, the cadets are super-excited to welcome their parents to Kangaroo Beach to show off the amazing skills they've learned. But when their parents fail to listen to the cadets' water safety demonstration, disaster strikes – and the trainee lifeguards are faced with their biggest emergency yet.

Family Day introduces comedian Mark Trevorrow (Bob Downe) as Frizzy's popstar dad Russell, and writer/comedian Lawrence Leung (Offspring, The Family Law) as Pounce's energetic Delivery-Kangaroo style dad! The returning cast includes the four delightful kids voicing the cadets, as well as hilarious comedian Kitty Flanagan as co-chief lifeguard Sandy, Tropfest winner Matt Hardie as co-chief lifeguard Bondi, and vocal dynamo Rupert Degas (The Amazing World of Gumball) as Big Trev.

Parents and kids alike can sing along to three new songs: Check Me Out, a rocking track about the cadets achievements, Dos And Don'ts a summery bop about beach safety and On the Beach, a heart-warming ballad that features all the characters.

Production credit: Kangaroo Beach Series 2 is a Cheeky Little Media production for the ABC. With major production investment from the ABC in association with Screen Australia. Financed with the assistance of and distributed by the Australian Children's Television Foundation. Produced in consultation with and financed in association with Surf Life Saving Australia. Developed with assistance of the ABC. Created by Tim Bain. Series Producer Patrick Egerton. Producer Celine Goetz. ABC Executive Producer Jo Boag. ACTF Executive Producer Bernadette O'Mahony.
Bubble, pop, go! New ABC show Cool Stuff with Fizzy & Suds bursts into life
Australian kids are invited to unleash their curiosity in a brand-new ABC Kids series coming in 2024.
ABC and Tilt Media are thrilled to announce production is underway on the imaginative new preschool factual series Cool Stuff with Fizzy & Suds.

Take a look at the world through Fizzy & Suds' eyes – two animated bubbles who love to explore the real world from a pre-schooler's perspective. They're both passionate, curious, and always find something about the world around them that captures their imagination.

These effervescent hosts will guide young viewers through a series of topics, from trains and trucks to ballet and dinosaurs. Each episode presents ideas, both new and familiar, in a synapse-crackling way that celebrates enquiry-led play.

Inspired by research about young children's 'extreme intense interests' (EIIs) in specific subjects, this series celebrates children's passions and the unique way that children see the world. Cool Stuff with Fizzy & Suds is a show for every child, including those who are neurodiverse.

The series will take a deep dive into 26 different topics and provide a 360 degree look at these subjects that ignite kids' passions. Combining 3D-animation and observational documentary, Cool Stuff with Fizzy & Suds is a multi-layered multi-platform experience that elevates the every day.

ABC Head of Children's Libbie Doherty says "Fizzy & Suds embrace and celebrate toddlers passions at the ripe old age of three and four. It's a show for kids who can't get enough of diggers, dinosaurs, alpacas, ferries, cows – all the hot topics! We are super excited to be working with Genevieve and the Tilt Media team who have created a unique show with kids front and centre – speaking to their interests, in their language."

Director Genevieve Clay-Smith says "I love that we are embracing and celebrating the child mind in this show, and I think children will respond to this, as well as the authenticity with which we will speak to our young audience."

Tilt Media Head of Unscripted Sam Griffin says "It's been an amazing experience developing this series with Genevieve Clay-Smith and the team at ABC Kids. Creating a brand-new multi-platform format for Australian kids is a genuine privilege, but the inclusive perspective that Genevieve brings makes it a special joy."

Head of Screen NSW Kyas Hepworth says "Screen NSW supports the creative team at Tilt Media and looks forward to seeing Cool Stuff with Fizzy & Suds brought to life in this ground-breaking ABC factual commission for pre-schoolers. By modelling an imaginative, inquisitive, and neurodiverse approach, the educational series promises to ignite the curiosity of young minds with a fun way of exploring and learning about their world."

Cool Stuff with Fizzy & Suds will premiere on ABC Kids and ABC iview next year.

Production Credits: A Tilt Media and Entertainment Production. Major production financing from ABC in association with Screen NSW. Distribution by ABC Commercial. Director Genevieve Clay-Smith. Producer Sam Griffin. Executive Producer Chris Hilton. ABC Executive Producer Mary-Ellen Mullane.
The ABC has struck pre-sale deal with Zodiak Kids & Family Distribution (owned by Banijay) for upcoming BBC animation series Super Happy Magic Forest.