Thanks for that. I must have missed that when I was on holidays overseas.
Current look is fine and there were some tweaks earlier this year to the music.
I think HD and a new look ABC News are the priorities. I think ABC2 was slated for a new look as well. It comes down to funding, obviously, and I think ABC(1) is fine right now.
ABC has picked up the rights to two ITV dramas, The Level and Victoria, at MIPCOM sales at Cannes this week. However, as Victoria has just aired on BBC First, ABC will have to wait at least 12 months before showing it.
Some new shows:
[quote]new dramas in 2017 including Claudia Karvan helmed legal drama Newton's Law, …; thriller Seven Types of Ambiguity, based on Elliot Perlman's hit novel and starring Hugo Weaving and Xavier Samuel and The Warriors, a comedy drama focusing on two indigenous footballers plucked from obscurity to playing the big leagues. … Ronny Chieng: International Student.
a dramatised documentary on the history of the Torres Strait Island starring Ryan Corr, Jack Thompson and Damian Walsh-Howling, Blue Water Empire; six-part comedy Goober starring Shane Jacobson as an autistic Uber driver searching for a new best friend (which will air on iview); Annabel Crabb's Open House, in which she takes viewers behind the scenes of Parliament House; Dream Gardens … with Tara Moss
Full story: http://www.news.com.au/entertainment/tv/abc-tv-launches-2017-programming-with-spotlight-on-homegrown-content/news-story/6a3ed51945346af49a8472c2b62c2ea5
[/quote]
Oh what the fuck ABC. Sometimes you truly do my head in.
I get it, the BBC is fantastic and the sun truly shines out of its arse, but rebranding BBC News 24 to just BBC News is still seen as a mistake. Lots of people still refer to it as News 24, despite the numerals having been dropped 8 years ago. And lots of people here likewise know ABC News 24 as News 24 or simply 24. It's a really awesome brand, so change for the sake of change is just stupid and diminishes the ability for viewers to distinguish between different ABC News outlets efficiently.
What is more punchy and easier fit into a tweet? "ABC News 24 and NewsRadio", or " on the ABC News channel and ABC News on radio".
Fuckkkkkkk you ABC.
I don't see it as any different to Sky News or Fox News - neither of those need the 24 suffix.
Rebranding ABC Newsradio to ABC News radio on the other hand…
###ABC Plans for 2017
Claudia Karvan, Xavier Samuel, Hugo Weaving, Miranda Tapsell, Ian Thorpe, Anh Do and Rob Collins are just a few of the stars that will entertain you in 2017. They join an equally impressive line up of new and emerging Australian talent like actor Hunter Page-Lochard and comedian Anne Edmonds. There are more than 20 new Australian shows! Plus of course, all your returning favourites across comedy, entertainment, news and current affairs. More shows will be announced in February 2017.
With a strong focus on original Australian content and on flexible ways to watch, audiences can expect to see an increasing range of home-grown talent creating and starring in ABC shows ranging from Newton's Law to You Can't Ask That S2 and Ronny Chieng: International Student. We'll proudly showcase the enormous talent of our local industry, through entertaining and thought provoking shows for audiences from all walks of life.
Digital
In 2017 we also bring you more digital-first Australian shows. You've told us how much you love ABC iview! With ever increasing audiences, ABC iview is a trusted and popular source of catch up and binge TV offerings, special 'extras' like behind-the-scenes interviews plus more original digital-first programs. All free, all with no advertising.
You now have plenty of options to watch great local and international programs at no cost, across our six services: ABC, ABC2, ABC News24, ABC ME, ABC KIDS and ABC iview. All channels now stream live simultaneously on ABC iview in addition to broadcast.
ABC News
2017 will also see the introduction of a new, consistent look for ABC News across all platforms: television, radio, digital and social media. The update includes changing the names for ABC News 24 and ABC NewsRadio to simply: ABC News. Audiences will see the contemporary new look across all ABC News digital content and ABC News content on TV, including new graphics, maps and weather.
ABC Local Radio
2017 will also bring the launch of an updated and consistent identity for ABC Local Radio stations across broadcast, online and mobile. We'll roll out new websites designed for easy live and on-demand access, to provide an enhanced listening experience for audiences everywhere. Our ABC Local Radio network covers 8 capital cities and 45 regional locations across Australia. This approach marks an important step in our audience strategy of making our content as accessible as possible. We're putting audiences at the heart of everything we do, strengthening their connections to their local cities and communities.
Yeah, the branding worked well.
And I don't understand the thinking behind dropping all the channel numbers now. With ABC News24 you straight away know where to find it too. So ABC1 went back to ABC but what's the advantage of calling a channel ABC Me over ABC3?
##Entertainment

only:
###Lost in Pronunciation
Starring and based on the stand-up of fast-rising, award-winning comedian Ivan Aristeguieta, comes the autobiographical story of a young man who escapes the dangers of Venezuela only to find himself in 'the lucky country's' safest, friendliest state – South Australia. With the help of two Aussie housemates, lesbian tradie Tia and her hipster vegan brother Scott, Ivan learns that to become a permanent resident isn't so much about ticking boxes on a form, but adapting to the strange and unique customs that we may take for granted but make us truly Australian.
Production credits: Julia DeRoeper, JDR Screen. Created and written by Ivan and Chris McDonald. Produced by Julia DeRoeper. Directed by Richard Jasek. A collaboration between ABC iview and the South Australian Film Corporation.
Runs for: Six x 5 minute episodes on ABC iview
###The Edge of the Bush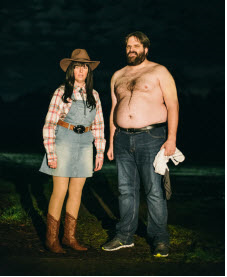 What happened on the edge of the bush? Something so powerful it will bring the Watts Family calisthenics dynasty to its knees… Created, written by and starring award-winning comedian Anne Edmonds (Have You Been Paying Attention?), get ready for a comedy series like nothing you've seen before. Suspenseful and Scandi-noir-inflected, with Anne – in the tradition of Catherine Tate – playing four members of the Watts family: Karen, Dusty, young Rebecca and their very old dad / grandad John. For all four characters and their families, the past was neatly tucked away behind a sequinned curtain. But a web of lies involving country music, worker's comp, international cyber-crime, comfort eating and a guy called Glen, now threatens to pull everything wide open. Calisthenics brought the Watts family together, but one greasy evening on the edge of the bush could just tear them apart. Also starring Greg Larsen (Fancy Boy) and Damien Power (The Project).
Production credits: Guesswork Television. This is the first of the ABC iview and Screen Australia Multiplatform Fund Long Story Short projects. Directed by Kate McCartney (The Katering Show). Produced by Andrew Walker (Rosehaven, The Kettering Incident, Wanted).
Runs for: Five x 12 minute episodes on ABC iview
###Goober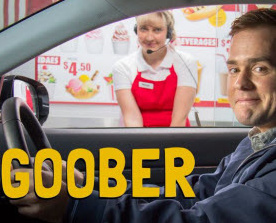 Harry (Brendan Williams) is a friendly Uber driver. Too friendly. In fact, he's convinced that every passenger will be his next best friend. Harry is also on the autism spectrum. He spends his days bemusing and confusing his passengers—despite the support from his Dad (Shane Jacobson), who is only ever a phone call away with encouragement and words of wisdom. Harry is eternally optimistic, especially when it comes to Wendy (Ashton Malcolm). She works in the booth at Harry's favourite drive-thru restaurant. Harry is convinced that any day now he and Wendy will be happily married. With a house. And six children. And a dog. All he has to do is summon the courage to talk to her about something other than ice-cream.
Production credits: Epic films. Written by Ben Crisp. Produced by Kirsty Stark (A Month of Sundays). Directed by Brendon Skinner and Simon Williams. A collaboration between ABC iview and the South Australian Film Corporation.
Runs for: Six x 5 minute episodes on ABC iview
###Almost Midnight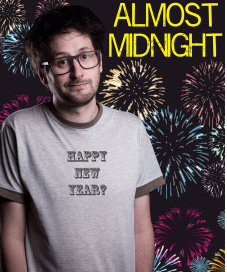 Almost Midnight is a coming-of-age romantic comedy, with each of the six episodes set a year apart against the backdrop of that glorious moment when boundless promise, personal reflection, and uninhibited drunkenness combine – the final five minutes of New Year's Eve. Dave (co-creator/writer and director Stephen Banham) wants a fairy-tale romance, but lacks the ability to meet or, more importantly, keep the woman of his dreams, Jen – especially when he's hampered by the advice of his best friend and self-professed ladies' man, Acka (co-creator/writer Aaron Casey). As we journey through the series we witness Dave's growth from a bumbling wall-flower to a fully-matured man, comfortable in his own skin and ready for love. But when the clock strikes midnight, will he get his wish or turn into a pumpkin?
Production credits: We're Not Boys. Produced by Alex Keay and Peta Bulsara. A collaboration between ABC iview and the South Australian Film Corporation.
Runs for: Six x 5 minute episodes on ABC iview
##Lifestyle
---
###rage 30th Anniversary
The iconic ABC show rage turns 30 on April 17th 2017. The nation will celebrate with a week of programming including two specially produced documentaries which will explore the uniquely Australian experience of watching the influential music show.
The first will celebrate the incredible history of rage and explore its influence on Australian music and culture. The program will feature a plethora of musical talent and songs from across the decades, musicians whose work has been a mainstay of rage but who were also viewers themselves. The second, Songs from the Red Couch: 30 Years of Guests rage Programmers, will delve into the archives to relive some classic moments from our studio. Out of the thousands of songs programmed by our guests over the years a few have been chosen multiple times; those are songs that have resonated with artists from all genres, ages, genders and nationalities. Essentially this list makes up the best music videos of all time.
An extensive social media campaign will invite the nation to share their experiences of #watchingrage, including the opportunity to program rage over its birthday weekend.
Production credits: An ABC TV production. Runs for: Two x 1 hour episodes on ABC TV
---
###Gardening Australia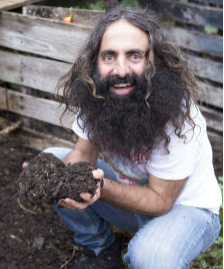 Gardening Australia provides practical, trustworthy and credible gardening advice to inspire and entertain gardeners around the nation. Hosted by Costa Georgiadis and featuring some of Australia's leading horticultural experts from all over the country, Gardening Australia is the country's leading gardening resource with content across many platforms, including DVDs, Gardening Australia and Organic Gardener magazine.
Production credits: An ABC TV production. Runs for: 36 x 30min episodes on ABC TV and iview
---
###Shortcuts to Glory: Matt Okine Vs Food

Shortcuts to Glory is an easy to follow, step-by-step 'how to' guide for anyone who can't cook…like Matt Okine. Whether you are leaving home, off to uni, or moving into a share house, these episodes will help you build confidence in the kitchen so you can kiss goodbye to microwave ready meals, tuna pasta and instant noodles.
In each episode Matt visits one of Australia's finest cooks or chefs, who teach him a simple, budget-friendly dish and share their insider tips and tricks. There are dishes for all meals and all occasions and they all help to build confidence in the kitchen. Plus the dishes look after your budget as well as your belly.
Guests include Colin Fassnidge, Katherine Sabbath, Neil Perry, Chris Manfield, Dan Hong, Jill Dupleix and Alice Zaslavsky. The how to's range from poached eggs, mac n cheese and roast lamb to a self-saucing pudding in a mug.
"I spent most of my twenties with no money and a lot of time" says Matt. "I would stand in the magazine section of my local supermarket, sneakily looking at food recipes, trying to figure out simple meals to make at home. Where was this show back then?!"
Production credits: An ABC TV production. Runs for: Ten x 30min episodes on ABC2 plus extra content on ABC iview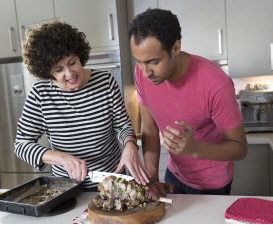 ---
##Change Makers
###Open House with Annabel Crabb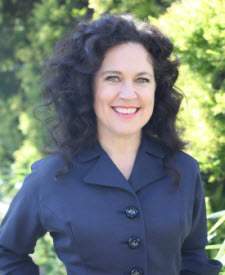 For the first time since Federation, and with unprecedented access, Open House exposes the heart of Australia's democracy; meeting the politicians, the staffers, the librarians, and the grounds staff as well as the number crunchers and lobbyists who walk the hallowed halls of our nation's capital. Open House will take viewers into the heart of the building and the underground tunnels of Australian Parliament House.
Annabel Crabb will show Australian viewers the parts of our democracy that usually – much like the hardest-working parts of a duck – operate out of sight. Funny, revealing, suspenseful and illuminating: this is Parliament like you've never seen it.
Production credits: An ABC TV production.
###Stop Laughing… This Is Serious
The second season of Stop Laughing… This Is Serious documents the captivating story of Australian comedy.
Through a blend of social history, extensive archive material and intimate interviews with some of the country's finest comedians, we travel through stand-up, radio, television, and theatre, revealing how humour, laughter and comedy are integral to our national identity.
In Season 2, we delve deeper into the defining moments of Australian comedy and how they shaped our comedic voice. Weaving contemporary comedy with the best of our past, we drill down into the craft itself to reveal the inner workings of the creative process, the influences and the inspiration, the risks and the rewards.
Production Credits: A Screentime Production for ABC TV in association with Screen Australia and Screen NSW.
Runs for: Three x 30min episodes on ABC TV and ABC iview
###Comedy Up Late Season 5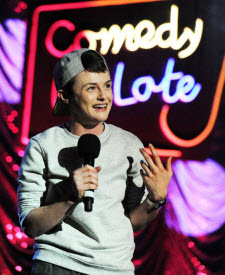 The 10 part series captures some of the best moments of the Melbourne International Comedy Festival. Each half-hour program will be hosted by a prominent Australian comic, recorded during the festival in March/April.
Production credits: An ABC TV production. Runs for: Ten x 30 min episodes on ABC TV and ABC iview
###Cyberhate

The internet has given the world a voice. Why do some use their voice to shame, bully and brutalise? What does it mean for human nature, democracy and the future? In this revealing and timely six part series Cyberhate, author, journalist, TV presenter and human rights advocate, Tara Moss will be our guide and guinea pig, touring the darkest corners of the web to uncover the world of cyber violence. Moss, a social media user and advocate against cyber bullying tells her own story of dealing with online threats, anger, trolls and acclaim from Q&A to 'Lipstick-gate'. Through interviews, discussion and cutting edge science, this series will investigate why fury is reshaping the online world. At the same time, Tara will guide us through the complexities of online ethics and digital democracy.
Production Credits: Tara Moss – Co-Executive Producer, Co- Writer and Presenter. Bryan Cockerill – Co-Executive Producer, Co-Writer and Director. Gerri Coy – Producer and Production Manager. Runs for: Six x 10 min episodes on ABC ivew and one x 1 hour episode on ABC2.
###Hack Live


In 2017 triple j's Hack host Tom Tilley continues to fire up live debates on ABC2 on tough subjects that matter to young Australians. We've already covered drugs, porn, body obsession, the war on young people, Aussie patriots, and there's plenty more honest conversations to come.
Production credits: An ABC TV production. Runs for: One hour episodes on ABC2 and ABC iview
##Special Events
###New Years Eve
Our annual, live broadcast from the Sydney Opera House celebrating the New Year and the our spectacular fireworks. Hosted by ABC personalities and incorporating bespoke segments from ABC shows, including Childrens' TV, The Pub Quiz, a wrap up of the year's event and crosses from around the country including music from the Falls Music Festivals.
Production credits: Produced by ABC TV. Runs for 4 hours live on 31 December 2016 on ABC TV and iview
###Australian of the Year/Australia Day
Stay tuned for details of our live broadcast
###Anzac Day
Stay tuned for details of our live broadcast
##Young Australians
###Trip for Biscuits

Trip for Biscuits is a fast-paced, serialised disaster-comedy that follows super nerd Bajo (Good Game) and his misfit Private Investigator colleagues as they try to carry out their bizarre assignments. Unfortunately, the team lack the necessary life skills required to deal with everyday situations – let alone cope with the unusual and dangerous phenomena they are investigating. Consequently, most of their time is spent bickering and trying to deal with the growing set of problems they are doomed to perpetuate. These guys have turned 'out of control' into an art form – reminding us that when you mess with aliens, things can go horribly, horribly wrong.
Production credits: Produced by Media World Pictures with the support of Screen Australia and Film Victoria Runs for: 18 x 10min episodes plus 6 x 30min episodes, on ABC ME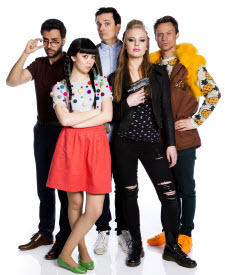 ###My Year 12 Life
Every year, over 200,000 Aussie kids go through Year 12 exams. They're told it's the one year that changes everything. In 2016, we gave cameras to fourteen students from across the country. They documented the raw, intimate, unfiltered drama of their final school year. No rules, no teachers, no parents. Just their story, seen through their eyes. This is Year 12 examined.
Production credits: Produced by Princess Pictures with the support of Screen Australia and Film Victoria Runs for 26 x 30min episodes on ABC ME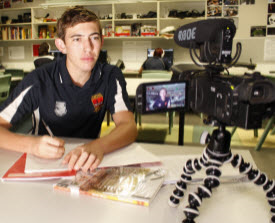 ###Nippers
There are few more iconic symbols of modern Australia than the beach and the life savers who patrol it. Nippers has become a vibrant part of that culture, with around 65,000 kids across Australia meeting every Sunday on their local surf beach for a training program run by Surf Life Saving Australia. Nippers will tap into that culture and celebrate the diversity within it.
The series will focus on a number of kids and their families from the one Surf Club each with their own developing stories. Across the series our nippers will face challenges, wrestle unfamiliar feelings and vulnerabilities, but most of all there will be plenty of fun times and friendships formed along the way.
Production credits: Produced by Beyond Entertainment > Runs for: 13 x 30min episodes on ABC ME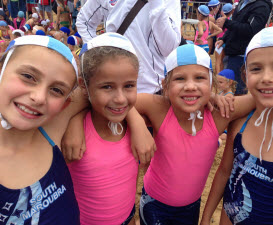 I think the reasoning for dropping the channel numbers from the branding has something to do with the fact that the ABC (and other networks) are trying to focus on online streaming where (most) programs can be seen anytime on any device and all the rest.
It'll be interesting to see what happens to the branding of ABC2 in 2017. I'm guessing probably eventually changed to "ABC YOU" (since ME rhymes with 3 and YOU rhymes with 2! ;P), "ABC NOW" or some other embarrassing name.
It makes sense, I guess. They need to do a better job explaining the need for all these rebrands.
I hope the ABC actually begins to include some more mainstream content in their programming next year, like Michelle Guthrie said she'd be pushing for.
A lot of the ABC's perception problem that's cropped up in recent years is that they focus too much on their core ABC audience - hence those disastrous New Years Eve broadcasts targeting the regular ABC audience which were very poorly received by most people who had tuned in. The biggest opportunity to show the value of the ABC to the mainstream audience, and they've screwed it up year after year.
If they included some decent mainstream programming (like most other public broadcasters in the world), it would do a great deal to silence their critics, but the core ABC audience would likely throw a tantrum if they noticed "mainstream" programs being inserted into the schedule. Nick Xenophon did, when the ABC decided to begin broadcasting the BBC show Pointless before the news - his reaction just seems ridiculous to me, because it's a very good show.
The most apt title for a program. Ever.