Richard's birthday at the end of the show in the penthouse with his son Christian.
Logies' Gift Bag - from Nine Style
A nice title card that Logies themed one. Wonder if it's the actual broadcast package ?
Queensland promo - Brisbane and Gold Coast's most watched.
Do you think they will invite Lisa and Georgie back?
No chance. I don't think News bosses would even ask Georgie. I can only imagine what she would say back lol.
I think Lisa is actually toxic at the moment. Every time the name is mentioned it's just groans and negative comments. Keep her away.
Go back in time and bring back the old old folks. I'd rather hear from them vs Lisa. I think we have heard enough from her in recent times.
There was a promo of their 40th anniversary during an ad break of 9news Sydney.
The white and gold looks good. Way better than the yellow and blue
If they're going to reflect on their 40 years but not include people who made up 1/4th of that time then just don't even bother.
The old signage

That's great and all, but rifts are rifts. Exist in all workplaces.
Celebrate with TODAY! Australia's longest running breakfast show turns 40
Long before the internet was invented, when you could purchase an Aussie family home for just over $50,000, and the average price of petrol was 59 cents a litre, came the launch of what is now Australia's longest running breakfast news program, the TODAY Show.
It was lights, camera, action back in 1982 on June 28, when the show was broadcast for the first time. To celebrate the marvellous milestone of 40 years on air, TODAY will have a huge week of celebrations from Monday.
Next week we look back on 40 years of TODAY, from the show's first hosts, Steve Liebmann and Sue Kellaway, to the present day. The team will be revisiting four decades of major news events, the biggest celebrity guests, the great road shows around Australia and the world, the wild viral moments, the great Aussie characters we've met along the way – and of course, those doozy host bloopers.
On Friday, July 1, there will be a special broadcast featuring guest appearances from the program's former hosts, with viewers invited to Channel 9's North Sydney studio to celebrate the landmark anniversary LIVE with the TODAY team.
Karl Stefanovic said: "I'm very much looking forward to celebrating 40 years of the TODAY Show. It's a great honour and privilege to host this program, which has been part of Australians' lives for four decades now. It's an incredible achievement, and right from the beginning it set the pace for the national agenda.
"We can't wait to bring you some of the great highlights, reintroduce you to some of the remarkable people we have had on the show, and bring the hosts back to see what they look like now. It's going to be absolutely terrific, with a big bunch of surprises along the way."
Allison Langdon said: "Yes, it's an absolute privilege to be part of the 40th anniversary celebrations. Having been with the show for three years, I have so much respect for all the amazing people who have sat in this chair before me over the years.
"It's an honour to be able to look back and acknowledge the incredible, rich history of the show, the stories and the guests who have told them, and to reminisce in a walk down that memory lane of fashions and hairstyles that have come and gone over the years. Here's to another 40 years of TODAY!"
Wonder if Seven will allow Sharyn Ghidella (who was the show's newsreader between 2002-06, succeeding the late Ian Ross) to make a one-off appearance on Today? I remember Roscoe made an appearance during the show's 25th anniversary celebrations in 2007, when this classic blooper was revisited: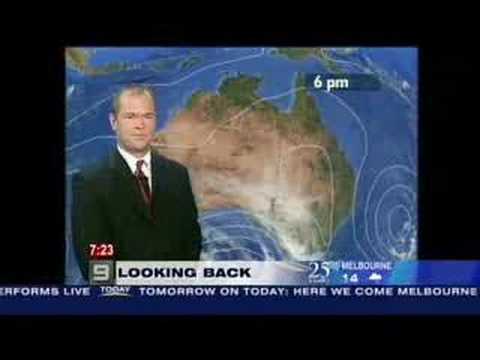 Friday 24 June -
Scherri-Lee Biggs is presenting weather from Perth this morning.
Perth this morning
Socials have been updated:
It's going to be real interesting this celebration. The last one they had was so harmonious and fun but this time around Lisa I seriously doubt will be there or even leave a message, Georgie & Deb will probably only leave a message, Stevie might be there but he's been doing reports on Studio 10 of late and is in NZ, Cameron Williams also left the network. That whole era (of the videos I put together) is so tainted now.