I haven't seen Weather during the 7:30 hour.
What happened? They just went straight to Brooke on E-news
They were having issues with the link around 7am to Tim who was on location in the wild weather - maybe the link dropped out?
Yeah the change over to Brooke was so sudden not even she was expecting it, with Karl suddenly saying off-camera, "Entertainment time, here's Brookey" and Brooke going "Oh? Thanks Karl" and then went into the story. Maybe she was expecting the Sponsor billboard to play first like normal
They then played the sponsor billboard after she introduced the story.
Could have also been a stitch up. I remember years ago Karl threw to Yvonne Sampson for sports and she read the first story and then made a comment about them stitching her up.
Here's the video btw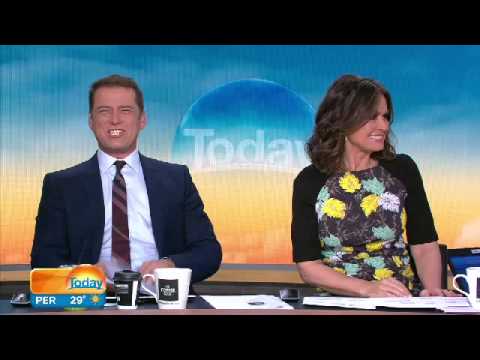 How much higher can Today go? Will the numbers fall its way one morning soon? So close yesterday.
Sunrise has lost support massively in Melbourne and Brisbane. News Breakfast and Today seem to be winning both these markets.
The repercussions of Sam's rants about QLD last year and Sunrise' doom and gloom reports about Melbourne's situation.
Fingers crossed 7's dominance in the Perth market will soon take a hit as they tow the Coalition anti Mark McGowan line.
Also in Brisbane, Nine is the number one station, and has the most popular 6pm, 4pm and 11:30 am news as well as Hot Seat, ACA and The Block being popular and pretty much the entire Nine stable win in SEQ.
It seems that Sunrise could really benefit from looking at things from a positive point of view. Their reports on Melbourne have been nothing short of fearmongering and thankfully Sam A isn't on there anymore because she would be going nuclear at the fact that her beloved Queensland has closed again. They could try and balance it out a bit by going along with the QLD and VIC's governments and support them rather than playing it out as if it's armageddon.
Today seems a bit less sensationalist when it comes to both situations. Karl is a patriotic Queenslander but you hardly see him rant about borders.
I believe Sunrise's ratings were improving at the start of this year, but since June they have taken a dive in Melbourne and now Brisbane. Having your presenters locked away in Martin Place just isn't helping the national program.
But isn't Today locked in North Sydney too? Not sure how Sunrise is dropping whilst Today gains when both haven't ventured out in ages. Clearly something about Sunrise has fallen out of favour with viewers whilst Today seems to have gained people's attention.
Could be segments, commentary, content, perspectives, presenters etc.
Yep, but Weekend Today are benefiting with having two presenters in Melbourne at the moment. I haven't watched the weekday version, but it would be interesting to know how they're connecting with interstate viewers.
Sunrise has been third in Brisbane all year, thanks to personal commentary from Sam Armytage about the Queensland border being closed. They have tried addressing the situation but to minimal effect. I think that type of commentary has largely disappeared. News Breakfast has picked up new viewers in SEQ recently with a slight switch off from Today and now regularly does well and even wins the market.
New Today Show COVID Vaccination Graphics. It shows statistics for each state and also the whole country.
They've been showing that for the last week or so, I think. Overall, I like it. It's very simple and clean
Rumours from New Idea (who I'd take with a grain of salt), that Sam Armytage, who has just purchased an apartment in Sydney, may be joining Today alongside Karl, sending Ally back to 60 Minutes.
The alternative is that Sam does a few stories for 60 Minutes to keep Ally on Today.
Well the Nine Upfronts are around the corner…
so who knows