I'm not sure what you mean as I just checked next Sunday's guide and it doesn't mention who's hosting?
The Australian reports Lisa will anchor The Project for four nights this week through to this Sunday, including Thursday and Friday editions, before heading off on holidays for most of August. Georgie Tunny, Sarah Harris and Rachel Corbett will fill in for Lisa in her absence.
The article also says that while in the USA, Lisa interviewed American Pie composer Don McLean, and a bunch of film and pop stars.
This interview has already aired. Was a P+ cross promotion.
Dave Thornton at the desk tonight.
@JohnsonTV Pete is away this week,Tom Cashman will be on Tuesday to Thursday.
The Project failed to, at the very least, use Bishop's political insights in topical conversations on her most recent guest appearance:
The same woman that criticized Julia Gillard for it.
Jane Fonda, Brad Pitt, David Leitch, Ron Howard, Emma Thompson And Macklemore.
Next Week On The Project.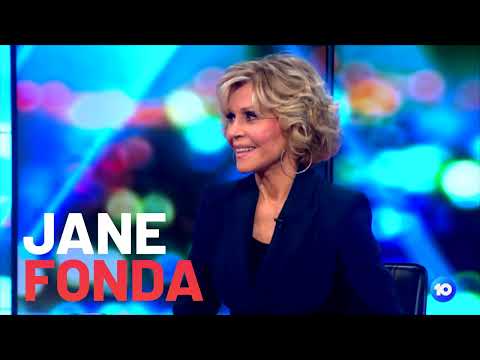 Sunday To Friday, 6.30pm On 10 And 10 Play.
Starting the week with a bang on The Sunday Project, Academy Award-winning megastar, Jane Fonda chats to Lisa Wilkinson about how hard she had to work to become a film icon, ahead of her latest role as the elegant and enthusiastic Dragon in the new Apple TV children's animation Luck.

Ahead of the highly-anticipated release of action-comedy assassin blockbuster Bullet Train, A-list star Brad Pitt (Fight Club, Inglourious Basterds) and director David Leitch (Deadpool 2, Atomic Blonde) chat to Waleed Aly on Monday about Brad's big return to the box office as a leading man following his 2020 Oscar win.

On Wednesday night, Pete Helliar speaks with American director Ron Howard about the making of his sobering Thai cave rescue drama, Thirteen Lives.
British actress Emma Thompson will bring her unrivalled sophistication to The Project on Thursday, when she chats with Waleed Aly about her latest role as a retired widow yearning adventure in sex-comedy Good Luck To You, Leo Grande.

To cap off a huge week, American rapper Macklemore joins us this Friday night to tell us the story behind his new single, Chant.
We are back with a live studio audience for our shows, so if you would like to come along and watch the action, please click here for our Sydney show on Sunday and here for our Melbourne shows Monday to Friday.
Odd that Lisa Wilkinson interviewed Angourie Rice last night, who was in L.A., from the set of The Project when she just came back from there. You'd think if they were going to promote a Paramount+ release they would've gone to the trouble of arranging a face to face interview while Wilkinson was in L.A.
Friday 29 July -
Ten News Sydney senior reporter Ursula Heger is making her debut at the desk hosting with Lisa tonight.
With Tom Cashman and Julie Goodwin at the desk.

Tom Cashman has been a refreshing change from the usual Tommy Little and Rove MacManus. Doesn't overdo the comedy and is genuinely funny.
I've seen Julie on the panel a few times now. She's quite good.
Monday to Thursday are from Melbourne and usually Friday & Sunday is from Sydney.
Nope that's the Melbourne studio.
So they flew 4 presenters down who live in Sydney?
It's not just the presenters. This is what people forget. It's easier to fly four down than get a whole team of behind the scenes in on a day they aren't scheduled.
I'm not following? If the Friday night show is usually in Sydney, how is the 'behind the scenes team' impacted in Melbourne?
No I mean if they were already scheduled to be from Melbourne, just because the presenters are from Sydney doesn't mean they will change it.