WSFM are doing all 80s today with a very good playlist.
Software-defined radios connected to streaming server slots, so geeks outside Brisbane could listen to 4KQ's over-the-air 693 feed rather than via the iHeart stream, I'm guessing. Wouldn't be many of those (at least publicised - most publicised ones are typically focused on shortwave, particularly DRM shortwave) but it'd be greater than zero.
A Blank Page at 4kq.com.au is not helpful. They should of put news of the shutdown and a link to SEN.com.au instead
you would have thought the URL would be intellectual property included in the sale, and SEN could redirect it accordingly? But according to WHOIS, the domain name is still with ARN.
Here is a video of the last minutes from 4kq's studios
Not the full bulletin. See my request on the comments of the Youtube link.
What's the reviews on this? Did Murray do justice to the important task? Did the program team organise the right content for him to broadcast?
@cpw Fantastic find BAD's The Bottom
Line, great fun to drive to.
I found it fitting as he did nights at 4KQ for years in the late 90's/early 00's
Yep. I thought it was a good job.
Why a link from ARN to SEN? They sold the station, it's now up to SEN to have their own website. If anything they should have a link to 97.3 or their other stations. 4KQ is now dead and buried.
and was a regular fill-in right to the end. The music was mostly goodbye songs.
Very sad day for Brisbane radio


.
I turned on my little transistor radio I put under my pillow at night to listen to last night(I usually have it on ABC local radio but sometimes change it if I wake up during the night and want to hear music) ,I'd left it on 4KQ ,last night heard a cricket match instead of music

yes it was on 693AM had to check but it definitely was
Some behind the scenes celebrations of the 4KQ crew in studio singing "American Pie" as their final song; the Beatles' "The End", and the crickets fade out to history as 4KQ Brisbane 693 ends it's 75 year run. All in its entirety, uncut.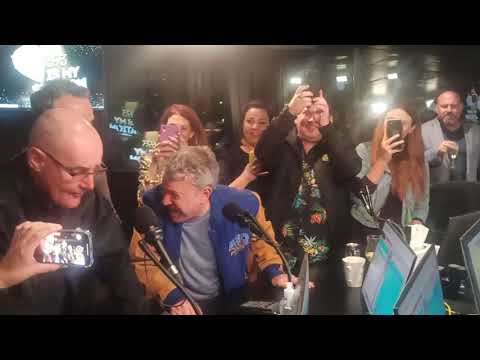 WSFM line up this week
6-9am Ugly Phil
9am-1pm Bill Weaver
1-2pm Totally 80s with Jason Staveley
2-6pm Steve Fitton
Let's make Sure their Former Sister Station 4BH does a good job that 4KQ did, Unfortunately no Brisbane only Chart songs.
Jason staverley doing breakfast 6:00 to 20:00 Gold 104, 10:00 to 14:00 Craig Huggins, drive joe bovalino