Yeah I guess that's true, point taken

It's disappointing John and Gary aren't rating better. They're actually quite entertaining. Best since Mike and Fitz.
A shame the rest of 2UE and its marketing pulls it back.
But this is the thing, is it not?
MRN don't want to afford to jeopardise 2GB? (Two talk stations)
If there was a massive promotion campaign (TV, newspaper & via 2GB) about 2UE, even some new presenter 'jazz-ups', grab some popular regular guests, etc.
2GB after a while would be affected.
Especially looking at some of 2GB's ratings, which have either been declining OR are already close to losing (i.e.) Ben Fordham, Alan Jones,
So I guess that's MRN's strategy, just leaving 2UE 'alone'…?
2GB is packing more advertising into the Jones, Hadley, Smith, Grant, Money and Garden programs for the next three weeks. The extra ads in Hadley's show looks like this: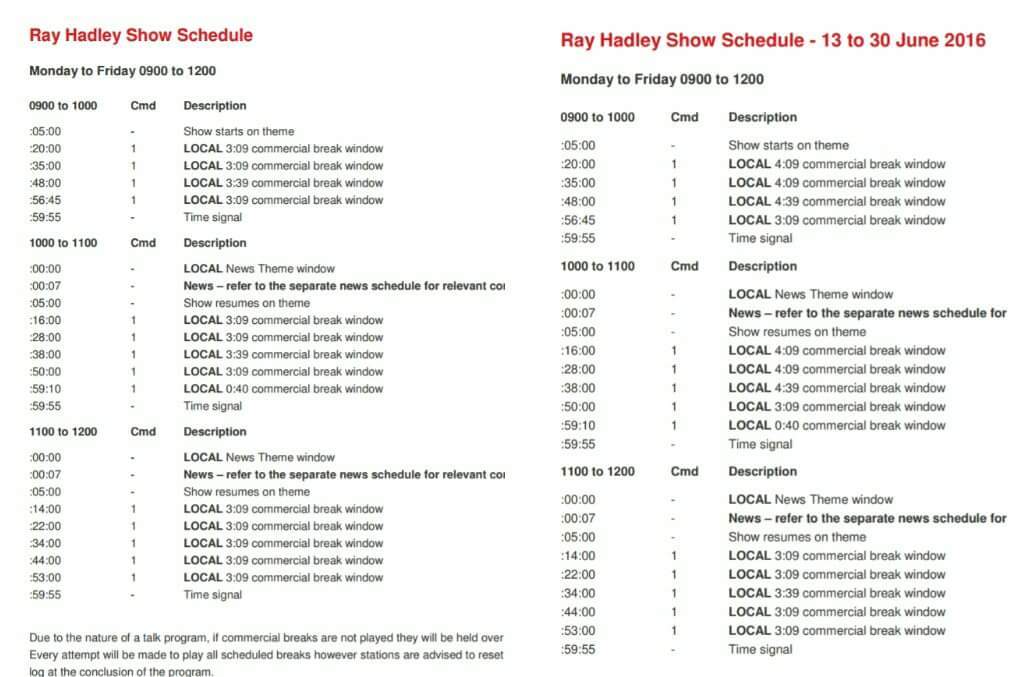 The full details are on the MRN website:
http://www.macquariemediasyndication.com.au/programming-and-services/Temporary-Format-Changes
It's to my understanding that all commercial radio & TV networks are allowed to air extra advertising during Federal Election campaigns, but I'd have to check on that…
Caught a glimpse of the new 2GB studios tonight during a segment on A Current Affair during which they had Chris Smith with an 'opinion'. It appears they have stuck with a German manufacturer for consoles and gone with Lawo Sapphire consoles. Also of German origin the Yellowtec Mika microphone arms. There was also a VoxPro control surface in the background. I don't know what the OLED keypanel in the foreground is for or who it's manufacturer is?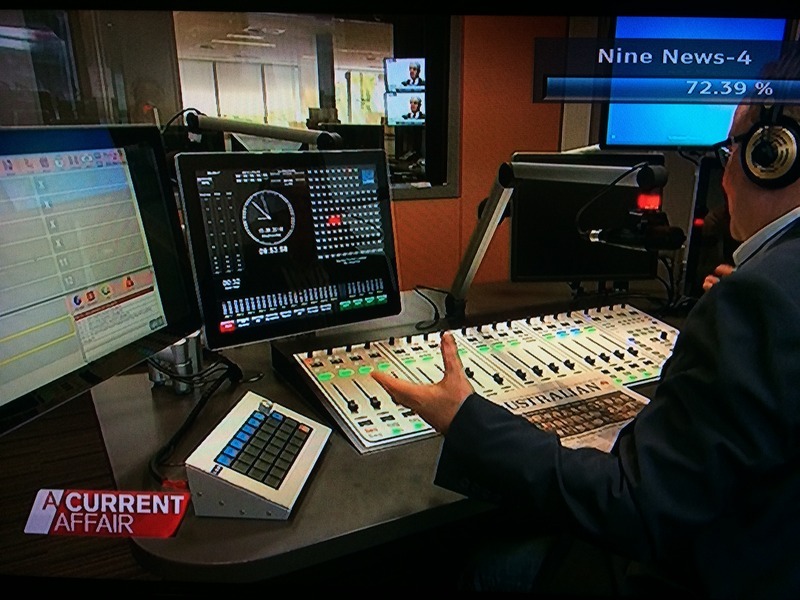 I'm surprised there aren't any 2GB logos all over the place, as you'd usually expect.
Wonder if 2ue has moved. George Moore is a bit open about the topic. In theory they will come back to the new studio on Saturday according to what he said last weekend.
Interface into Phonebox perhaps given that it's right under that screen?
That would be a safe assumption. It could possibly be a custom made job too. There's no device matching that on the Telos, Comrex, AVT, AEQ, Broadcast Bionics or Sonifex websites.
Possibly an intercom to producer, record studio, newsroom? Just noting the little silver knob on the right of the unit. But quite possible it's the phone box thing too

I wonder what will happen to the Greenwich studios. 2CH moving in? Selling them off?
Mystery solved, its a Lawo / L|S|B product used for audio routing control.
Best Solution for 2UE, Hire well known Sport Personalities to Re-Launch the 954 Frequency into a Sports Talk Station just like SEN in Melbourne.
if they moved all sports from 2GB they'd have a powerful line-up for sure
2UE - Sports Talk