Monday 8 August
Christine Ahern presented Early News.
After celebrating 35 years at Nine earlier in the year Lane Calcutt is leaving the station; the biggest loss so far for Nine.
The Australian: "Queensland Premier's poaching continues to thin out the ranks of newsrooms"
In the past few days, Palaszczuk has poached her biggest prize yet: Nine's Lane Calcutt, the elder statesman of Queensland TV political reporters. Calcutt is just the latest big-money signing in a long line of Brisbane reporters to dump an actual newsroom to join the sprawling government media operation now dubbed the Palaszczuk News Network (better known as PNN).

At our count, that puts the flow of senior Brisbane TV reporters to Palaszczuk from Brisbane newsrooms in just the past year at more than 10, and her total team of spinners who once worked in the media at well over 30. What makes the Queensland Premier's poaching of Calcutt (who starts next month) even more interesting is that two years ago, his fellow Brisbane press gallery journalists were caught on a hot mic in 2020 accusing Calcutt of bowling up softball 'Dorothy Dixer' questions to Palaszczuk during a Covid-19 press conference.
It was earlier reported that Cullen Robinson , the executive producer of the 6pm news , and reporter Shannon Marshall-McCormack (who has become "2032 Olympics Adviser to the Queensland Premier" a whole decade out from the Brisbane games) had left the station to join the media team.
What is so special about Nine's Brisbane newsroom that Palaszczuk is so keen to poach reporters from there?
Why is her media team so big is the next question? What on earth are they all doing? Advisors galore it seems. She had taken a leaf out of Andrews book.
Ahhh, I suspected this was going to happen. I was about to ask why he wasn't on the politics beat for the past week or so. Obviously, a big loss to Nine. His reports were the only reason I sampled QTQ. Honestly. Whatever The Australian now suddenly wants to say, I always found Lane to be very reasoned.
As for Palaszczuk, perhaps it isn't the best media strategy to take all of the good journos because it just leaves the Tim Arviers to do the reporting

Monday 8 August
Stephanie Anderson is presenting Afternoon News in Melbourne today.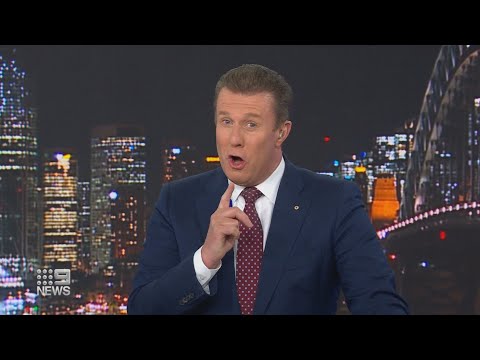 Poor Pete really struggled with his voice tonight, even losing it during the closer of the bulletin.
Richard Wilkins is at the desk with Davina on Sydneys afternoon news speaking on the passing of Olivia Newton John
I wanted to reach through the TV and give Peter Overton a hug after that first report tonight. His voice cracked a little but he managed to keep it together.
Not sure if it has been mentioned already but Reece D'Alessandro has moved to Canberra to become Federal Politics reporter.
Pete really made a very impassioned plea for people who are suffering mental health issues to speak up and seek help after the lead report on Paul Green's death. It's moments like these that he really shines through as a presenter.
Alicia Loxley is back Presenting Melbourne's 9News this Weekend.
Mark Burrows is presenting Fri-Sat evening in Sydney
Look like they're on the set of The Nanny…
No doubt this post will be edited if it's discovered Georgie Gardner was absent for only one night because she attended the Nine anniversaries dinner at the Opera House. She would've been one of the people being honoured considering she recently celebrated 20 years with the network.
If we're going to post newsreader updates at least ensure the information is factual and not a guess. It's ridiculous the amount of posts that get edited or deleted after information proves to be false.
There's only one way to stop that from happening NewsWeary. C'mon, you know you want to. Put the knife into having newsreader updates on the forum.


There's no overriding consensus for change. As much as some of us would like to see it go, the poll results are in favour of keeping things as is by a margin of just 2%. The boss has already stated "I'm not going to go out of my way to make that (a change) happen".
Contributors should still be mindful of whether changes are worth noting, particularly when the regular team is in attendance, and posting guesses based on who turns up on one day.
I just wish there was a way to block the posts then. Oh well.