possible due to timing? would they cut it out if they ran out of time
I thought they got rid of Australian / Pacific Islands weather on 1 News ages ago? Or did I stop paying attention at the end of bulletins?
Maybe because we're not so insular? Because we're an island nation. Because people travel. because it's nice to see where the next bit of "weather" is coming from (usually Australia… I always look at Hobart/Melbourne to see what we're in for in the next few days).
That's not a surprise considering she moderated the second of TVNZ's two Leaders' Debates during the 2020 election campaign (pretty sure John Campbell did the first one).
No city-level bulletins in NZ though (not out of the major channels; ignoring hyperlocal things like ch. 39 down south), so they can perhaps afford to spread their wings a little, rather than having to depend on SBS to do that. The Pasifika region would be the main focus, but with the large diaspora on the "west island", I'm not surprised they do the east coast of Australia too.
Same with the NZ MetService themselves; they do have a fair chunk of business in Australia and elsewhere under their MetraWeather brand; although it's mostly in weather presentation, they do offer forecasting services here too (such as a competitor lightning tracking network to the Weatherzone one that the Australian BoM licences).
Bunch of caps here from the debate
I didn't enjoy J M-M's questioning very much. And Jack Tame walking up at the end and congratulating her was a bit cringeworthy.
Hirschfeld is expected to assume the role sometime after the election, for which she is currently producing coverage for.
Here's hoping she can restore some order on that show
Very odd that they've been without a US correspondent for many months.
Here's a short snippet of TVNZ's late news and current affairs programme, Tonight, with Anita McNaught (first aired Tuesday 26 May 1992) - courtesy of YouTube channel DigitaliseMe. Please be aware that the year, in which the video was uploaded, was incorrect.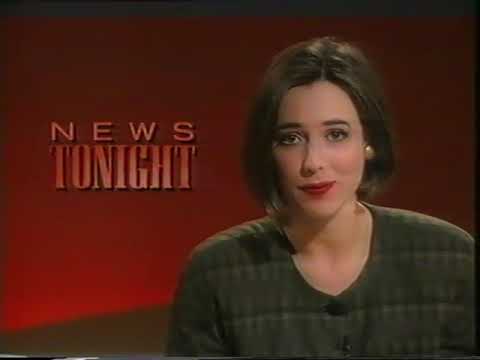 When John Hawkesby left TVNZ to join TV3 (now Three) and become anchor of 3 National News in 1992, the public broadcaster decided to launch a late news and current affairs programme of its own. Named Tonight, this unique programme aired weeknights at 10.30pm on TV One (now TVNZ 1) and was presented by Anita McNaught.
McNaught had previously co-anchored the late night edition of One Network News alongside Hawkesby in 1991, just one year prior. Tonight featured a final wrap of the day's news but primarily focused on in-depth current affairs investigations, as well as special reports that were aired in five parts over five nights. The programme debuted on the evening of Monday 10 February 1992.
A year later, PrimeTime replaced Tonight and shifted to a slightly earlier timeslot of around 9.30pm. Maggie Barry took over as presenter, but McNaught returned to the hot seat in 1994.
Although PrimeTime ran for two years, it was an innovative move that changed the way TVNZ's news and current affairs programmes of the time (such as One Network News, Holmes, Frontline, Foreign Correspondent and Counterpoint) were presented and consumed. The programme provided its viewers with a deeper insight into the stories behind the headlines and the issues that affect almost every New Zealander.
I'm sure the 1 Breakfast logo will return to the tv soon.
What do you mean, There already is the logo in the bottom left.
Hi,
I mean the 1 Breakfast logo which wasn't on the left screen of tv. The one, I look forward to seeing it back soon.
I don't see it coming back unless 1 News does a full graphics refresh again and this package is still very new.
It needs it, a total revamp. The Black square with 1news logo looks hideous, then for sports it's a transparent background. What loonies work there with the cut back in budget! May get worse before better.